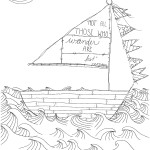 These are hand-drawn doodles create by me with pen on paper.  Each one is an original drawing meant to be used for coloring purposes.
For personal use only, not for commercial purposes. Not for resale.
Feel free to print them over and over again for yourself or for your friends – just do not sell them or represent them as your own work.
The actual printed colors may vary slightly depending on your computer screen and printer of choice.
I prefer to print with a laser jet on heavy card stock so that I can use a variety of media, but plain paper on your regular ink jet works fine, too!