This piece has long been one of my favorites, for several reasons.
It was one of my first mixed media projects.
It includes the boat I created in a national collaboration with other artists.
It makes me smile every single time I look at it.
That said, I am currently starting to clean out some of the art that has started to live in my house to make way for new…
Out with the old – in with the new as they say.
I am in this mode right now of moving out, pairing down, and cleaning up in order to allow new ideas, new art, and new opportunities to flow into my life from every direction.
And while I love this piece – it has been hanging in my living room for a few years now – it is time to create space to allow for the next phase of my creative journey to begin.
There is something to be said of editing.  It allows us to see where we were, where we have been, and acknowledge it.  This piece represents an important phase in my artistic career and I value it as such.  That said, I want to be able to replace with something from THIS phase of my career, something that represents where I am now and where I hope to be going in the future.
So – my house cleaning is your opportunity to purchase some of my original artworks that have either never been up for sale, or pieces that have been up for sale at reduced prices!
Keep an eye out as I will be listing new pieces of art each day!
Thank you for your ongoing support and for your love of my artwork!!!!
"Sail"  Mixed Media on canvas 24″x36″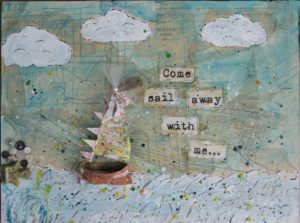 "sail" original mixed media on canvas
mixed media on canvas 24"x26" acrylic paint, wax, ephemera, handcrafted paper boat, pen
Available Qty:
1