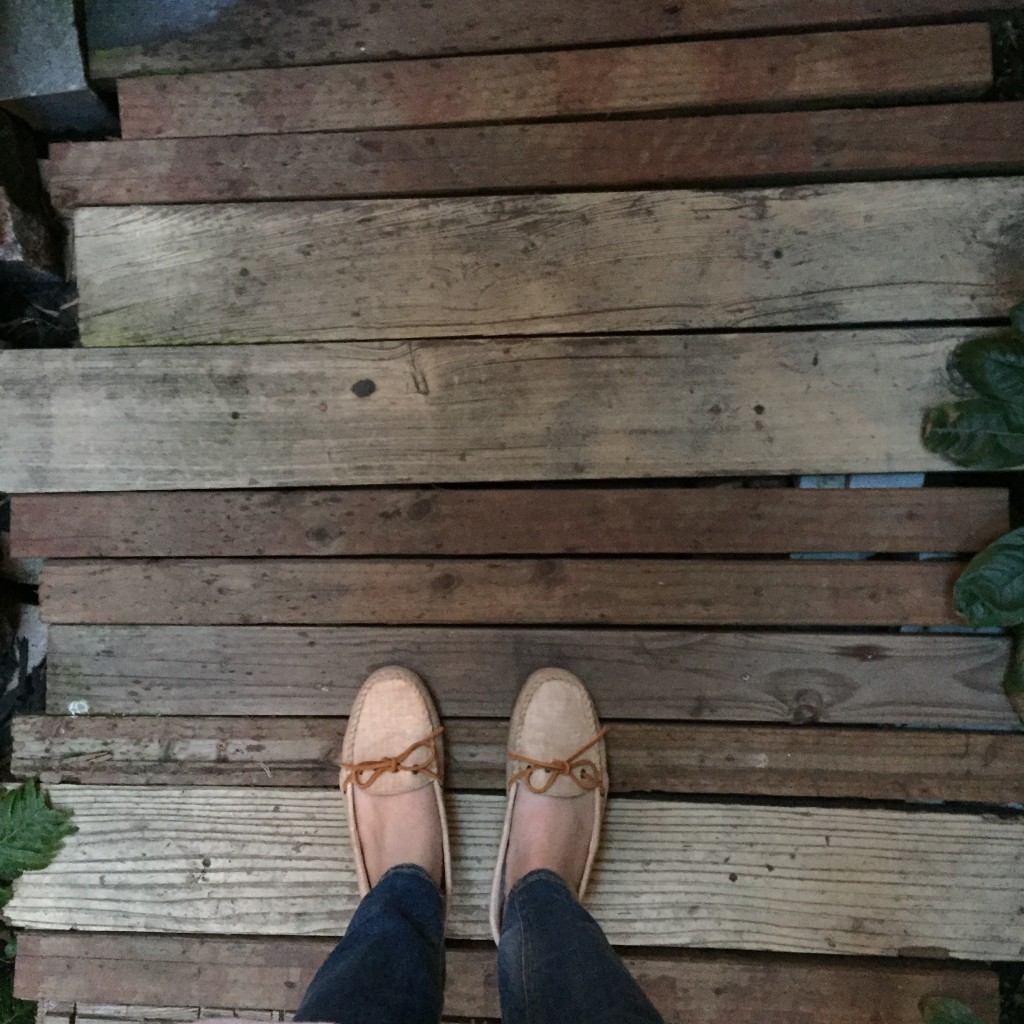 This past week was absolutely amazing.
It was truly one of the coolest weeks that I have had in a long, long time and after all of the prep and planning, it was over.  Just like that.  And I was left with time to reflect, process, and react to a lot of what has happened over the last few months…  so I did.
For the last few months I have been busily putting together my four classes for CreativeLive, which was an opportunity that I could not be more grateful to Lain Ehmann for.
That was my first reflection – to be grateful.  I am grateful to Lain for introducing me to their team.  I am grateful to whomever it was that backed out of their taping, leaving a hole in the schedule that I could fill.  I am grateful to the supremely organized and well-oiled machine that is CreativeLive.  I am grateful to the sponsors that so generously sent product – Walnut Hollow, iLovetoCreate, Ranger, Faber-Castell, and Tonic.  I am grateful to my husband for supporting me in chasing these crazy dreams of mine.  I am just filled with gratitude…  it bubbles over in tears I am so full.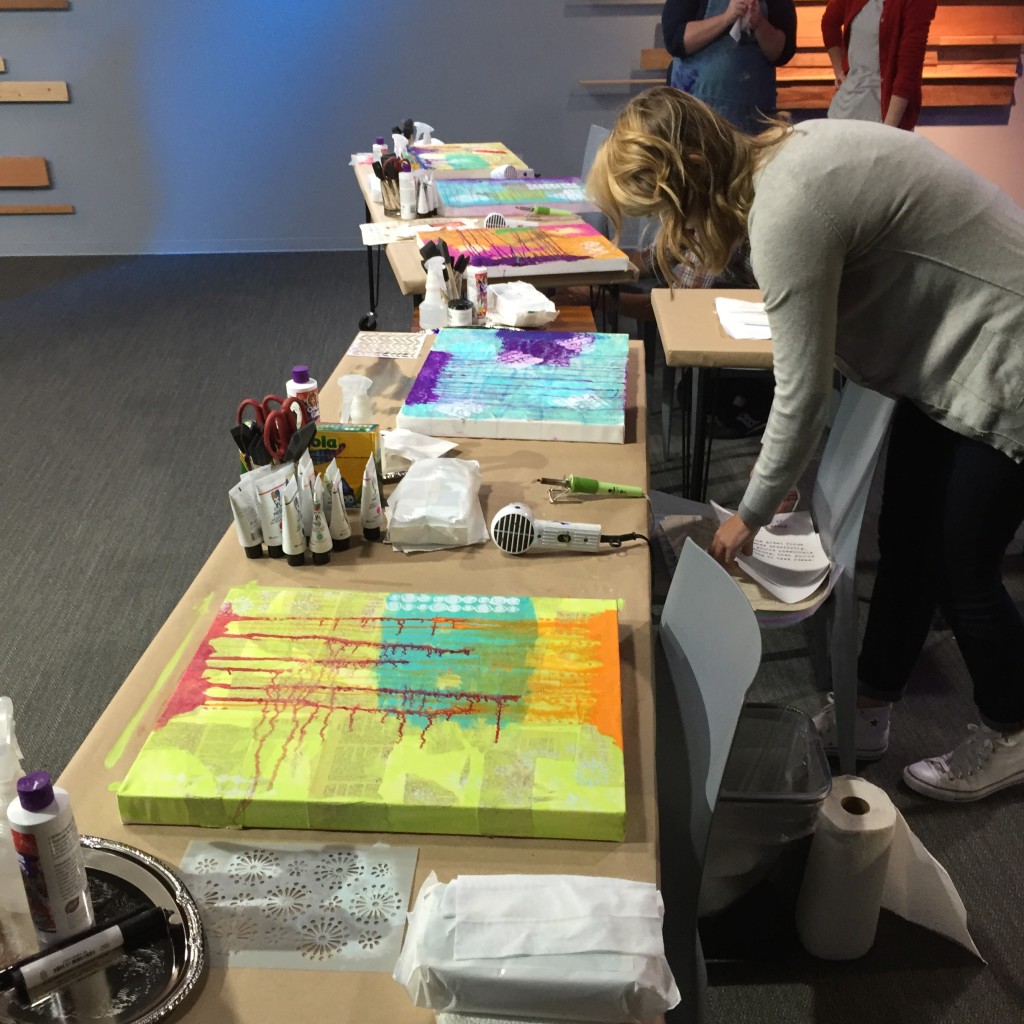 For weeks, we have been on phone calls, planning, talking, and organizing these classes.  I have been furiously making, typing, kitting, shipping, and prepping.  When we were done with day one, Elizabeth, my producer, equated the experience to planning a wedding.  And it kind of felt that way.  Tons and tons of work, and then, it is just here and over before you know it.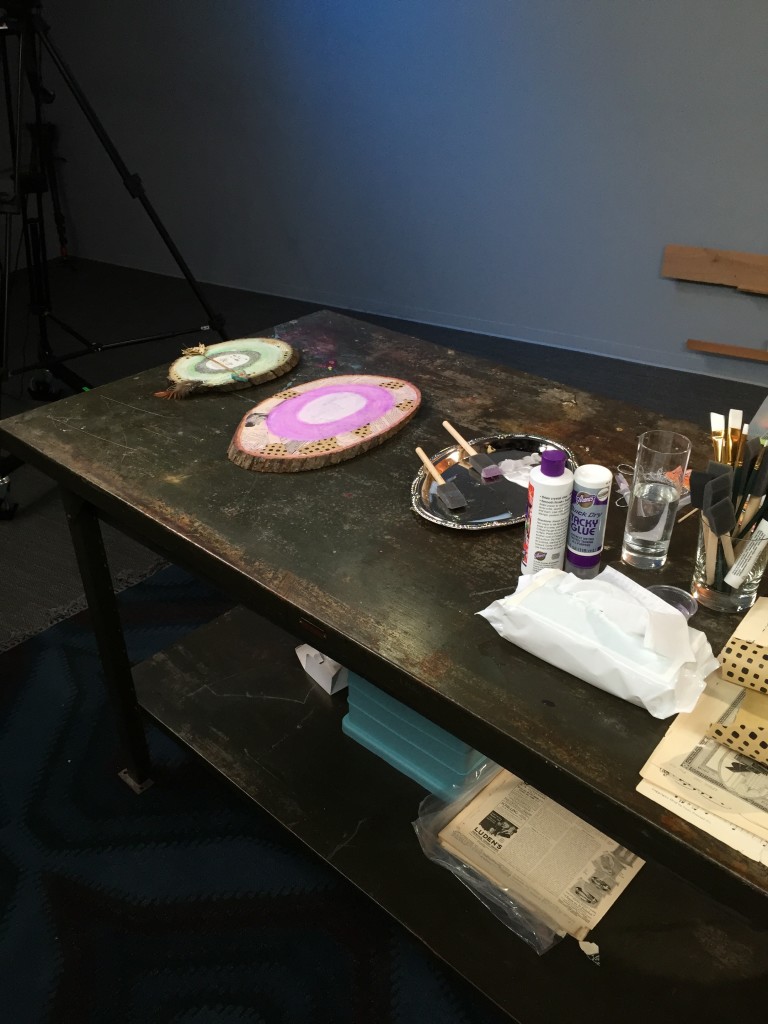 By the end of day two, I was feeling great about how it all went, but sad that it was over so soon…  it was over as fast as it had started.  We toasted with a wrap party.  We hugged.  We took pics.  We traded contact info.  And then everyone went on their way…  me included.
I ventured out for dinner and then back to the hotel for an early night.
My hotel was very old school chic.  The Hotel Mark Twain.  Billie Holiday was once arrested for opium there.  It is full of character and inspiration and charm.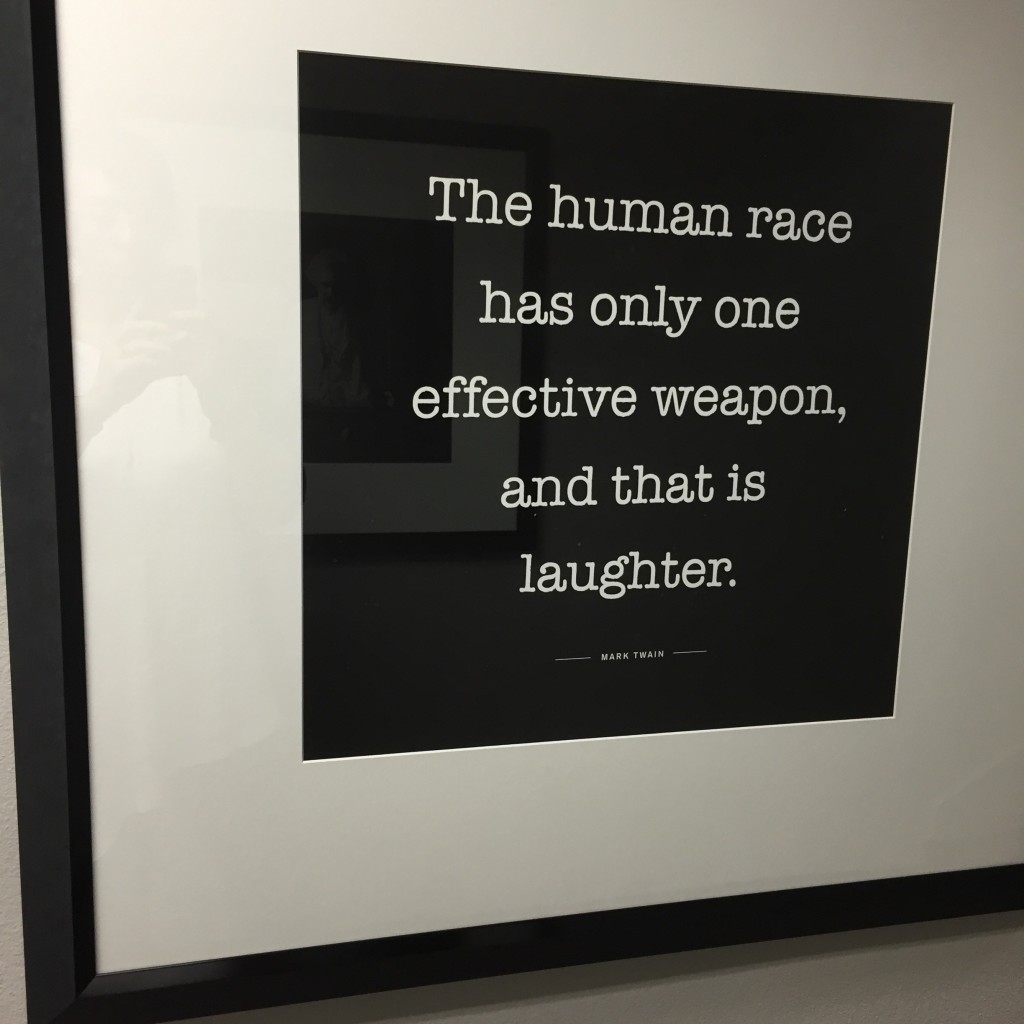 That last night in San Fransisco I ventured to the hidden hummingbird garden.  Immediately upon opening the door to this secret garden, my eyes filled with tears and my body was overcome.  I began shaking, crying, and just collapsed into a chair out there, all alone.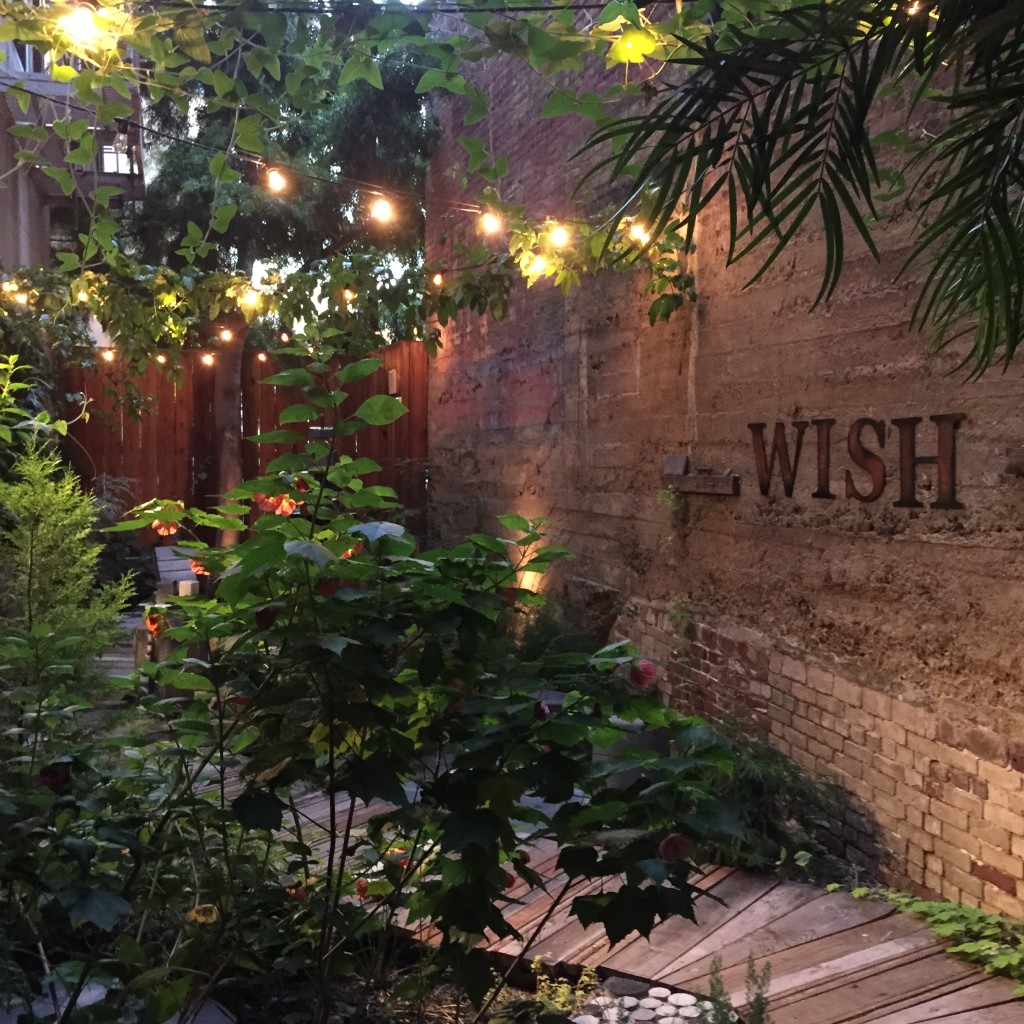 Luckily no one else was out there and as I walked the little path of reclaimed wood, beyond blooming flowers, two fountains, ferns, and twinkle lights, I felt myself breathe.  I mean really, truly breathe.  I found a little seat, put myself in it and I just let the tears come.  They ran down my cheeks, warm and salty, and I just let myself melt into that spot.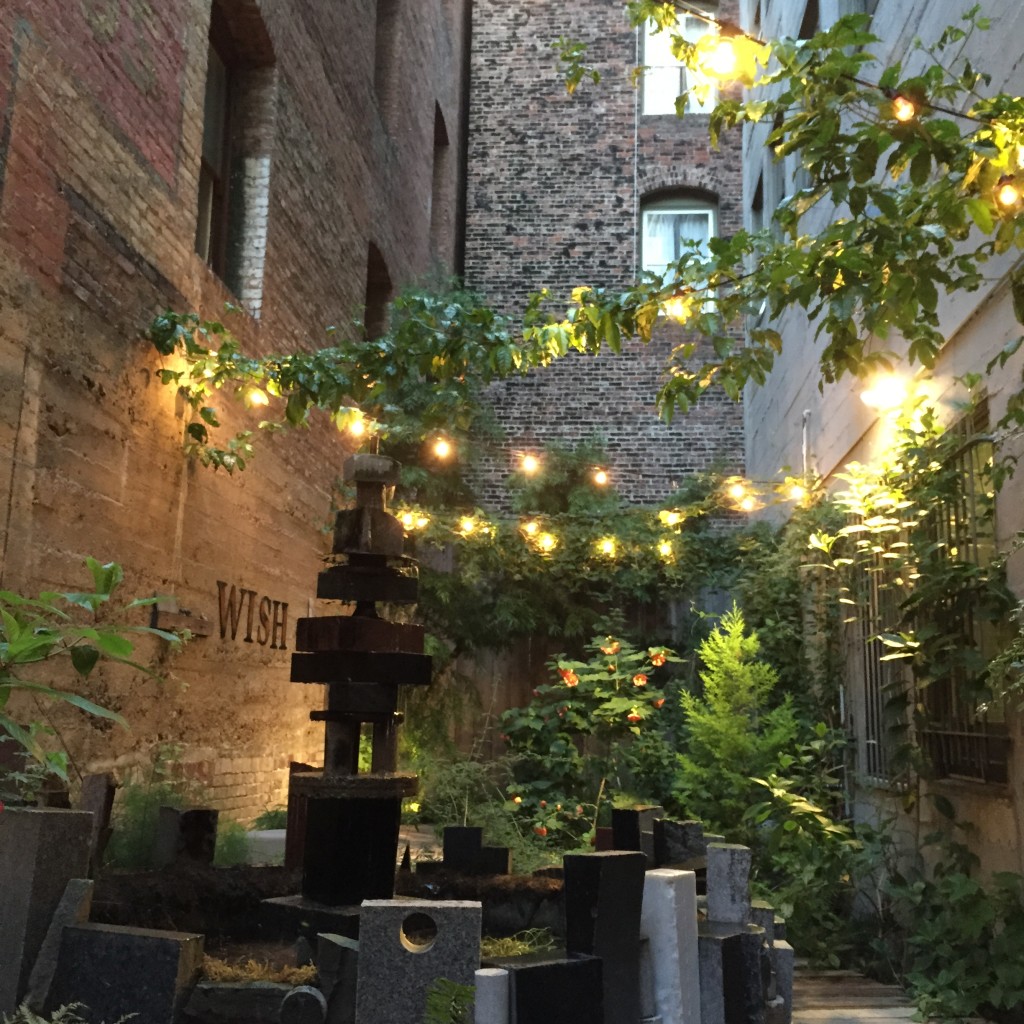 This was the view from my seat.  I could faintly hear the sounds of the city, but all of the walls muffled most of it out.  The fountain was bubbling away and I sat there.
All of the other reflections started, beyond just gratitude.
I felt relief.  A sense that everything was alright for the first time in a really long time.
I felt peace.  I sat there and let this immense and intense peace wash over me.  I closed my eyes, put my head back, and it just filled my heart and soul.
I felt joy.  I not only had just completed this amazing task and journey, but I had done it well (I think… I hope!)  I got to visit a city I had never been to before.  I met awesome, talented, and kind people – creatives – like me.  I smiled from ear to ear.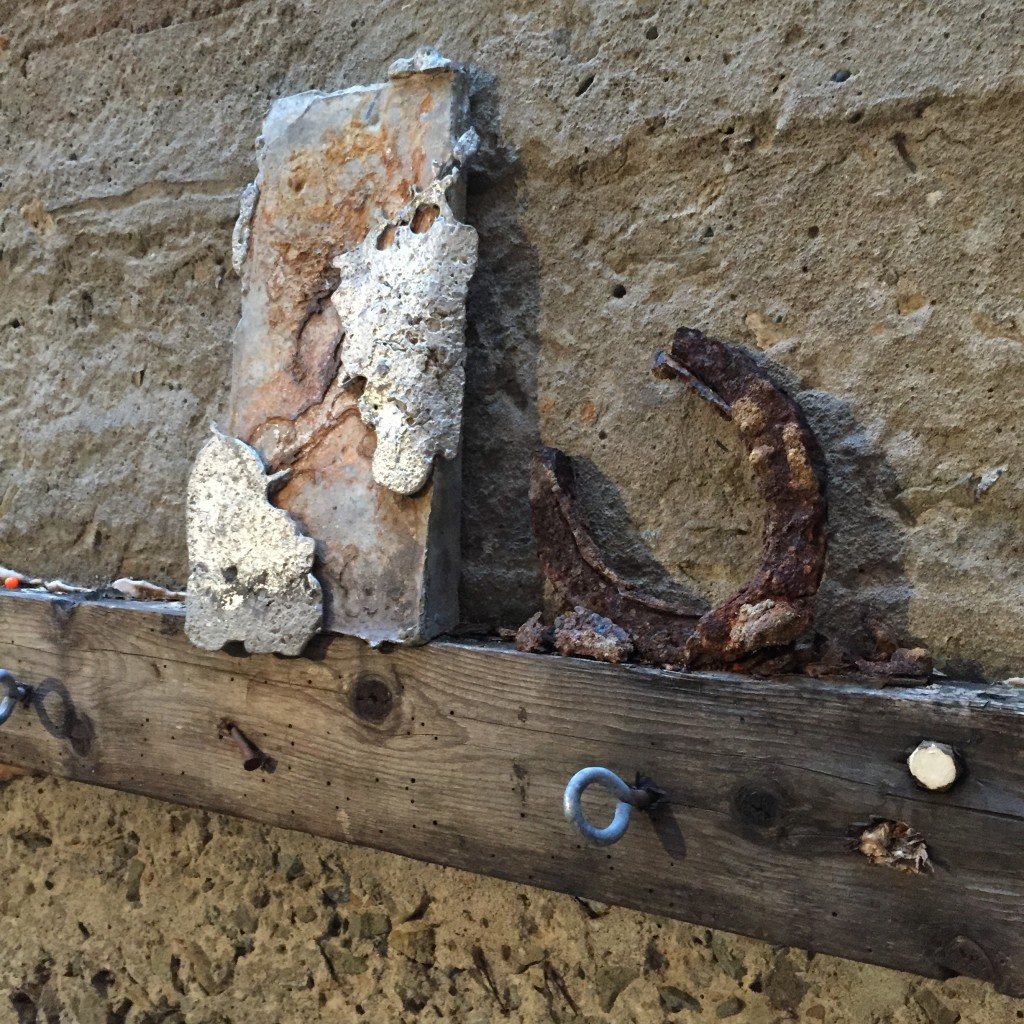 I talked to God.  I thanked Him, reflecting on what just happened these past few months.  I asked Him to continue to speak to my heart…  to continue to guide my path.  I thanked Him for leading me to this secret oasis in the middle of the city.  I asked for strength, courage, and determination.  I prayed.  I meditated.  I listened.
I felt my life in a way I never had before.  I was in the moment.  I was wholly in the moment, letting every emotion and thought in, acknowledging it, and feeling it.
There was something magical about this little place that I realized had been under my window, below my fire escape the entire time.  I just hadn't looked…
How many things do we miss because we just don't look, really look?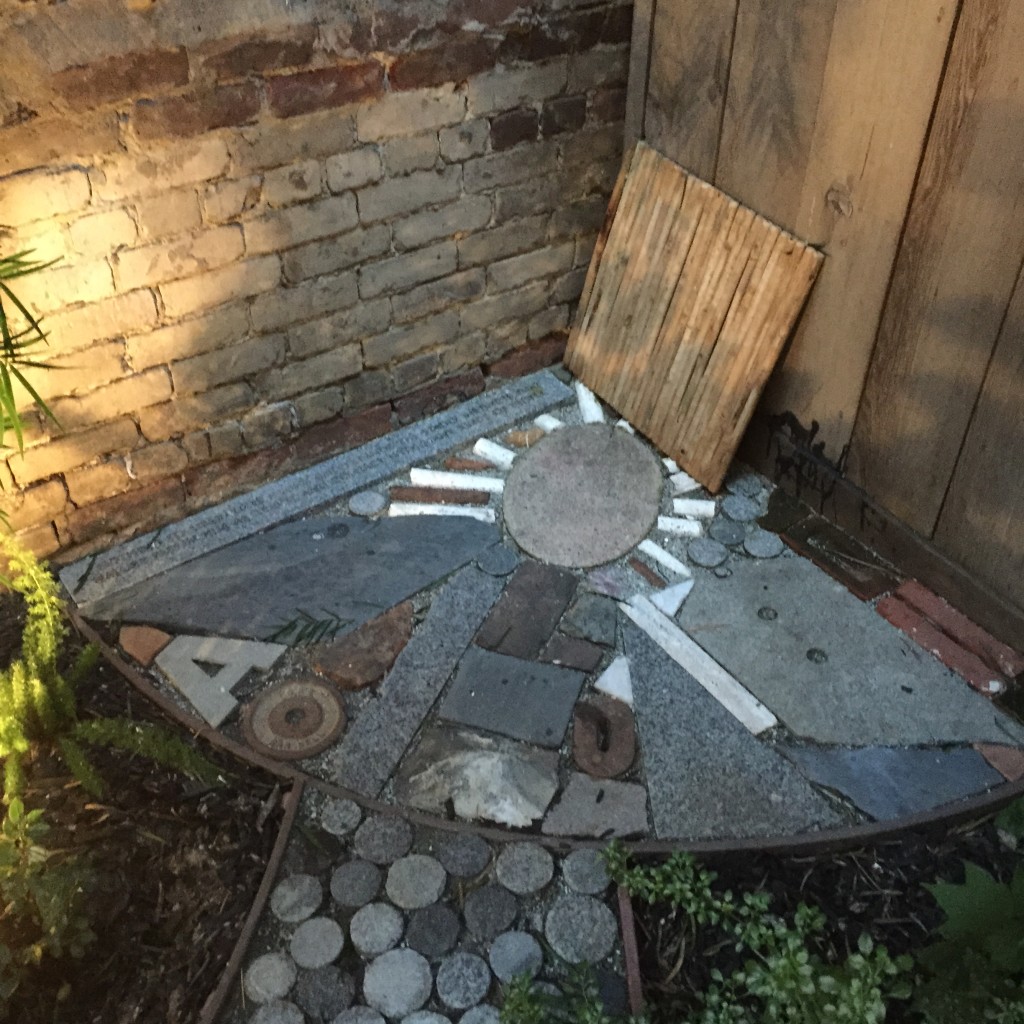 I guess I can sum up the last week like this…
Life moves on.  There are these big, bad, scary moments that we think define us and make us who we are.  We think we won't get beyond their borders.  We are sure that this is the end of the road.  We feel like we are pushed into a corner and trapped, never to escape.
If we just turn around, the path is there.  It might not be straight.  It might not be smooth.  It might have spots to stop, meditate, and reflect, but it is there.  We just have to open our eyes and our hearts to it.
There is life beyond what was your life for years.
And often, it is better than anything you could have imagined.
Take a chance.
Take a step.
Have faith.
Life can be pretty damn amazing if you just believe you deserve for it to be…