I think of Meg Ryan's voice as I type this… that idea of writing something and just sending it out into the void; into the world.
A dream.
A fixation maybe…  I'm not sure which or why or how…  I just dream.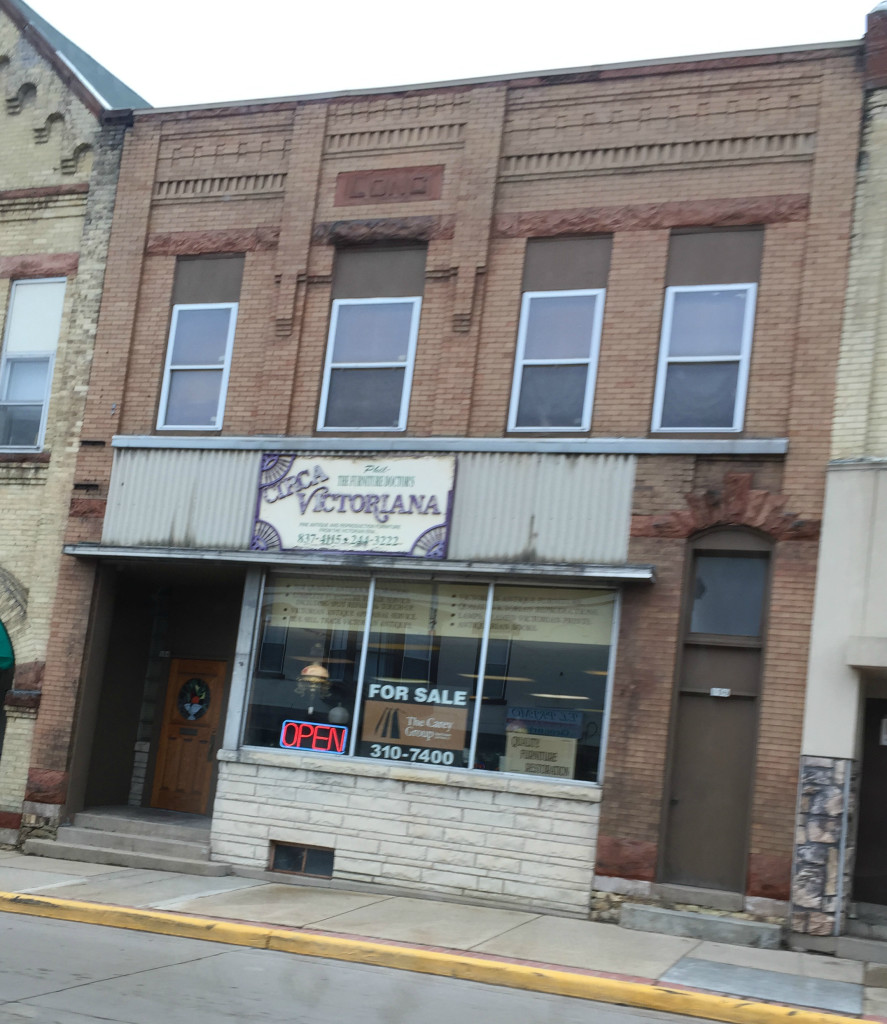 There is this building on Main Street in Sun Prairie, where I live, that is was built in 1896.  It is currently a store and has two apartments upstairs.  The main level is the store and workshop of the current owner.
I have a thing about Main Streets.
I grew up in towns that were small, Midwestern places with great Main Streets, full of little shops that sold clothing and shoes, penny candy and art supplies, books and records, and so much more.
I watched as big stores came to town out by the highway and downtown faded.
I saw what happens when industries close and move away.
It's a sad thing to see.
Sun Prairie is growing and booming right now… out by the highway.  New stores – great shopping, lots of choices.  Downtown, on Main Street, however, there is a bit of a sadness, even though there are great shops.  We have some great places to eat, local joints, a flower shop, a coffee shop, a couple of really nice home decor shops… and yet it is quiet.  Sadly quiet.  Maybe it's because it is still cold outside.  Or maybe because Starbucks is the other direction.  I don't know.
What I do know is that Main Street is where the heart of the town beats, where parties and festivals happen and parade routes run.  It is where the fountain and the ground hog make their annual debuts and where history lives inside the walls of buildings from the 1800's.  There are stories we can't imagine in those walls.
Georgia O'Keeffe was born just outside of town, and maybe, just maybe she stepped into this building in the past.  Maybe she used to walk by it.  Maybe her heart beat fluttered by and is infused in that brick.
Okay, enough of that…
As for the building, I haven't been inside yet – I've only looked at the pictures on the realtor's website.  My fear is that if I go in, that will be it.  I will go from fixation to obsession.  I also haven't done any historical digging – for the same exact reason.
Here's my dream…
Renovate the building a la the amazing saver of old buildings Nicole Curtis, bringing back as much of it's former glory as I can.
I will turn the front part of the store into an art gallery for Wisconsin artists.  I will reserve the back, the current workshop, for my studio.
Then I will renovate the apartments and turn them into rentable units for other local artists at a low rate so that they could afford it (sorry current tenants!).  Finding cheap studio space in Madison is hard – in Sun Prairie, it is next to impossible.
I will host trips from schools to see the artists and their work.
I will teach classes and hold events.
I will showcase amazing artists from all around the area.
I will paint and create and play.
I will promote the arts.
I will promote the artists.
I will teach others about the importance of a good website and social media.
This is my dream I am sending out into the void – The dream of my own studio and the ability to help other artists have a studio too.
And that's what it is right now – a dream.  I can't think about the realities of it – the cost to buy it, renovate, etc…  I can drive by and dream. I can picmonkey it and make it mine.  I can put it out into the void, into the universe, and whisper in God's ear…  Maybe then a way will show itself, some sort of magical, ethereal, fantastic option.
Until then, I write this on my heart, on this blog, and send it out into the void…