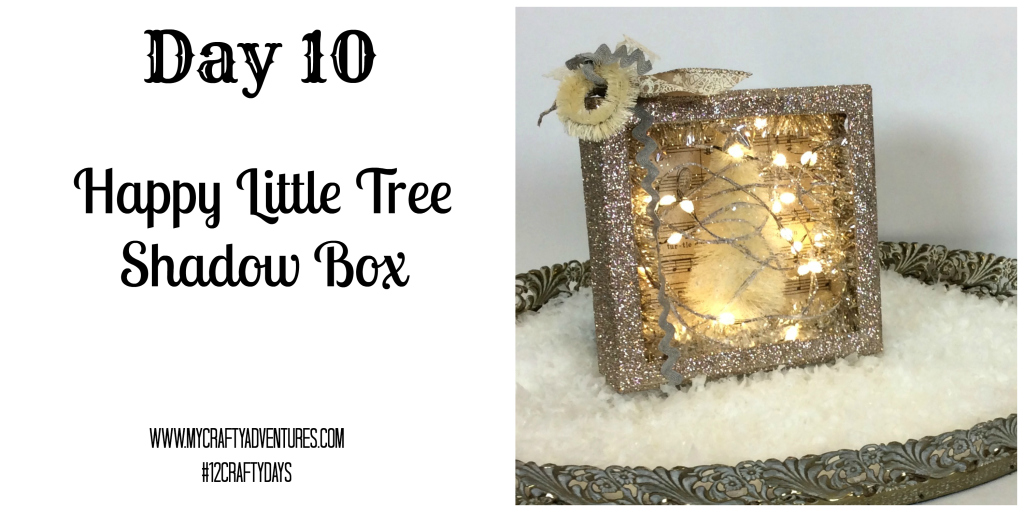 And, here we go – another happy little tree!  Today I have decided to do a bit of a more in-depth project – it is hard to not start breaking out the glitter, the bottle brush trees, and lights to make everything glow!
What you will need:
• Tim Holtz 5.5×5.5 Configurations box http://simonsaysstamp.com/product.aspx?id=68707
• Tim Holtz Woodlands set – bottle brush trees and wreath
• Tim Holtz Ideaology Mirrored Stars – http://www.simonsaysstamp.com/product.aspx?id=125250
• Ranger Glue n' Seal – matte or glossy – your choice http://rangerink.com/?product=ranger-glue-n-seal
• Tim Holtz® Distress Stickles™ Dry Glitter – Clear Rock Candy – http://rangerink.com/?product=distress-stickles-dry-glitter-clear-rock-candy
• Stickles™ Dry Glitter – http://rangerink.com/?product=stickles-dry-glitter – in the color of your choice – I used platinum
• Perfect Pearls™ Mists – in Perfect Pearl and Heirloom Gold – http://rangerink.com/?product=perfect-pearls%E2%84%A2-mists
• Ranger Heat it™ Craft Tool
• Dina Wakley Media Heavy Body Acrylic Paints – in white – http://rangerink.com/?product=dina-wakley-media-heavy-body-acrylic-paints
• Hot glue
• Tinsel garland of your choice – thin and smaller works best.
• Foam brushes
• Music sheet
• Scissors
• Pencil
• Small string of battery powered LED lights
• Ribbon, tulle, garland, etc…
• Fake snow
• Glitter tray (or paper so you don't waste the glitter)
Here is how you will put your project together:
1. Mist your music paper with your Perfect Pearls Mists and use your heat tool to dry.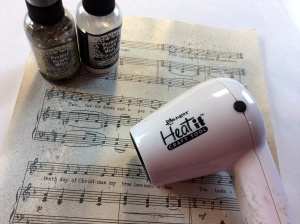 2. Open up your configurations box and grab only the backside/base of it.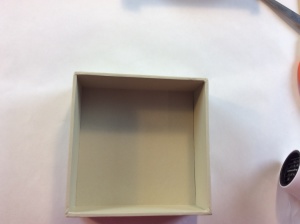 3. Trace the box onto the music paper and then cutout, cutting about ¼" inside the lines all the way around. Trim again if need be.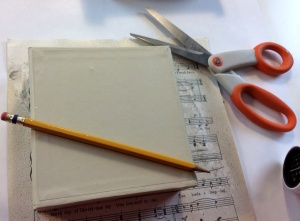 4. Hot glue the paper into the back of the box.
5. Use your Glue n' Seal to add in some rock candy glitter to the inside bottom of the box. Dry in between layers, but do 2-3 layers for a more textured result.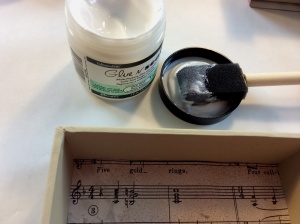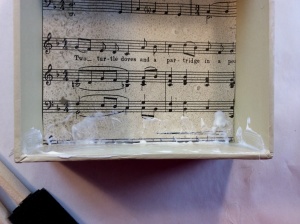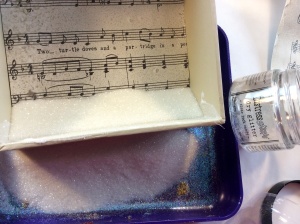 6. Hot glue stars and tinsel to the inside of the box.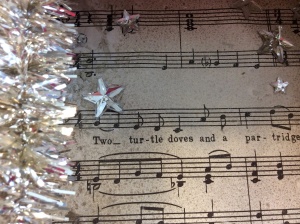 7. Hot glue a large star to the top of the large bottle brush, after bending the tip back just a bit so that it is will fit inside.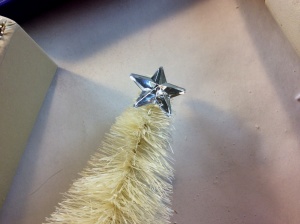 8. Hot glue tree into the box.
9. Using the Glue n' Seal, add two coats of the platinum glitter to the outer edge of the box cover.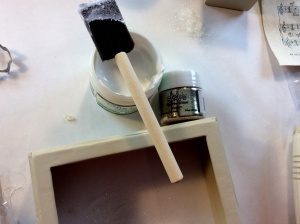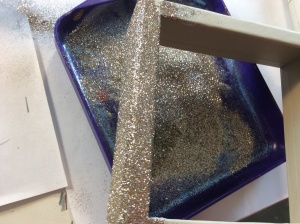 10. Take your light string and begin painting each section between the lights with white paint and then dip it into the platinum glitter. This will additional glimmer to your project!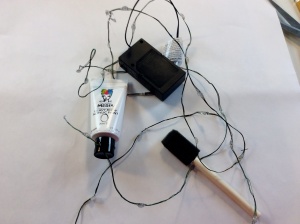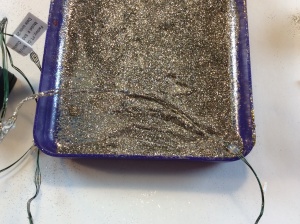 11. Once all of the parts are dry, it is time to put the lights into the box.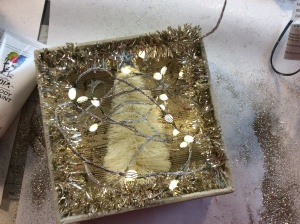 12. Add in some fake snow.
13. Put the plexi cover into the lid and then seal your box shut.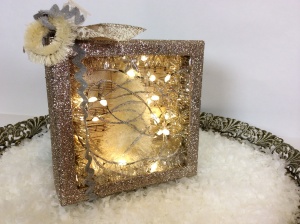 14. Tie it closed with some ribbon, tulle, or garland, adding in the wreath to your bow.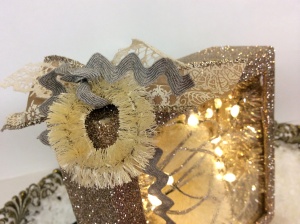 All that is left to do is put this beautiful shadow box on display!