This simple project is one of my favorites to do.  This time of year, like a lot of you I am sure, I start to think about everything from hostess gifts to teacher gifts.  It only takes a few minutes to put this easy project together, but it looks elegant and fresh.  Plus, you can easily personalize it to create a gift or to match decor.  If you are really daring, you can even use pictures to create these!  There are so many possibilities!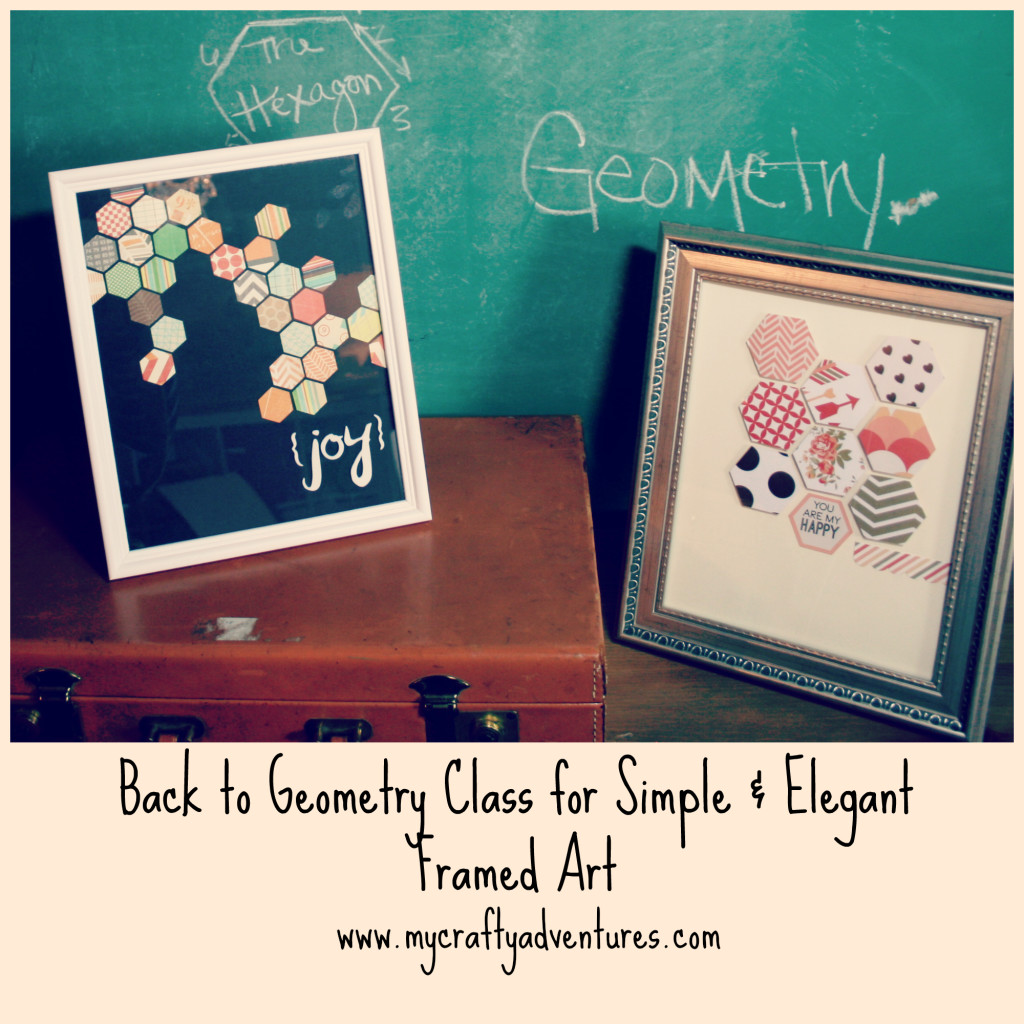 To create these simple pieces, you need the following:
Plain paper or cardstock
Pencil
Scissors
A frame
Decorative, patterned paper scraps that coordinate
Hexagon punches or a template and scissors
Adhesive – glue stick, tape runner, and/or foam dots
Optional – stickers
Here is the first example: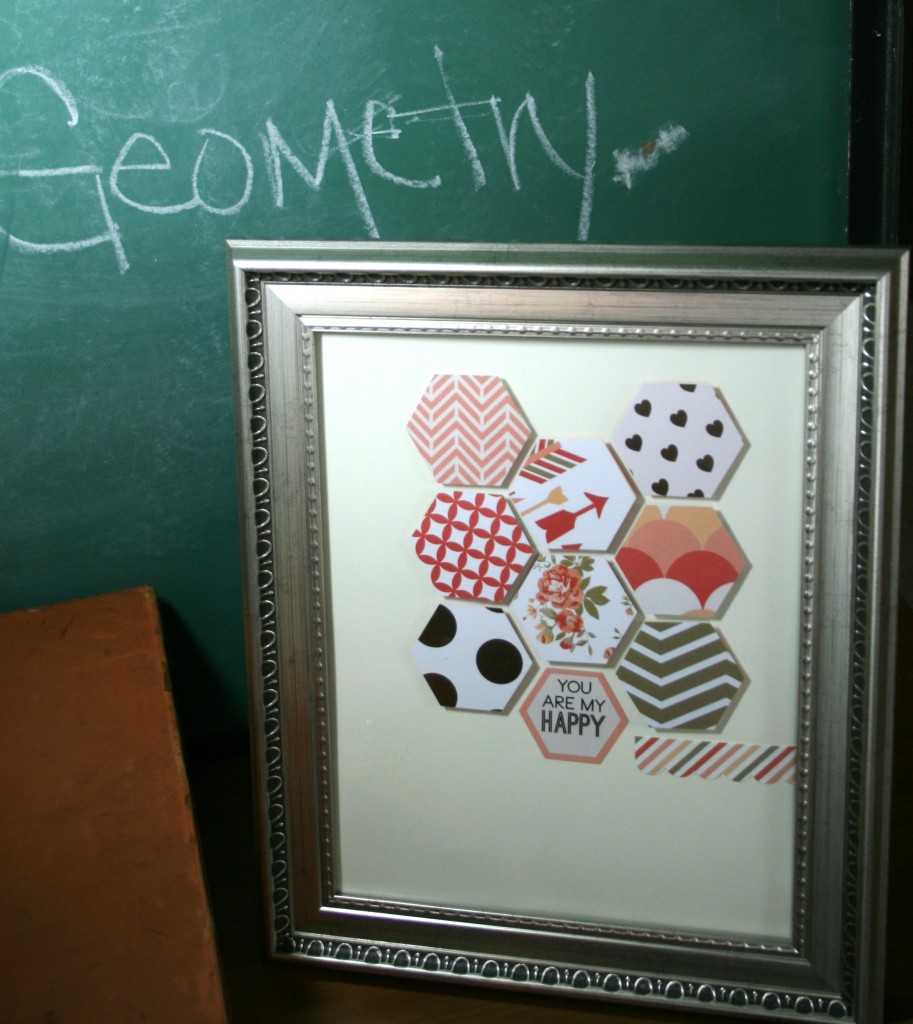 1.  For this one, start by tracing out the backer onto some plain cardstock and cutting it out with your scissors.
2.  Then adhere your cardstock to your backer to create the base you will build on.
3.  Now, begin to cut or punch out your hexagons from your patterned paper scraps.  I used larger hexies for this frame.  Start to lay them out and then adhere them down.  I decided to use pop dots for extra dimension, but you can just adhere them flat if you prefer.
4.  Get all of your hexies adhered and then add any embellishments you would like.  I added a coordinating hexagon sticker and then another little sticker that matched the set.
5.  All that is left is to put it into the frame and your are done!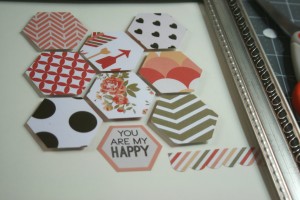 The second example is put together just the same way.  I just used smaller hexagons and some stickers to spell out "joy."  Additionally, this one did not use pop dots, just flat adhesive.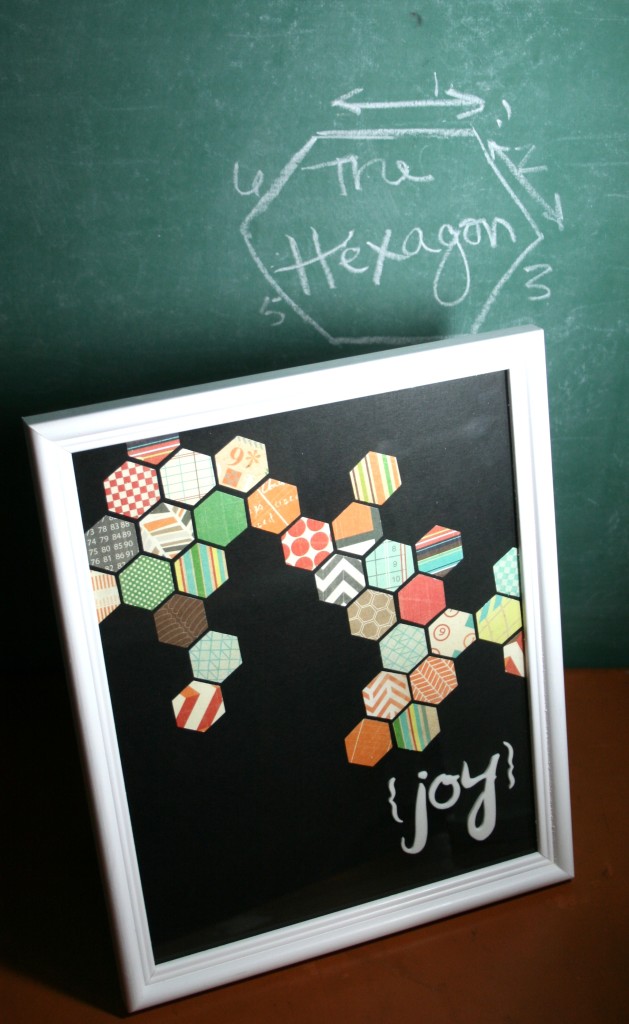 The configurations and ideas for this are endless – have fun and create something unique, personal, fresh, and geometric for yourself or for others – heck, it's so easy, why not make one for you and a friend?!?!
Happy Crafting!