On Monday last week, we talked through the basics of using chalk paint on furniture.
Today I am going to share some pics of another project that I did that was a tad more involved, but still really easy to complete.
You will want to remember the basics from the original article on how to sand, prep, etc…  All of those principals are still at play here, but I want to show you a specific technique above and beyond that, so I am going to gloss over the basics and get to the meat of the project pretty quickly.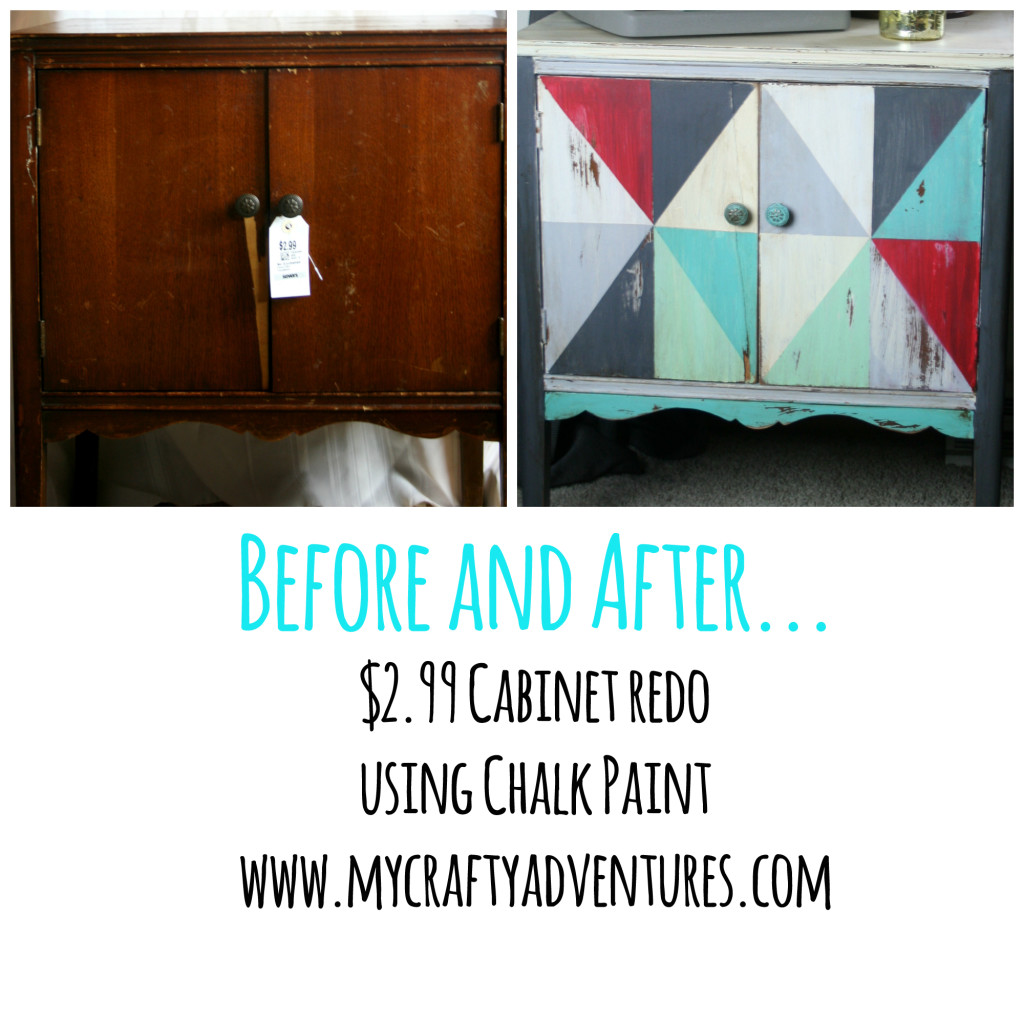 Here's what you need:
Paint brushes
paper towels
pencil
clear ruler
painter's tape
sanding blocks
furniture piece
Here's how you are going to put this together…
First you are going to want to clean up and sand your piece to prep it for painting.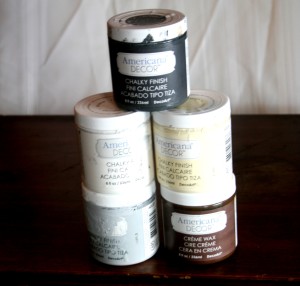 Grab your paint and brushes once you are ready to paint.  I initially only grabbed shades of grey and white…  then mid-project I grabbed a few other colors – teal and red.  Use the colors you are most comfortable with.
Start by painting all of the various parts of the pieces the colors you want – the top, sides, legs, etc…  Get those painted first.
Once those are done, it is time to try a new, cool technique on the doors.
I am going to show you how to do this using a piece of plywood – it will show the technique easier than the actual piece since I can use marker to help better define the lines, etc…  You just need to adjust your measurements to your individual furniture piece.
Ok – here we go!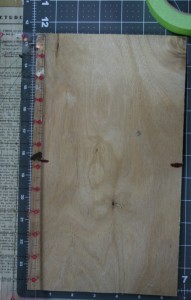 First find your center line in one direction and mark it with a pencil (I used marker so it was easier to see)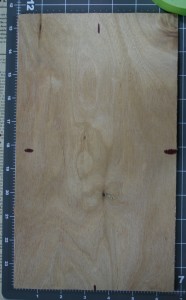 Next find your center line going the other direction and mark it as well.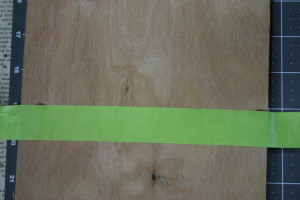 Now put your first piece of painter's tape down, running along the bottom of your center line.  If you were to connect the lines with the pencil, your tape would be running right up next to, but just below it.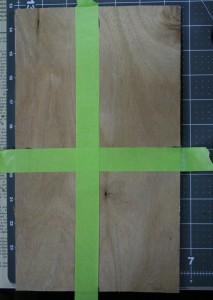 Add another piece of tape running vertically just to the left of the center line, following the same principal as the first piece of tape.
This creates the top right corner as a perfect one-fourth of your door, panel, etc…  This is where you will paint first.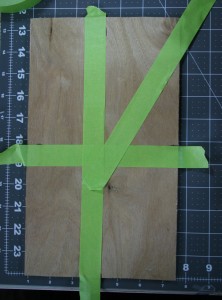 You are going to then divide this in half diagonally, with the tape leaving the top left triangle as your perfect one-eighth of the door.
You will now paint that triangle one color and let it dry.
Once the first coat is dry, add a second if needed – do this before moving on to the next section for each color.  It is easier to do two coats now than to try and go back later to add more color in.  Trust me – I learned that the hard way!!!!
Once your triangle is dry, remove your painter's tape from the corner to the center that created that triangle.  This will leave you with a half-painted upper right corner.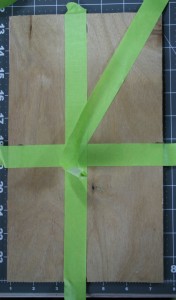 Now you will take a new piece of tape and favor it to the now painted side of the line, lining right up onto where the paint ends and the blank wood starts.
Paint this section and let it dry.
Once it is dry, remove your diagonal piece of tape.  Your first 1/4 of the door is now painted.
You will now remove your vertical center strip and favor it to the right side of the center line.  You will add a diagonal piece from the corner, favoring the upper 1/8th triangle on the left side, paint it, and let it dry.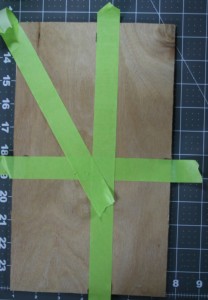 You will continue now to paint, move the tape, and favor one side or the other of lines following this technique all the way around your piece.  Once the upper half of the door is complete, you will move your horizontal piece up above the line and repeat the process across the bottom half.
All that is left is to sand/distress any areas you want to add some texture to and seal it with your wax.
While it is time consuming, the final product is pretty darn cool…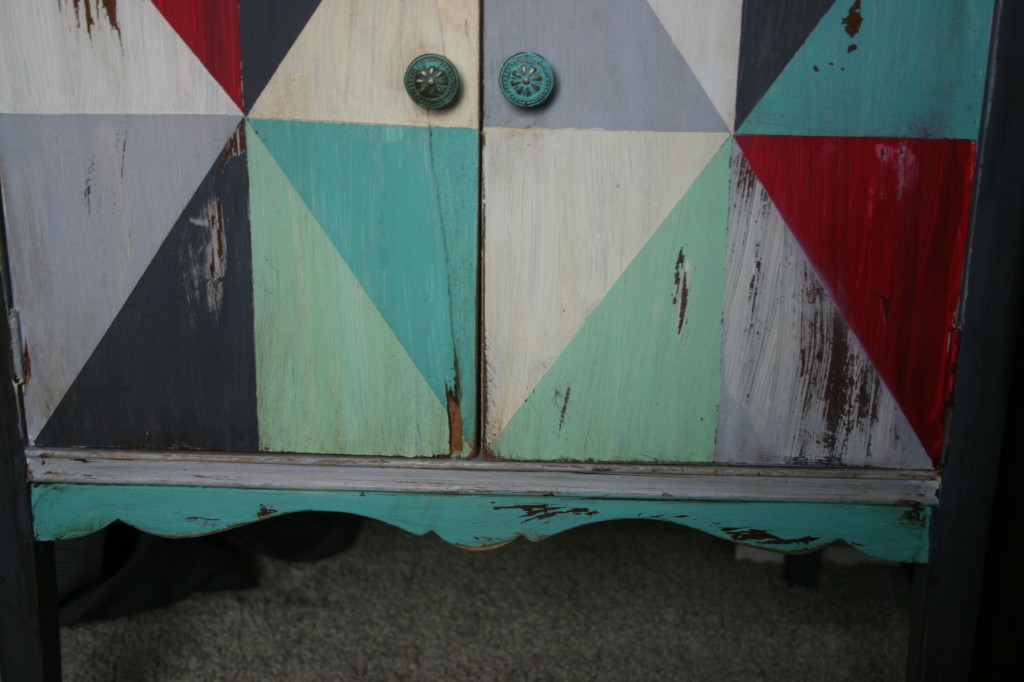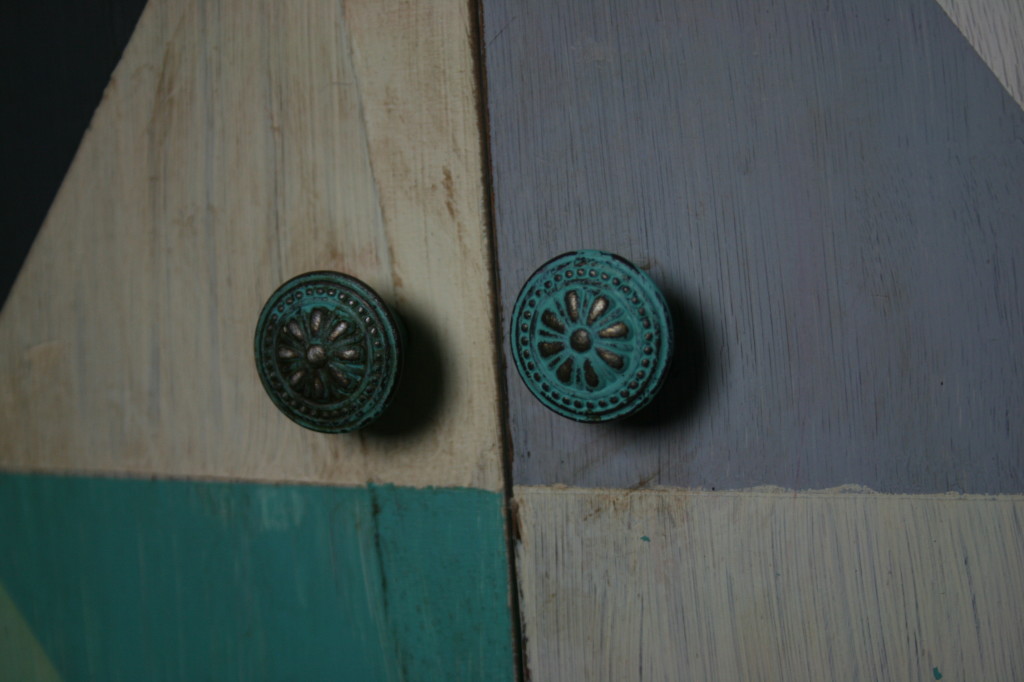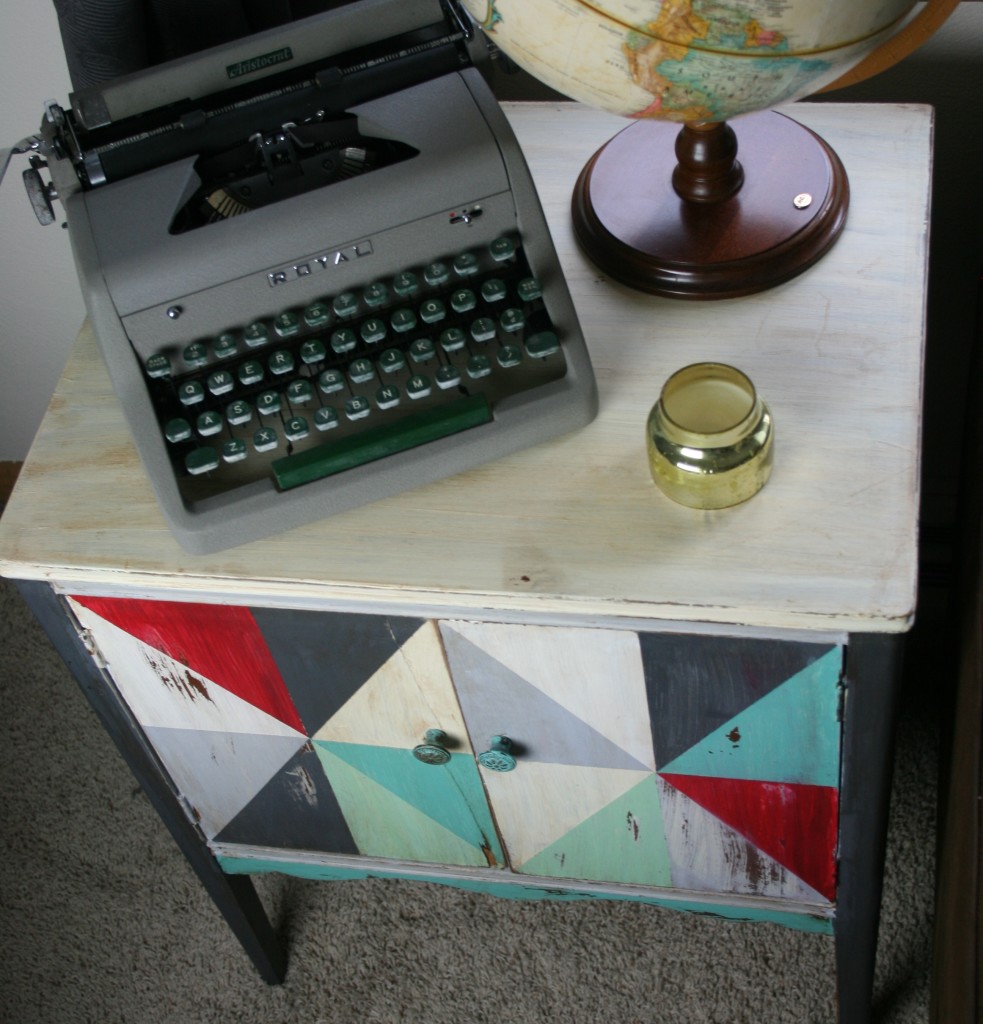 I hope that this technique inspires you to try something new and different with your next thrifted piece!