Tonight I did that thing that a lot of people think is totally sad, lame, pathetic, and lonely…
I went to the movies by myself.
For me, however, this often helps me reconnect, redirect, and get inspired.
I am not sure why, but I have always enjoyed going by myself.
Maybe it is because I can see the exact movie I want.  Or, maybe because I get the whole box of Milk Duds to myself.  Maybe it is a little of all of that.  Or maybe, just maybe, it is more.
When I go, I see movies that I know I will like, or love.  Movies that speak to me – comedy, mockumentary, indie flicks, and anything literary-based.  I want to laugh.  I want to cry.  I want to hear new music.  I want a great story. I want to be moved, inspired, and to become absorbed in a moment and leave feeling, well, something.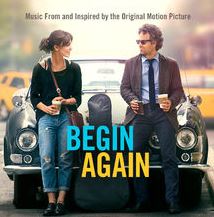 Tonight I saw Begin Again, which is from the writer of Once.  Now, you have to get over the fact that Once was such a big hit that this time bigger stars, rather than unknowns, were cast.  That didn't take long, plus I adore Mark Ruffalo so it was pretty easy.  It was filled with the same great music moments, love in trouble, and a mini tour of NYC.  I know it is getting not so hot reviews from the professional critics, but I think it now has a special place in my heart.
Need a new song to listen to?  Check out Keira Knightly on the soundtrack singing "Lost Stars."  Adam Levine does the song as well, but I feel like hers is the more honest version, true to the movie and the moments that it represented.  It is good – I promise.
Overall, it was not groundbreaking, but I left feeling inspired, wanting to listen to the music, and overall feeling like it was a night well spent.
I definitely enjoyed it, along with a little me time to get inspired.  And that really is what art is, right…
Moving others to feel?