I say "vintage" because 1976 was the year I was born and I sure don't feel vintage.  I found it a few years ago in a thrift shop and just kept trying to figure something out to do with it.  When I was doing some cleaning earlier this week, I found it and decided that it was time to use it.
I just used it with some plain linen to create a simple pillow for the loveseat in my craft room.
Supplies:
Dish towel
Scissors
Sewing machine and thread
Needle and thread
Stuffing
linen or other backing material
Turning the towel upside down, I pinned it to the piece of linen that was a bit bigger than the towel itself.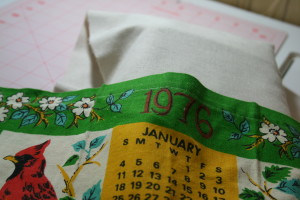 I sewed 5/6 of the way around, leaving a small hole in the bottom to add the stuffing.  I followed the existing stitches in the towel as my guide when doing this.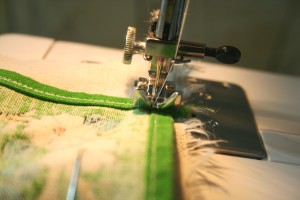 Once I was done, I trimmed off the excess linen and then turned it right-side out and added in the stuffing.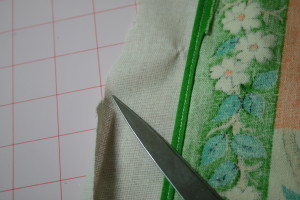 To finish it off, I hand-stitched the hole and it was all done!
Super simple, colorful, and personal.
Now – I have that stash of pretty dish towels that have the cross stitching on them that I bought…  Maybe some pillows for upstairs?