I had a lot of fun this year at CHA and was able to create a lot of little bits that were scattered throughout our booth.  Here is a quick look at them, with a few basic instruction notes…
For this one, I took a chipboard circle and covered it with burlap.  I then added in pre-made flowers and some more bits of birch branch.  On one of the bigger pieces, I painted blue chalkboard paint and then drew a heart in pink chalk.  I made it in about 10 minutes!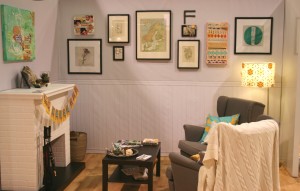 This was the living room scene in our booth.  I was lucky enough to make a few small pieces in this area as well…
I painted a rough heart on a piece of paper and then outlined it in thin Sharpie marker and wrote "home is where your heart is." Super simple.  Messy and easy.  It wasn't supposed to be perfect.
I also wrapped a set of antlers in yarn, securing it with strong glue (E6000).  On the other set, I used painters tape for clean lines, and then painted them with small bands of color.
I brought some of my chalkboard coasters with from home as well and then staged it all with fake succulent terrariums and pieces of birch bark.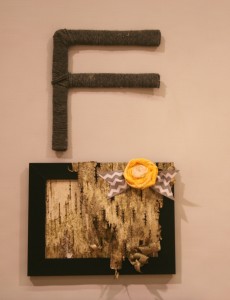 Finally, I rough cut an "F" out of cardboard and wrapped it in yarn as well.
I took the glass out of a frame and put a flat piece of bark inside.  Then I glued a more dimensional piece to the outside of the frame and then create a flower to add to the corner.  Both were 5-10 minute projects as well.
What I loved about all of these was that they were all quick and simple, but added to the staging of the booth.
It was a great time and I look forward to designing the booth for next year!