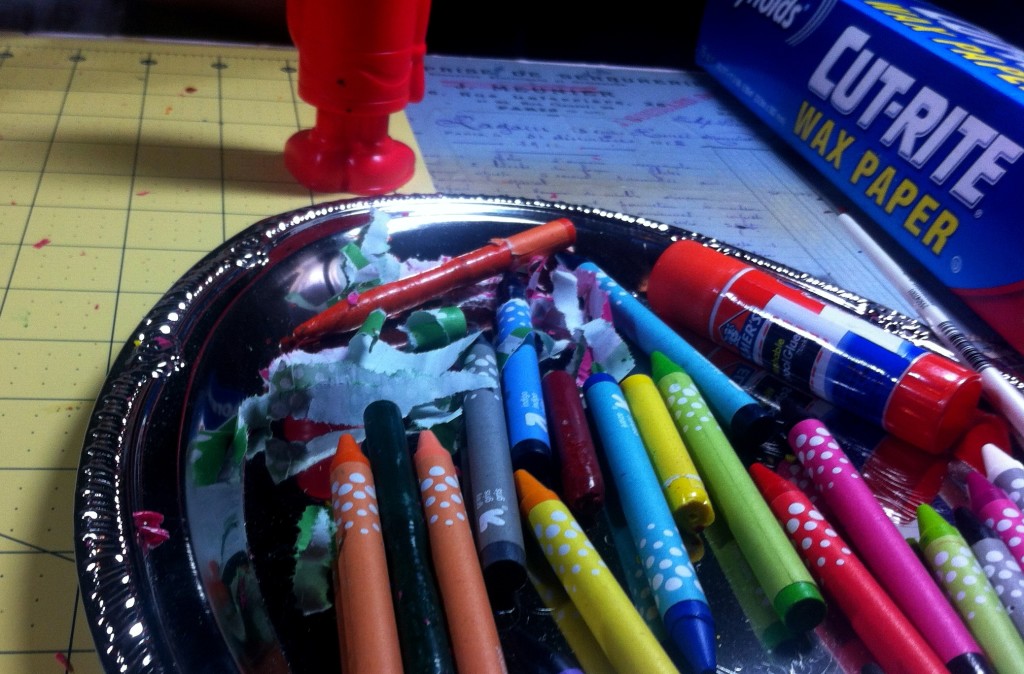 I am not sure what it is, but there is something about melting crayons that keeps my boys very happy and very entertained.
Luckily during back to school shopping time, Target gave us some free crayons and we were able to buy them at a discounted rate, too!  Our stash is now quite large for a minimal investment, so I am happy to let them melt away.
Jacob decided that this time he wanted to do the trick of taking the crayon shavings and melting them between to pieces of wax paper.  Owen has done this and then cut out shapes to create a robot.  Jacob wanted to do it as a large piece that he could put into his art journal when he was done – something a bit more abstract.
It is fun, quick, and simple and here are the few steps and pictures it takes to create some fun melted crayon art with your kids:
Supplies:
Crayons
Pencil or crayon sharpener – we found the pencil one worked better
Wax paper
Heat gun
A scraper to spread around the crayon as it melts (optional)
Scissors or punches – if they want to create shapes
How-to:
Super simple and great for using the kids' imaginations to create lots of fun little bits.I hope that you give it a try and have fun crafting with your kids as much as I have fun crafting with mine!