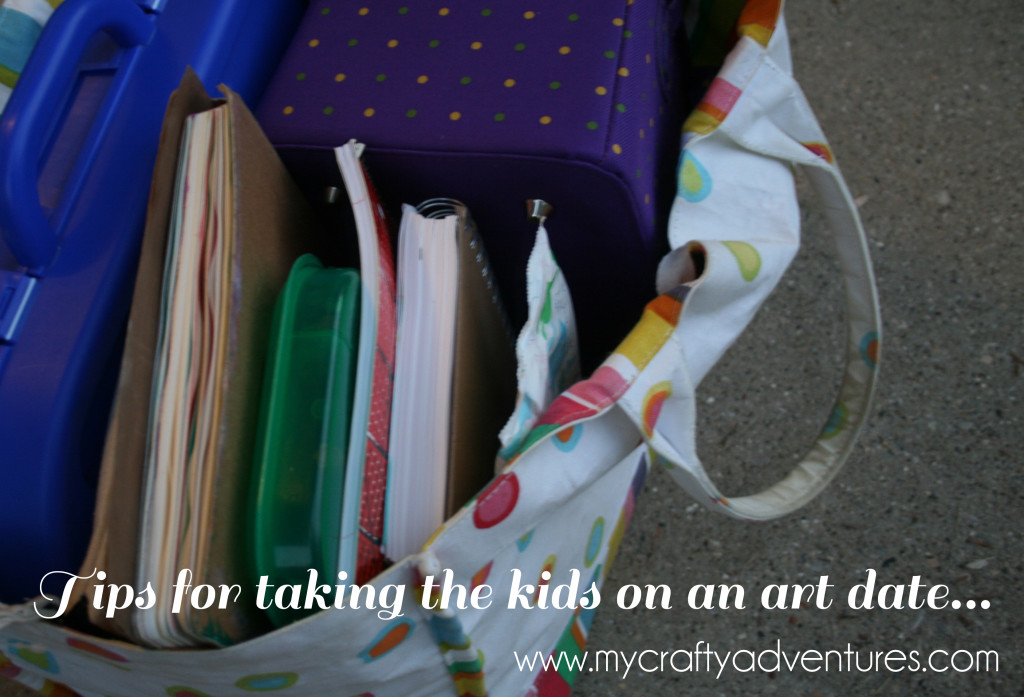 Recently a few people have asked me about my art dates with my boys.  I have been posting pics on Instagram and subsequently onto facebook.
At first I was just going to answer the emails and questions as one-offs, then I realized that this might be a good blog post or two to share my experiences with others.
First of all I have to say that I am lucky.  My youngest (Jacob – 7) has always been very into art and my older one (Owen – 9) recently has gotten interested in drawing – specifically the idea of comic book and graphic novel style art which became intriguing to him – and that  makes the idea of an art date much easier to sell.
Let's start this with a little bit of kid Q&A…
Question 1:  What part of the art date do you like the most?
Owen: I get to have fun with my family and I get to express my artness in my own way.
Jacob: Because I really like art – it is fun and cool.  I get to hang out with my mom and my brother.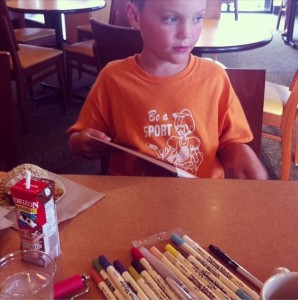 Question 2: What is the most important supply that you bring on our art dates?
Owen: Mom brings inks and other supplies, but the inks are what I like the most.  If you use them the right way, you can make really cool art.
Jacob: I like my art journal and my mom's inks and tools.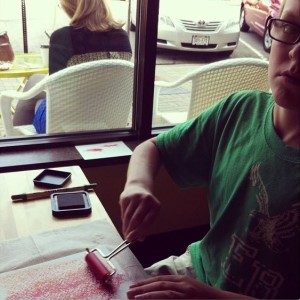 Questions 3: If you were going to try to convince another kid that an art date is a fun activity to do with their parent(s) what would you tell them?
Owen: Hey – you should do an art date with your mom and dad because it can actually be cool.
Jacob: Sometimes you get to go to a coffee shop and do fun art stuff.
Now, from my perspective there are a few additional thoughts I would share.
I make sure that we all have our own kits – and that everything is water soluble.  That way if you are at a coffee shop or restaurant, and something happens to get spilled, clean-up is easy.
Having separate kits does 2 things – one it gives them ownership of what they are doing.  They have their own art journals, their own supplies, and they can pick and choose what they want to bring.  It also gives us all an opportunity to share and play with other stuff.  I take a lot of the Distress products (markers, ink pads, etc…) from Ranger because they are water soluble and are different from what the kids have.  This makes my stuff way cooler and they will try something new.  However, I have used my Ranger water brush on Jacob's watercolors and then suddenly that make those more interesting to the kids as well.  It is all about giving them ownership, but also making all the supplies somewhat kid friendly and available.  I don't limit them on what they can/can't use.  If I ok it for the kits, it is fair game.
Get out of your regular space – aka leave the house.  Getting them out of that comfort zone keeps them from wandering away in 5 minutes.  We have spent more than an hour on multiple occasions doing this.  They are not tempted to go off and do their own thing – they can't.  Due to the heat and humidity, we have been inside at coffee shops.  Once it cools back down, however, I want to get them to the botanical gardens or another outside inspirational space to change their perspective a bit, letting them mix art with nature.
I also make sure to have a surface to work on – I take a Ranger craft mat since it is portable and allows us to have a good surface to mix on.  We often use napkins or paper towels to also help keep our host surfaces clean.
I pack baby wipes.  They help clean up anything that we happen to spill, will clean off my stamps, and help keep the kids from getting to messy in a space that isn't ours.
I loosen the reigns.  This means a cinnamon roll at 6:00pm is allowed.  Now – I am not giving them pixie sticks, but…  it is a date, an adventure.  A chocolate milk and a pastry passes that night.
I let them try it themselves.  This one was hard – especially the first time.  There is no wrong or right – it is art and they have their own perspective and point of view to share.  I will teach them how to use a new medium, the brayer, a mister, the water brushes, etc… and hold them to the proper usage in terms of not damaging my stuff.  However, if they want to see if how the water pens react with markers vs. crayons vs. colored pencils – cool.  They need to experiment to learn and we need to let them do that.
You don't have to do a "project."  While you can make something specific, sometimes just letting them play leads to more open dialogue because they are not focusing on the steps in the project. They are just enjoying the journey.
Letting them self-direct what they want to say with their art is also key.  I don't want anyone telling me what to do in my journal, so I don't tell them.  Now, if they ask "What about this?" or "Have you tried ____ before?" I am happy to answer questions and guide, but in the end it is about letting them have a voice of their own.
Finally, silence is ok.  Early on I felt like we needed to have conversation going the whole time to show (to whom I am not sure) that we were interacting and spending quality time together.  What I realized is that we were – even if we weren't conversing.  We were watching and interacting and sharing while working independently.  Three people at a small table focused on separate, yet shared projects, are definitely spending time together.
So those would be my biggest thoughts on what we have done.  Is it perfect or right for everyone?  No.  Does it work for us?  Yes.  You will find your own way, but the important part is to try.  I feel like art is something that leads to bigger conversations – why did you use all black? can lead to how someone is feeling.  Or it can be as simple as an I love you shared across wet paint.  If no one walks away with a masterpiece that is ok – it is about the journey, the memories we are creating, the validation of art as a vehicle for self-expression, and about just being together.
Below are some pictures of our kits.  They are all different.  You can be as simple as a tiny notebook and a pencil or pack a lot of stuff (like I do – it is a sickness…  What if I forget X?).  You can buy an actual kit – like Jacob got for his birthday one year – or re-purpose last year's school supply box – like Owen did.  Gladware and baggies work great, too.  It is all about what works for you.  We do call ours kits to make them feel special, but we use the supplies at other times, too.
Jacob's Kit: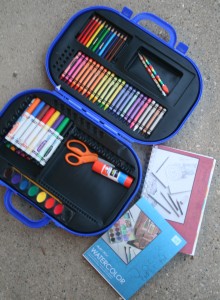 Owen's Kit: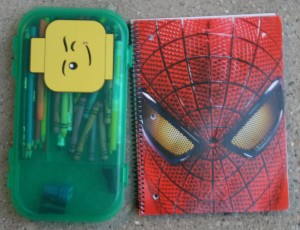 My Kit: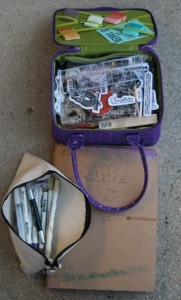 Then I roll it all into one tote bag to get it all from Point A to Point B: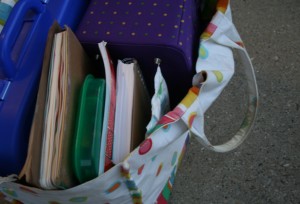 Hopefully this helps those of you thinking about taking the kids on an art adventures.  If I didn't answer everything, I am more than happy to answer other questions…  so just drop me a line and Happy Creating!