Well – it is that time again.
Margot and I are back with another installment of Inspired by Design and this time we are focusing on the amazing summer collection from Dolce&Gabbana.  I decided to go for a sewn piece that mimicked the boat neck style dresses along with adding big bold prints.  In order to do that, I found a bright and colorful scarf that I could use as the base of my project.  Margot created an absolutely gorgeous and bold decorative heeled pair of wedges.
It was actually a pretty simple and inexpensive way to create a wearable piece.
Here's how I did it:
Supplies:
Safety pins
Scissors
Sewing machine
Large scarf
First, I folded the scarf in half and pinned it close to the fold.
Then I cut along the fold to create two pieces.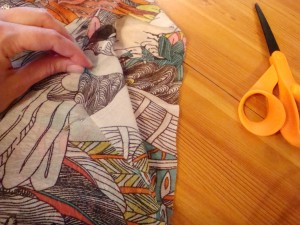 Then I started pinning the collar into a boat neck on my dress form.  I then also pinned down the sides.  How I pinned the sides was I left an 8 inch gap from the top of down for arm holes.  Then I pinned it and sewed about 4 inches into the fabric on both sides so that I could create the sleeves and then use the excess for a tie belt.
I sewed across the top up to the neck, then sewed the neck as per my pinning.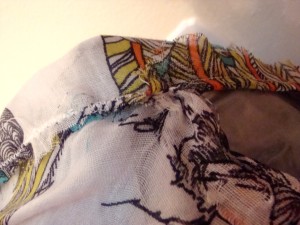 Finally I sewed together a couple of the extra pieces from the sides to create the tie.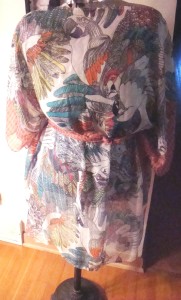 Once it was all said and done I was really happy with how it turned out.  It was shear and on me a bit short to count as a dress, so I paired it with a tank and some skinny jeans.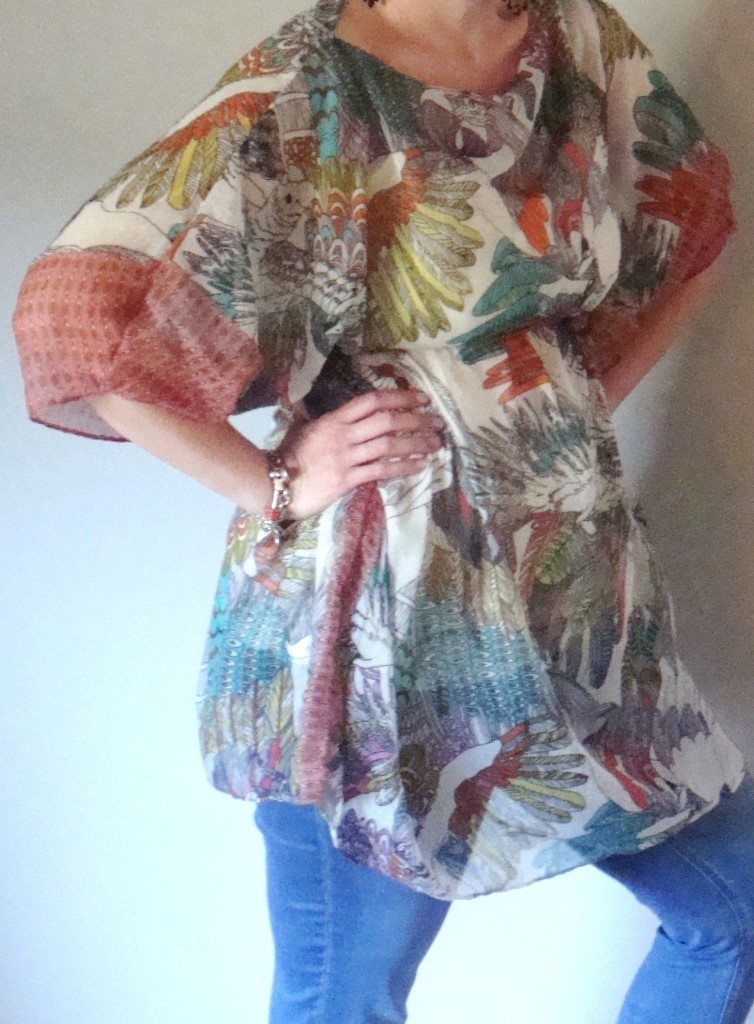 I think next time I would choose a different fabric for the scarf as this one was snagging pretty easily and while it looked really bold all folded up, the sheerness of it caused some of the bold pattern to kind of fade out.
But – now I know how to do it, so I think there will be few more of these in my future!
Now you have to check out Margot's amazing shoes that she put created.  They are killer!