Well two weeks later, I am back with the absolutely fab Margot Potter for another installment of Inspired by Design.  This week we are focusing on the wonderfulness that is The Great Gatsby.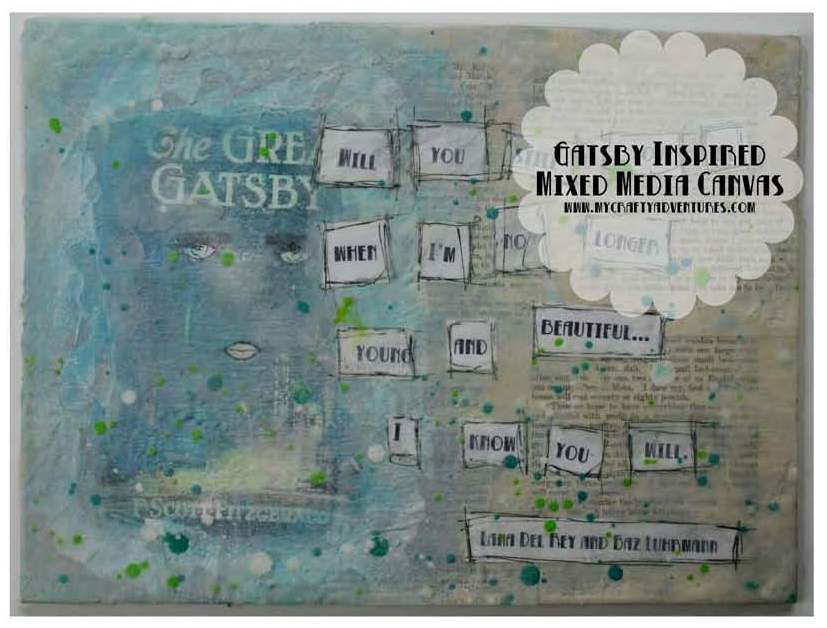 Personally, I have now read the book twice and have seen the movie – which I am slightly obsessed with.  Beyond the book and movie, however, is the soundtrack, produced by Sean Carter.  You might know him better as JayZ.  This soundtrack is absolutely the most heart pounding awesome compilation of music I have listened to in a long time.  There are several songs that I am addicted too, but one that gets me every time is "Young and Beautiful" sung by Lana Del Rey and co-written with Baz Luhrmann.  I love this song and wanted to do a bit of an homage to the music of the movie.
I definitely went more art piece for the home rather than fashion focused this time around.  Plus, I knew Margot would probably create some truly chic jewelry since she is the master, and I was right…  she rocked it.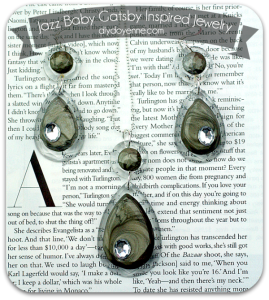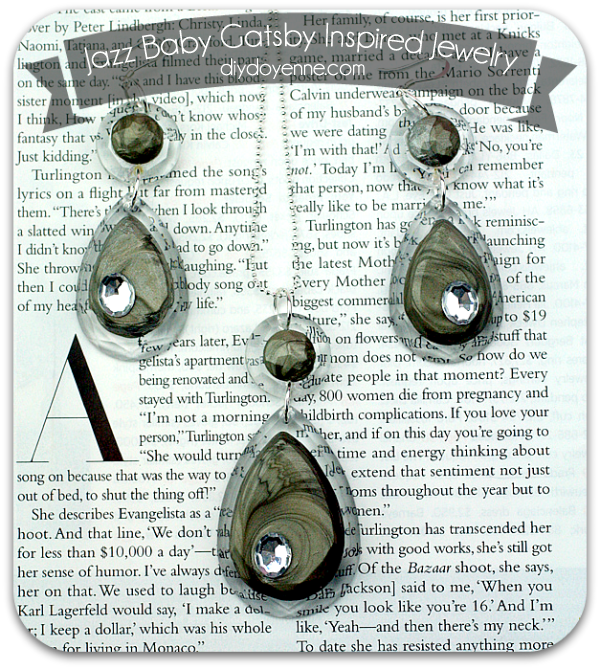 So, let's get to work. Here is what you need for my canvas project…
Flat canvas
Old book pages
Water bottle
Kleenex or paper towels
Printed picture and quote
Sharpie
Melting Pot and Insert
Crayons
Here's how we put it all together…
Start by using the Glue n' Seal to adhere vintage book pages to the canvas.  Once the paper is dry, trim off the edges with your craft knife and then distress the papers a bit.
Next add some paint – I went with an of-fwhite and a silver.  Spray it with water to blend, then blot with a kleenex or paper towel and dry.  Add layers until you are happy with the result.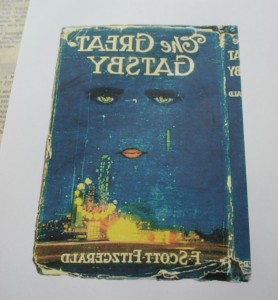 Next you are going to do the image transfer. This is another great technique that I learned from Claudine Hellmuth at RangerU. The most important part is to be sure and print out the mirror image of what you are going to transfer so, yes, this is supposed to be backwards!
Paint on a decent layer of gesso and then put your image face down into it.  Let it sit and dry.  If you use a heat gun to dry it, it can bubble.  If you are ok with that, go ahead.  If not, let it sit and dry on its own.
Once the gesso is dry, score the back of the image and generously spray it with water.  Use your fingers to rub the paper off.  This will take some work, so be patient.  It won't be perfect – it is not supposed to be.  If I wanted perfect, I would have just decopauged the image on.  I wanted that transfer look.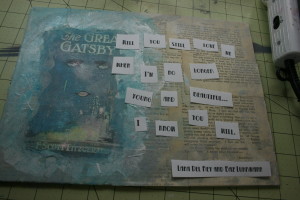 Next I added paint around the gesso and image – again blending and dabbing with water.  Once that is done and dry, I printed and added the quote from the song using the Glue n' Seal and then dabbed them with paint and highlighted the edges with the sharpie.
For the next layer, I melted the crayons and added drops for some color and texture.
To finish this project up, I melted the beeswax in the melting pot – making sure to use my extra insert so that once it is cool it can just store in there until the next time I need to use it.  I grabbed a large paint brush, dabbed it into the wax and brushed it over the top of the entire project.  Then I went through and added extra around the edges and at the corners.  This added a soft feeling to the entire project, kind of capturing that dreamy feel of the world that Gatsby and Daisy often are in…
To make sure the words were legible, however, I used my craft scraper to gently scrape away the wax in certain places.
Overall, I am happy with how using the melted wax added a layer of depth that I haven't done on other projects up to this point…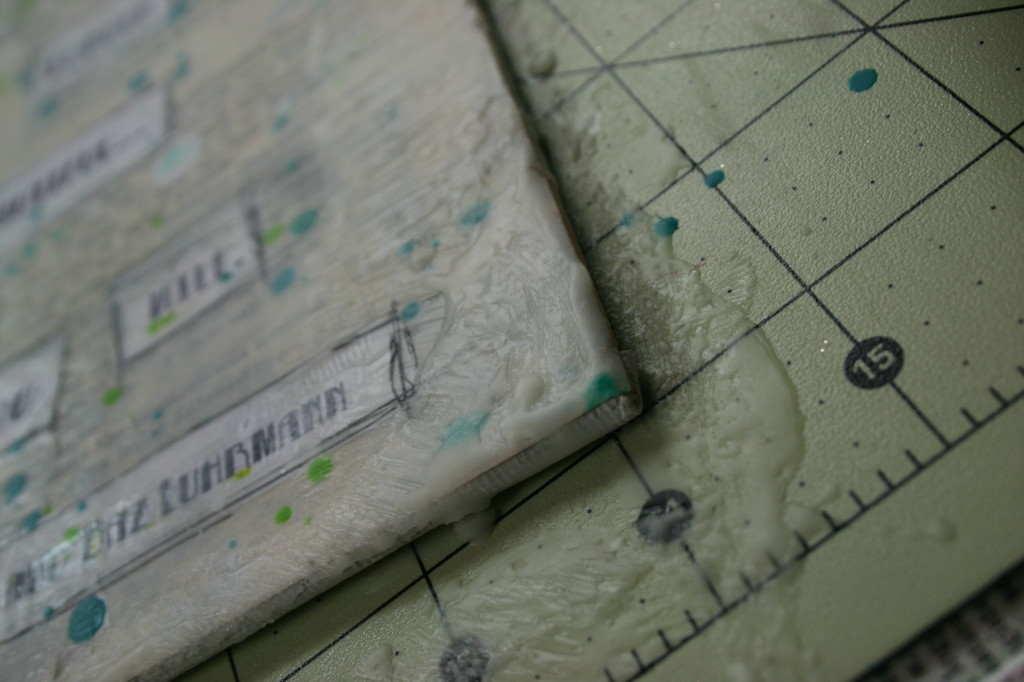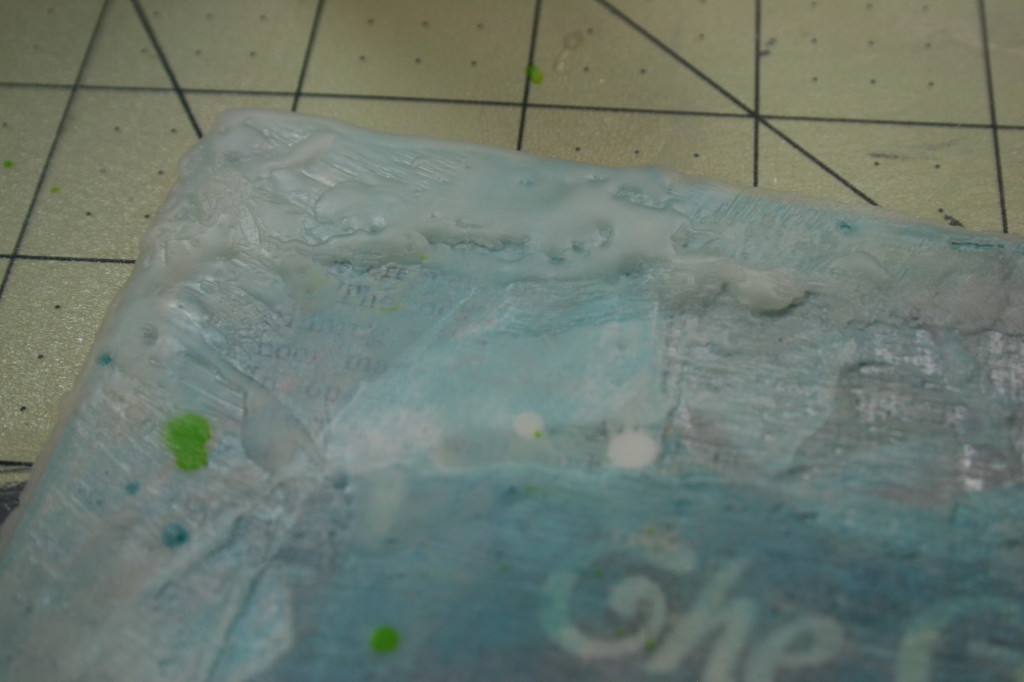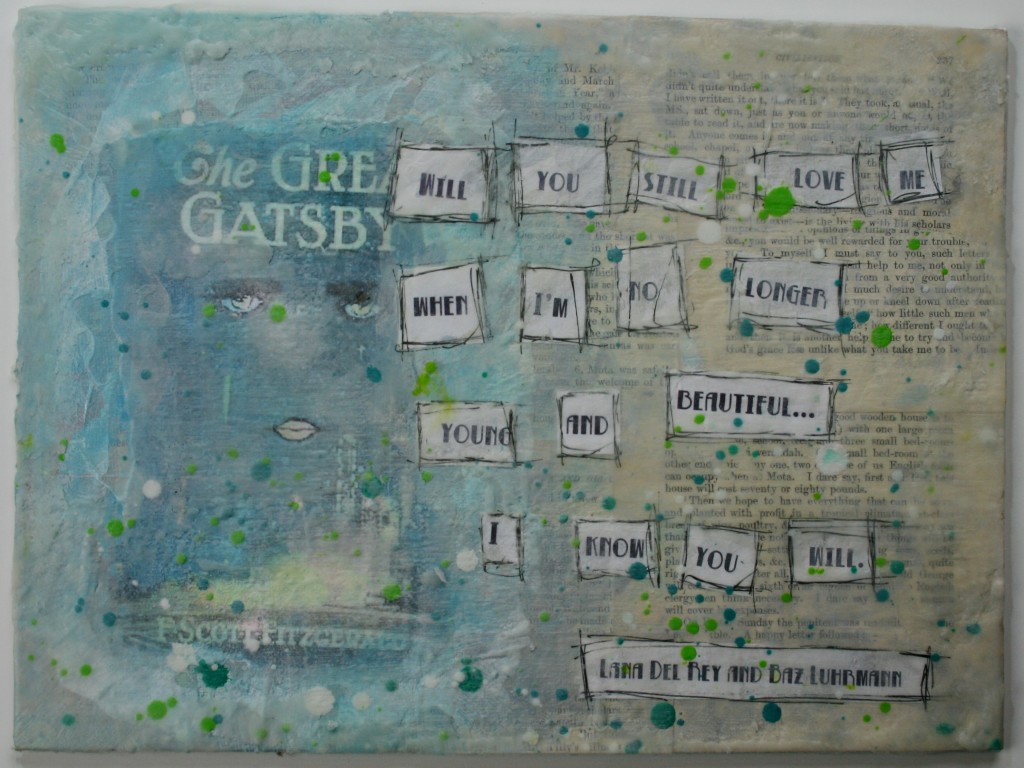 Now that you have seen how I completed mine, don't forget to go and check out Margot's project, too!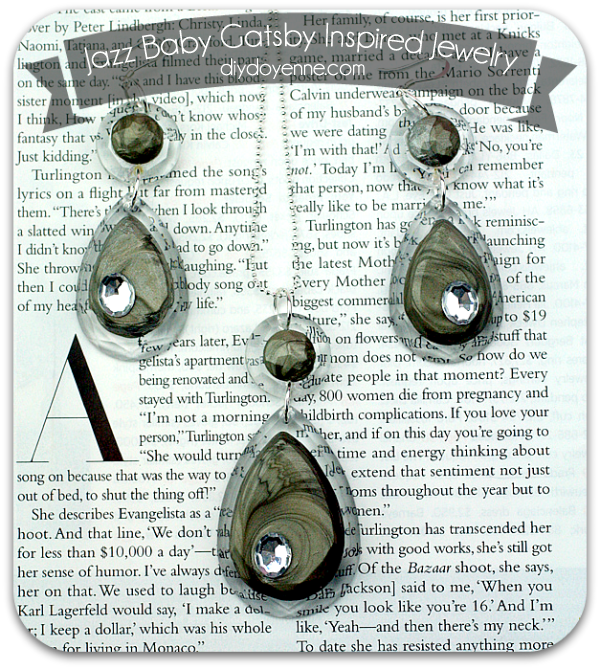 Thank you so much for stopping by and we hope you enjoyed this installment of Inspired by Design!