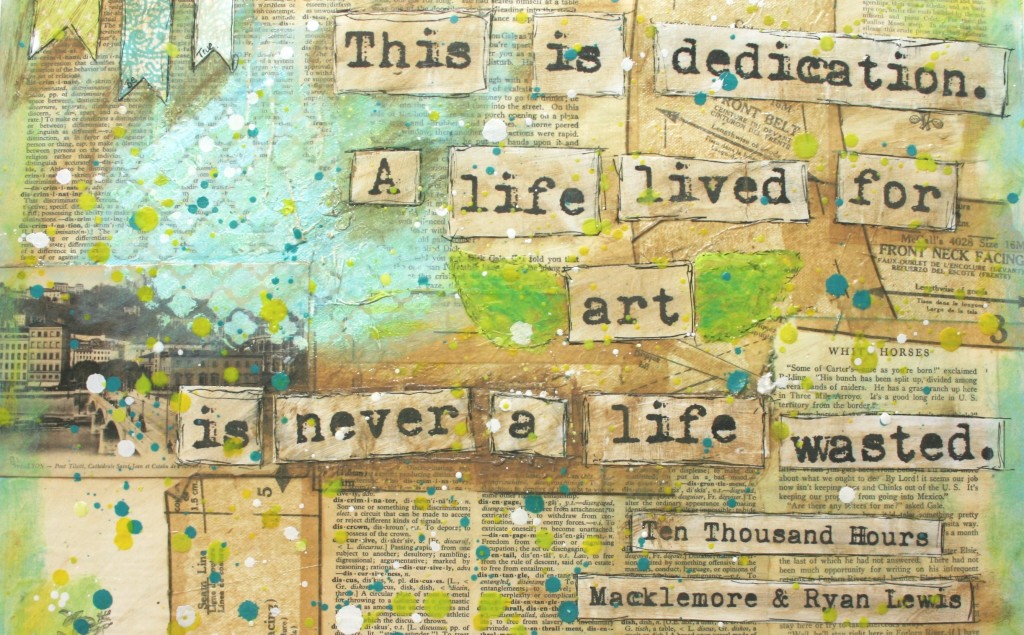 There is something truly magical about great music. 
It inspires.
It uplifts.
It motivates.
It soothes.
It revs.
It fills your brain and your soul.
For me, music can be what calms me after a rough day, what motivates me during a workout, or what helps me deal with sadness.  There is a voice, a melody, a rhyme, a beat, or a sound that impacts us that we turn to.
As a lover of music, I often listen to it – usually most of the day.  I love apps like Spotify that allow me to try out the latest and greatest and try every genre out there.  I find it freeing and inspiring on so many levels.
That said, yesterday a new song entered my playlist – "Ten Thousand Hours" by Macklemore and Ryan Lewis.  One line amidst all of it jumped out and grabbed me and I was completely inspired to write it down, listen to it again, and to capture how it made me feel in art. 
After a really long week (yes, I know it was only Tuesday) I needed a creative break and found myself in my own version of therapy well after bed time on a school night, elbow deep in gesso, paint, and collage pauge.  All the stress melted away, the art flowed, and I just felt like a massive weight had been lifted. 
Here is how I created this piece on the off-chance you want to try it yourself sometime…
Supplies:
Flat canvas
Old book pages, sewing patterns, etc…
Heat Gun
Crayons
Paint brushes
Fine point Sharpie pen
Scissors
Printed quote
To get started I decopauged the papers onto the canvas.
I next added paint to the edges.
Once that was all dry (I cheated and used my heat gun to move it along), I used the stencil to add gesso in a bold pattern.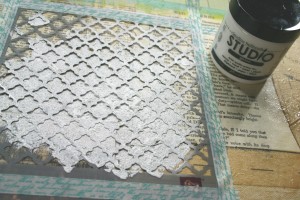 Once the gesso dried, I added paint to the top of it as well.
Once that was done, I printed my quote out and cut out each word with scissors.  I placed it and used the collage pauge to adhere and seal it.  I then added paint to the pieces, and outlined them all with Sharpie.  To finish it off I used the heat tool to melt crayons to add drops of texture and color to the piece.
To finish it up I sealed it all with one more layer of collage pauge.  (You might have to touch up the Sharpie if is smears in spots.)
Once it was all done, I let it finish drying.  Now I just have to figure out where to put it!