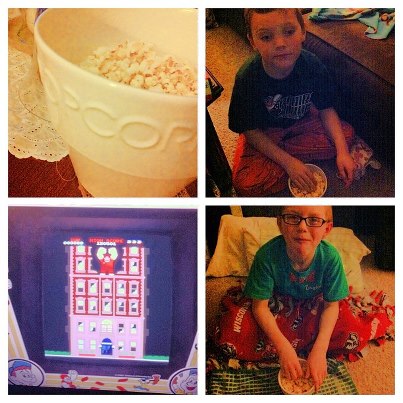 Do you ever have those weekends – the kind where nothing gets done at all, but that was the goal?
I should say Saturday afternoon and all day Sunday.
Saturday morning was the typical: go to bowling league with the kids, do some cleaning up and laundry, and then run errands.
By 3:00, however, I was done.  Seriously done.
We went home after picking Owen up from a birthday party and that was it.  I didn't open the front door again until this morning.
We watched movies, ate popcorn, and just hung out on the couch.
I didn't even get to my craft room – which is a huge deal as it is my one goal for the weekend normally.  We just sat like vegetables all weekend long.
It has been ages since we did that.
I think we needed it.
It was wonderful.
Now back to work, back to crafting, and back to reality.
Nothing quite smacks you out of it like Monday.