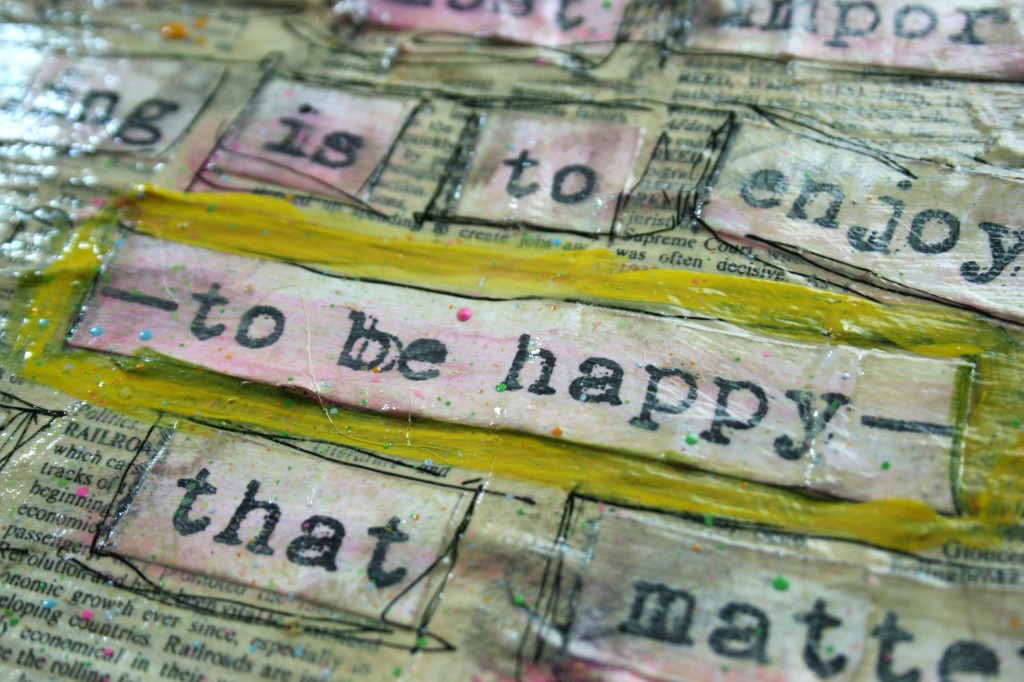 I was born a "dabbler."  I have always had an affinity for making things out of anything that I had lying around.
As a child I played with a bag of ribbons that my grandmother would save from unwrapped birthday and holiday gifts.  It was in one of the bedroom closets at her house in an open-ended plastic bag, the kind that needed a twist tie, but never had one because it was always overflowing and full.  I would grab my scissors (yes, even then), sit on the hardwood floor, and start curling.  I would slice and divide wide strips, making the thinnest curls I could, challenging myself to make tiny tight little curls of shiny goodness.  I would make strip after strip and then tape them all onto a piece of paper to create a piece of art.
Likewise, I would go through ream after ream of newsprint paper on my little easel, drawing, coloring, painting, and just loving life at my house.  I could go for hours, creating and adding color here and there.  I would also spend hours with my dad in his woodshop, cutting pieces of wood, nailing them together, and then coloring them with markers.  It didn't matter what the medium – I made stuff.
I have since done sketch work (high school), made handmade wreaths and ornaments for Christmas presents (college), and have since graduated to being a true and official dabbler.  Not that it is a bad thing – I am proud of it.  It makes me who I am.  I have my passions – scrapbooking, party decorating, and simple home dec – but I am also pretty darn good at basic jewelry making, basic sewing, and now I am enamored with mixed media.  It takes all of those mediums I have dabbled in my whole life and dropped them into one unified art form.  My paper, my paints, canvas, and anything else I can imagine have all been gift wrapped into one amazing art form that has me playing until the wee hours of the morning.
With that in mind, I thought that the first big project for National Craft Month should reflect this love, so here is a small little canvas that I created using my One Little Word for 2013 – Happy.
It was messy and took a while, but it was so much fun.  Here is how I did it…
To get started, I used my always-handy Collage Pauge and started applying pieces of an old dictionary to my canvas.  I covered the top and went around the edges.
While it was drying, I began working on one of the elements I would be adding at the end – a bird.
To make the bird, I used three colors of Tim Holtz's Distress Paints and clear Crackle Paint, as well as some Tim Holtz Grungeboard.  I started by adding a layer of blue paint to the Grungeboard, followed by a layer of green, and then the crackle.  I ran it through the Fiskars Fuse Creativity System (remember I work from them and please review FTC disclaimer on this site) using the bird dye and letterpress plates.  Once it was done, I went back in and added some shading with brown paint.
Once the paper was dry, I added paint to the edges – a light cream color, followed by a darker brown, to add depth to the corners.  I then used a stencil and some bright paint colors to add circles to one corner of the canvas.
Once the paint was dry, I grabbed a heat tool from Walnut Hollow and began melting and adding encaustic wax to that corner of the canvas.  It provided another layer of texture and a unique look as well.
I printed out a quote that means a lot to me and really helps to define 2013 for me and cut it out.  I inked the edges and collage pauged them onto the canvas.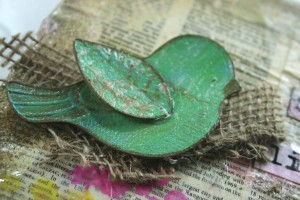 Using hot glue and some burlap, I added my bird to the canvas.
Then I added all of the rest of the final touches…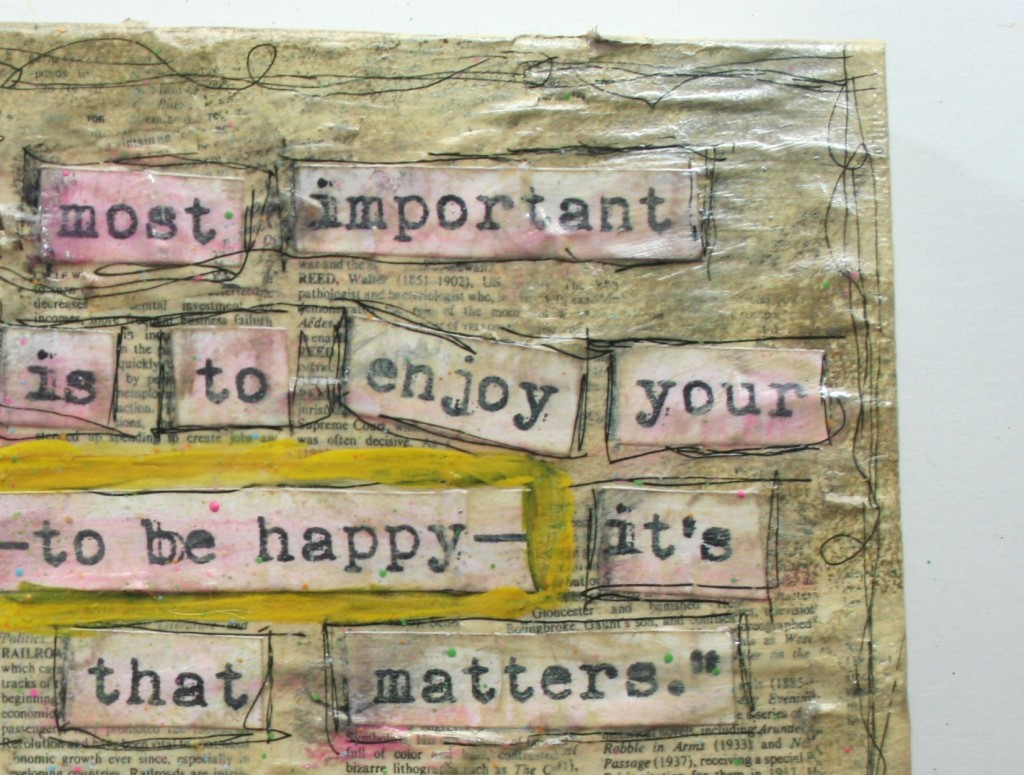 I added some paint to the words, outlined then in black marker, and then highlighted the  "-to be happy-" portion in a bright yellow.  I also doodled around the edges.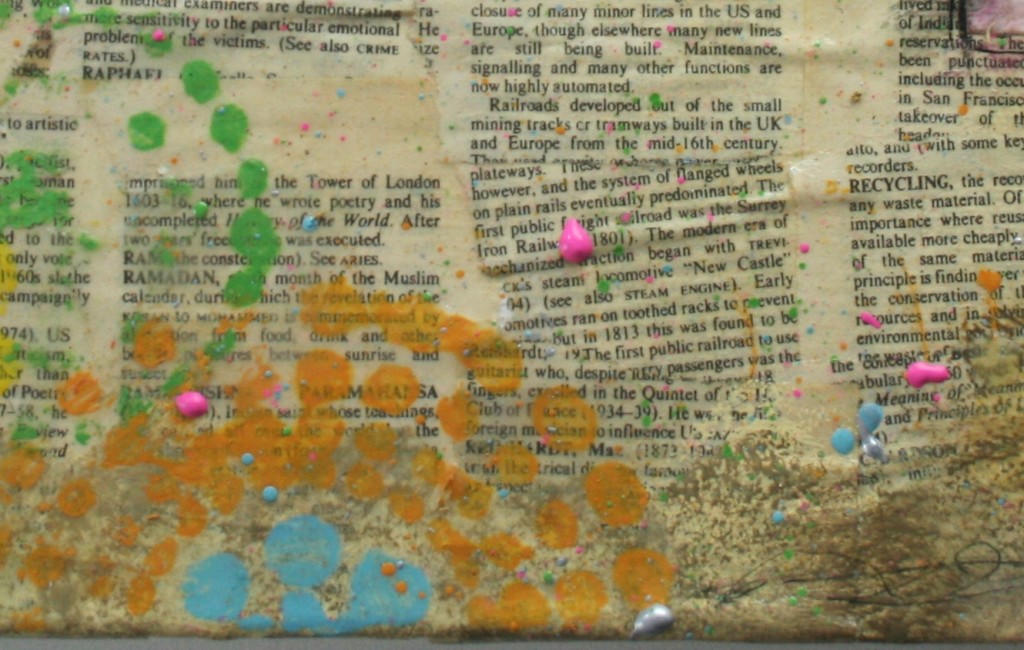 I grabbed the paints I had been using and a small paint brush, adding droplets and tiny splatters of color to the canvas for a bit of final fun.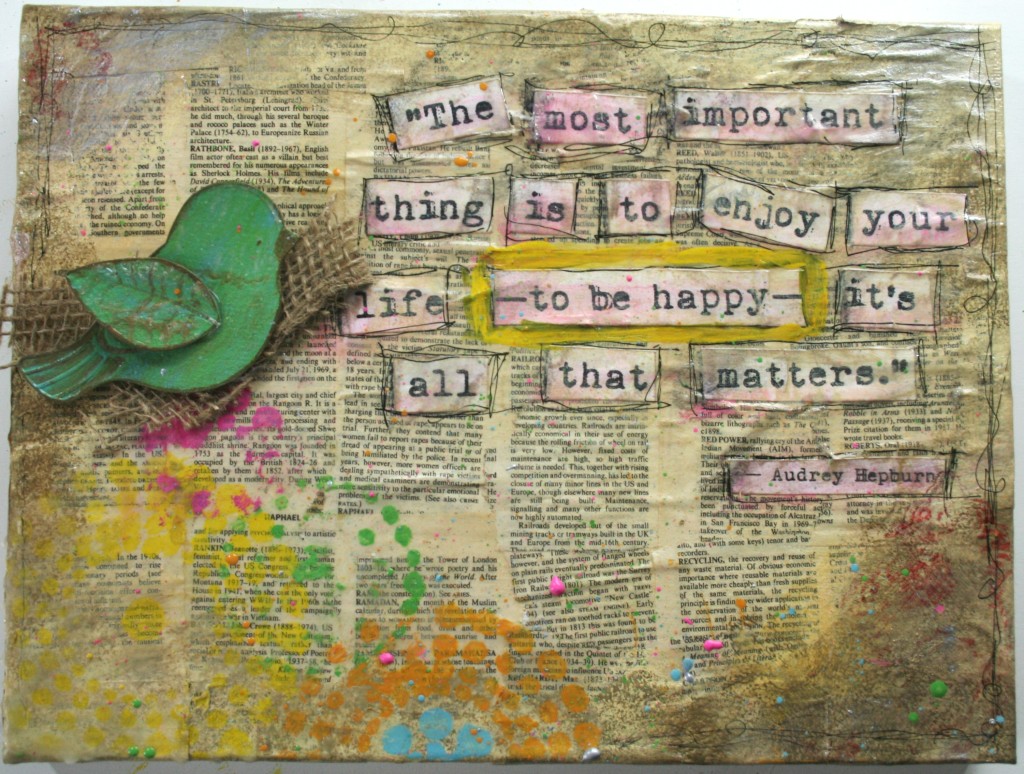 And then this was the final result.
Nothing fancy, but a great way to play with all of the art supplies that I love and to make something to remind me to be happy in life – not just by the phrase, but as a constant reminder of the process I used to make it.
I loved the process and I am very satisfied with the result.
Happy National Craft Month!
Add color to your life – make art.