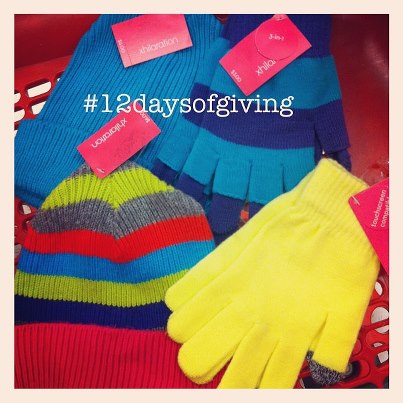 This year, instead of the 12 Days of Christmas, we are celebrating the 12 Days of Giving at our house.
After talking with my family, we thought it would be fun to do something small everyday that can make a difference in someone else's life.  And, thus, the 12 Days of Giving!
So far, we have gifted little pencil and eraser gift bags to their bowling teams, supplied some hats and gloves for the local Boys and Girls Club, and paid for coffee for a fellow Monday morning caffeine drinker at the drive-thru at Starbucks. 
I am sharing each one on Instagram with the hashtag #12daysofgiving hoping to inspire others to make a difference this holiday season.
With that in mind, I will keep sharing mine, but I have also put together a list of ideas that you might find helpful if you are trying to think of some fun stuff to try this year:
Share holiday cookies with a neighbor.

Shovel someone else's driveway or walk.

Make holiday tags to give as a gift for others to use.

Create little ornaments for someone you love.

Invite friends over to watch holiday movies.

Surprise a friend with a mug and some hot chocolate.

Send a postcard for no reason other than to say hi.

Donate your time to a local charity you believe in.

Drop off some canned goods at your local food bank.

Make a fun cube decor item for a co-worker.

Donate items like shampoo to a women's shelter.

Go caroling – if you like to sing.

Share your talents… whenever and wherever you can.
This is only a short, quick list.  For more ideas, check out a great book by Matthew West called "Give this Christmas Away."  It is full of great ideas for sharing the holiday spirit with others around you.
So, that was what I wanted to say today…  remember what this season is about and don't forget to share your love and your best with those around you this holiday season.
Merry Christmas everyone!