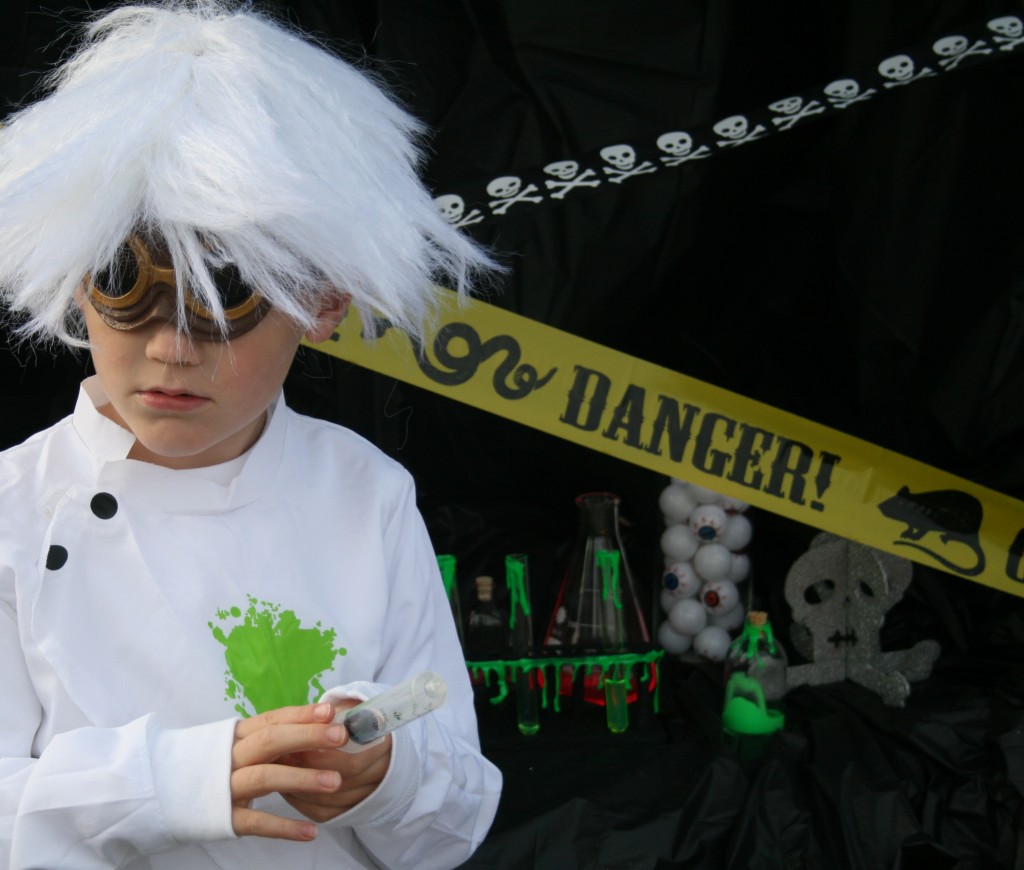 This year Jacob found a pre-made Mad Scientist costume, complete with wig and goggles at Target that he just had to have.  That costume then set the tone for mine and for our annual Trunk or Treat trunk decor.  He and I would be a couple of crazy mad scientists with the green goo and the glowing test tubes to prove it!
Now, this is a quick contest, but does require 2 days to complete due to drying time.  It is kind of like cooking something in the crock pot – there is some prep, waiting, and then some final touches at the end, if that makes sense.
So, to begin, we start with creating some fake slime to add to our jars and beakers.
Using Tulip Flourescent Green Slick paint and a non-stick mat, I created several different slimes in various sizes.  I let that sit and dry overnight.
I also grabbed my lab coat and added some paint to that as well.  I tried to be punny and went as Dr. Momster.  I had to explain it to the boys, so I guess it lost a bit of something in translation to them.  Oh well.
I made sure to put some cardboard between the layers so that the paint didn't accidentally soak through to the back of the coat. (Just a helpful tip!  Paper, cardboard, tin foil, etc… will all work just fine.)
To create a fun fascinator for my hair, I glued on some bright green tulle and then began tying and adding on other ribbons and trims until it was all done.
Finally, I took some black paint and painted my test tube holder black.  Sorry, but bright blue just won't cut it.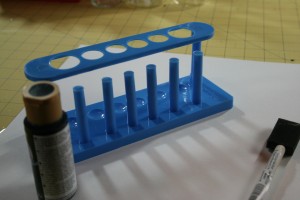 Now – all of it can sit overnight.  Mine was actually close to a full 24 hours – I did it before dinner and got back to work the next night after dinner, so it had plenty of time to rest.
Once the jacket is dry, it is complete.
As for the other slime, however, I had plans for it and got to work.
I carefully peeled the pieces off and began to glue them around the edges of the beakers and glass jars.  If you want to be able to remove them, they are tacky enough without the glue to stick temporarily.  I just knew I would also be adding some glow juice so I didn't want it to come off on me if it got wet, so I chose to glue it down.  I am now locked in, however, to these tubes, as is.  So it is up to you!
Now once I had those done, I grabbed myself some big glow-sticks and cut them open.  This can be quite messy and is not recommended, as it will stain.  I however, through caution to the wind and did it anyway.  I poured the liquid into my test tubes on site once we were at the church and all set up.

It made for a quick and simple little costume and display and we had a blast doing it.  Jacob REALLY got into being a crazy mad scientist…  a little too into almost.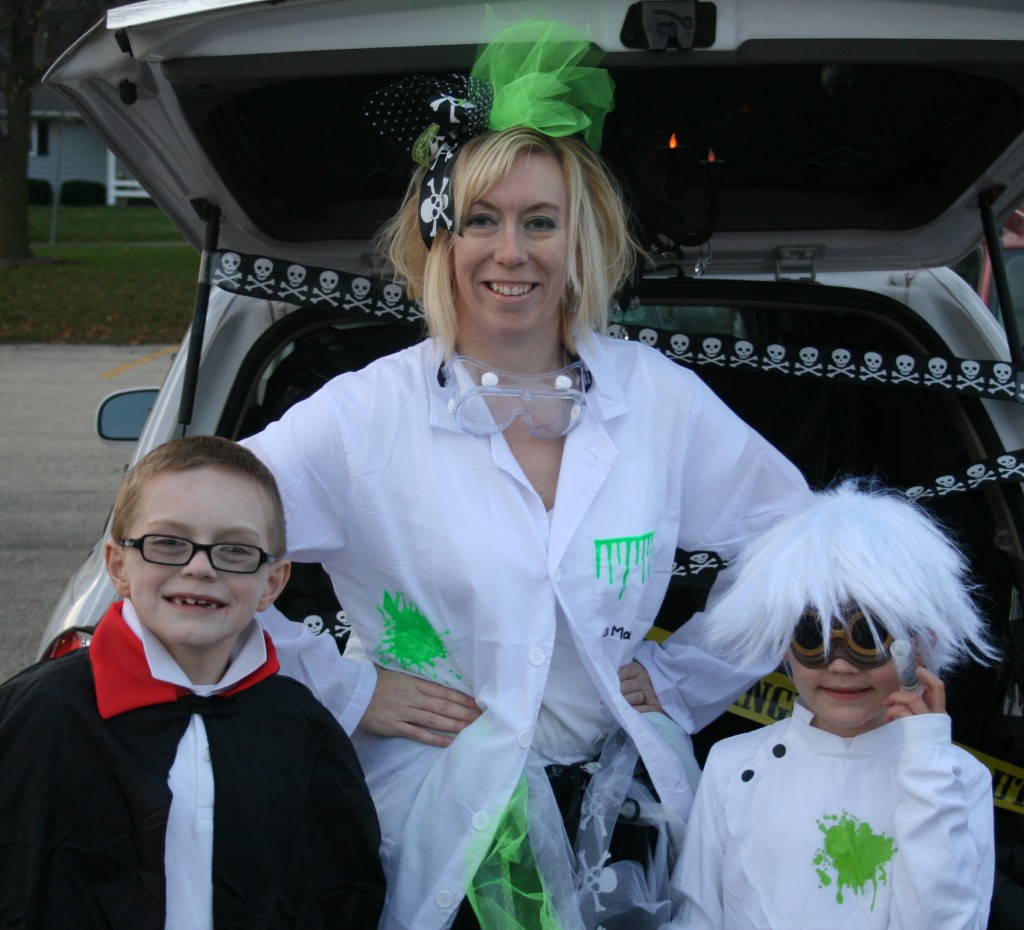 To complete my costume, I put on a tulle skirt I had made last year (not necessary at all – black pants or jeans would be fine, too!), over another black skirt (just to be safe – no one needs to see that!) and some black tights.  I had black and white socks with green on them from Target and then wore some old school Chuck Taylor's.  I threw on my lab coat, some cheap goggles, and my fascinator and was ready to rock.
We had a blast with the Trunk or Treaters and it is seriously one of our favorite events all year!  The boys got tons of the sweet stuff and I had fun handing out candy to creatures of all walks of life.
Now, what to do for next year…