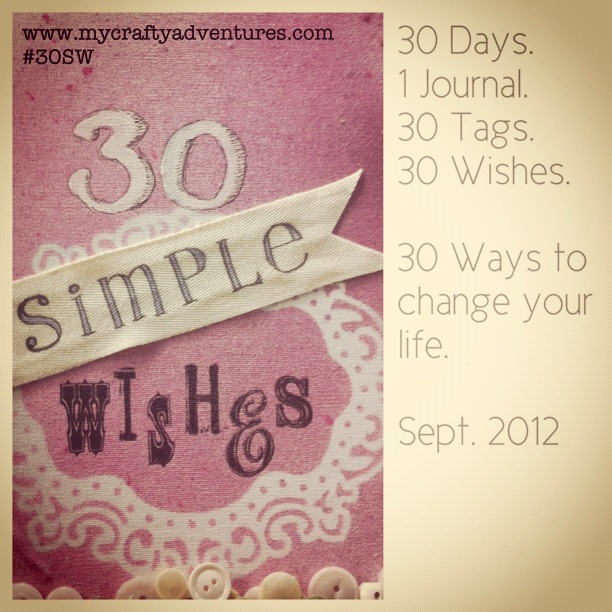 I am so excited to announce my newest endeavor starting on September 1st ~
30 Simple Wishes!!!
Starting on September 1st, I will be kicking off this fun, simple, and exciting little adventure.  We will create a simple journal from a $0.50 composition notebook – something super simple and easy.  Then, each day I will post a fun or simple tag that I created for that day.  Then, a small, simple wish is written on that tag and placed in the book.
30 Simple Wishes… to be happier.  To be more creative.  To have more time.  To play more.  To work less.  To live life to the fullest.  To eat popcorn on the couch with the kids.  To learn to make eggplant parmesan. 
Imagine the power that 30 simple, honest, true, and pure wishes could have once they are written down, sent out into the world.  You will take them from your mind, your heart, your soul and breathe life into them.  By writing them down, you are making them real.  You are actually acknowledging their existence. 
You could change your life by coming up with one wish per day… you could learn who you really are, what you really want, what honestly and deeply matters to you. 
Are you ready?  I am.  And I cannot wait to start this journey.
I hope you will join me for the kick-off of the journal next week and for each tag of the month. 
I will share some of my wishes – not all…  I am not sure I want them to be THAT real yet, but some.  I hope you will share too.  We will have a hashtag going for social postings (#30SW) and I will be posting on Instagram, Twitter, Facebook, Pinterest, etc… and I hope you will too. 
Let's make a change – together.
Now… about that notebook – I hear Target calling me right now!