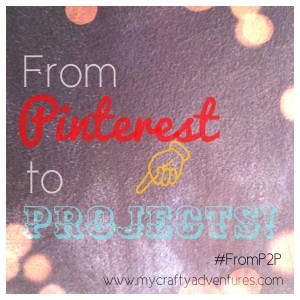 Thanks to all of you for the great responses on From Pinterest to Projects! I hope you are all feeling inspired to take a few minutes this weekend and play around with and create something you have pinned.
Be sure to hashtag your creations on Pinterest with #fromp2p and I will share them out with people! 
Meghan has already blogged and earmarked her project – can't wait to see the result!
And for upcoming info:
Be sure to stop by Wednesday, as Mark and I will back, after taking a little break to enjoy July, with our bi-monthly "He Crafts, She Crafts" volume 4!
And, finally, get ready…  starting September 1 I will be launching a free, month-long event with a new project every day!!!  I am super excited about what is coming and I hope that you are willing to play along with me.  It is about being crafty, but also about making life a bit more meaningful.  Can't wait to share all the details when it gets closer!
With all that said, have a great Friday and a great weekend!  Happy Crafting!