Over the weekend, I made a trip to my local thrift store.  I love thrifting – it is seriously fun for me.  I truly enjoy finding little treasures tucked away in corners, begging to be played with and brought home to my house.  Sometimes I go and just look – nothing grabs me.  This weekend I went and it was as if everything wanted a new home, so I adopted several little bits to come live with us.
One of my finds was a pair of matching lamps and shades.  They are identical and I thought that it would be fun to redo both of them, but had two ideas, so instead of making a matching pair, I decided to make 2 distinctly different lamps.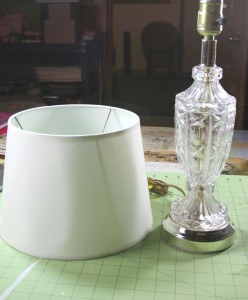 This is what the base and shade for each lamp looks like.  A pretty glass base with just  a plain white shade.  They are simple and straightforward.
For the first lamp shade, I decided to use burlap and some coordinating ribbons and lace to decorate it.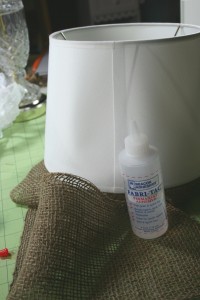 I used Fabri-Tac for the entire project since it is less likely to be affected by the heat of a light bulb that hot glue would be.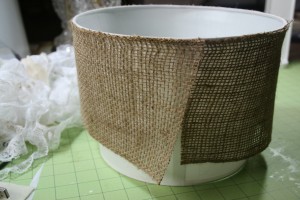 I started by glueing the burlap to the bottom of the lamp shade.  Once it was dry, I flipped it over and then folded and tucked it and glued it in place.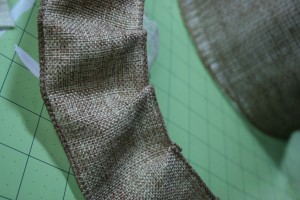 Next I started adding layers of ribbon and lace, one at a time, with the glue.  This ribbon had a wired edge, so I was able to pre-fold it to add the ruffle feeling.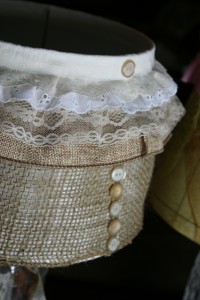 When it was complete, I added some little buttons to the seam for a bit of a finished look.
To add a little flair to the base, I tied on ribbons and baubles towards the top that coordinated.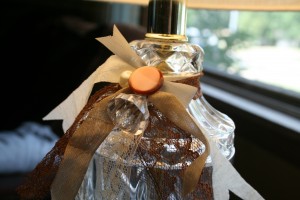 And here is the finished result…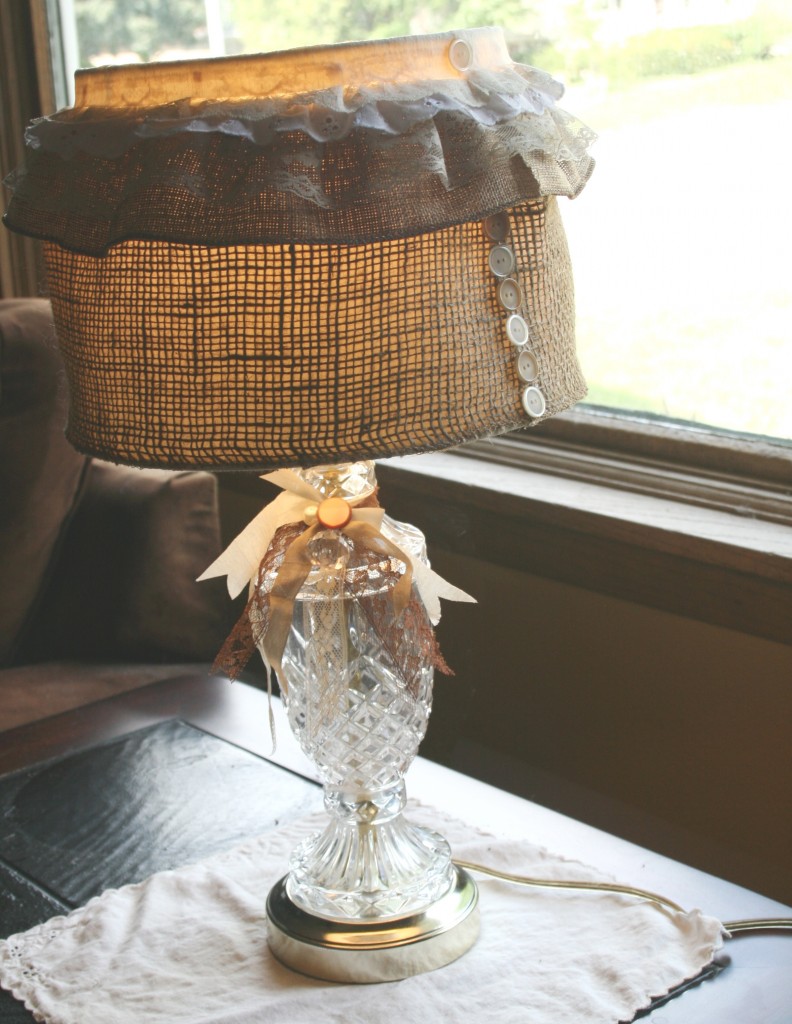 For the second lamp shade, I wanted to do some decopauging with sewing patterns and doilies.  So I grabbed my supplies and got to work!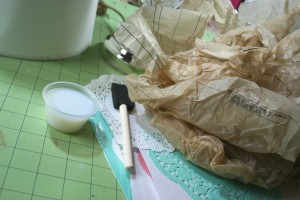 First I added the bits of pattern and let that set up.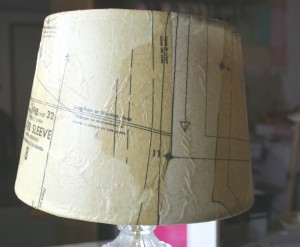 Then I grabbed some fun and colorful paper doilies that I had recently purchased and added them, along with a plain smaller white one in the center.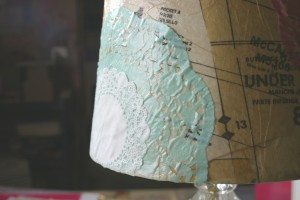 Once those were dry, I quickly hot glued a button into the center to finish it off.
When it was dry, I added a bit of left-over pink ruffle I had made for another project for a bit of texture and contrast.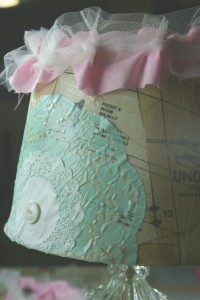 I added coordinating ribbons and trims to the base of this one as well, popped in a bulb, and it was ready to go!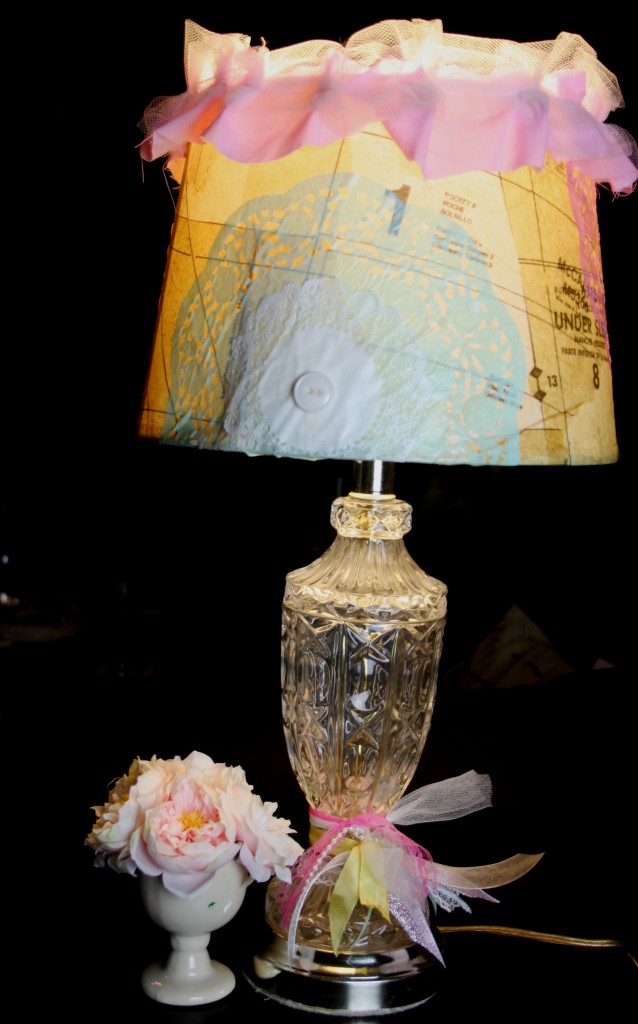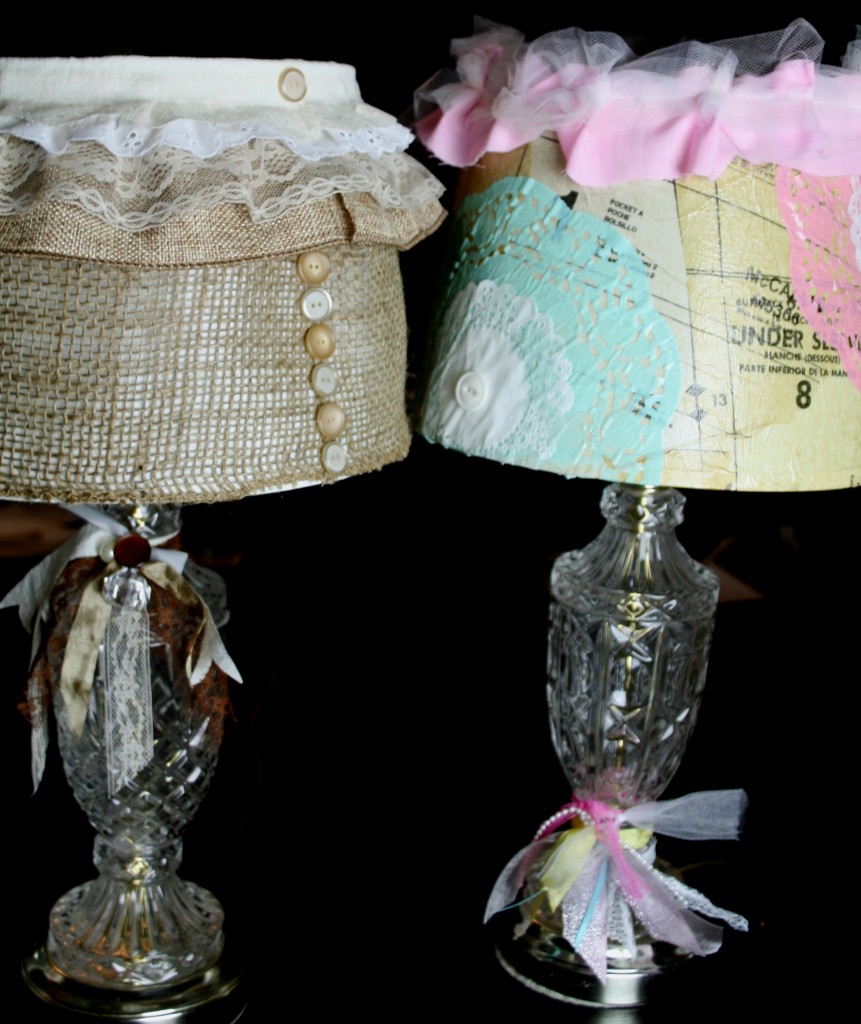 I had a blast making both of these and after thought of several more ideas for them.  Guess it might be time to make a return trip to the store to see if they have any siblings or cousins looking for a new home, too!
Happy Crafting!