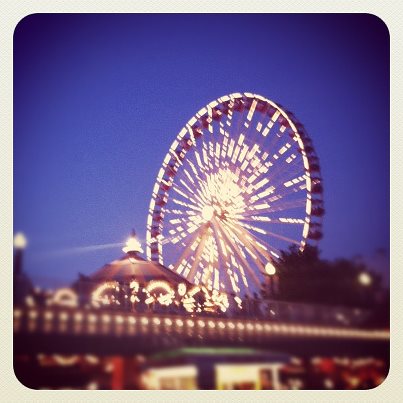 You know how some people have love affairs with other people?  I don't – I have a love affair with a city – "my" city – Chicago.
Moving away from here 4 years ago was beyond difficult, but we have been fairly good about getting back to the city to enjoy it as if we are tourists.  Which, come to think of it, I guess now we technically are.  That makes me sad.
So, prior to the start of the CHA Summer Show (The Craft and Hobby Association's Summer Trade Show), we came down for the weekend and stayed with family.  I ate my favorite pizza ever – Lou Malnati's – had Swedish pancakes for breakfast, saw the Cubs win, had an amazing dinner at Quay (where one of my fellow small-town high school classmates is the executive chef), and then enjoyed a wonderful walk on Navy Pier.  All of which is documented in that lovely Instagram slideshow to the side —————————>
It was wonderful and it actually made me more homesick than I was before we got here.  I thought that this would be my fix, my regular shot of the city that leaves me happy enough and satisfied enough to head back north of the Cheddar Curtain.  This time, for some reason, feels different.  Maybe because I am realizing this is home – Chicago is home.  I don't know.  Maybe it is because we missed our annual trip to see Santa at Woodfield – he's the BEST! Maybe it is because we haven't ventured to a museum in ages.  Maybe it is because my neighbors actually care and watch us almost a little TOO closely where we are now and I am used to barely knowing people's names anymore. I grew up in super small town – where will live now should feel more comfortable and more normal than Chicago, but it just doesn't.  Even Owen who can barely remember what living there was like says he just doesn't fit in WI – he's a Chicago kid.
I don't know what it is exactly.  I just know that this time something is different…
Anyway, while I am here, I plan to try and hit a few more of my faves around the area (food faves that is) and share them on Instagram, facebook, and Twitter.  I use the hashtag #windycityfood for these adventures, so if you are looking for a great place to eat, just check that out.  Hopefully some others will start to share theirs as well!
I will do my best to share some goodness from CHA.  If, however, I don't blog you can find in me all over the usual social sites – as either me "Stephenie Purl Hamen" (facebook and LinkedIn) or @craftystephenie on twitter and Instagram. The CHA show tags are #chashow and #chasummer so you can see what EVERYONE is saying!
Talk to you soon – I think I hear a Chicago hot dog calling my name…