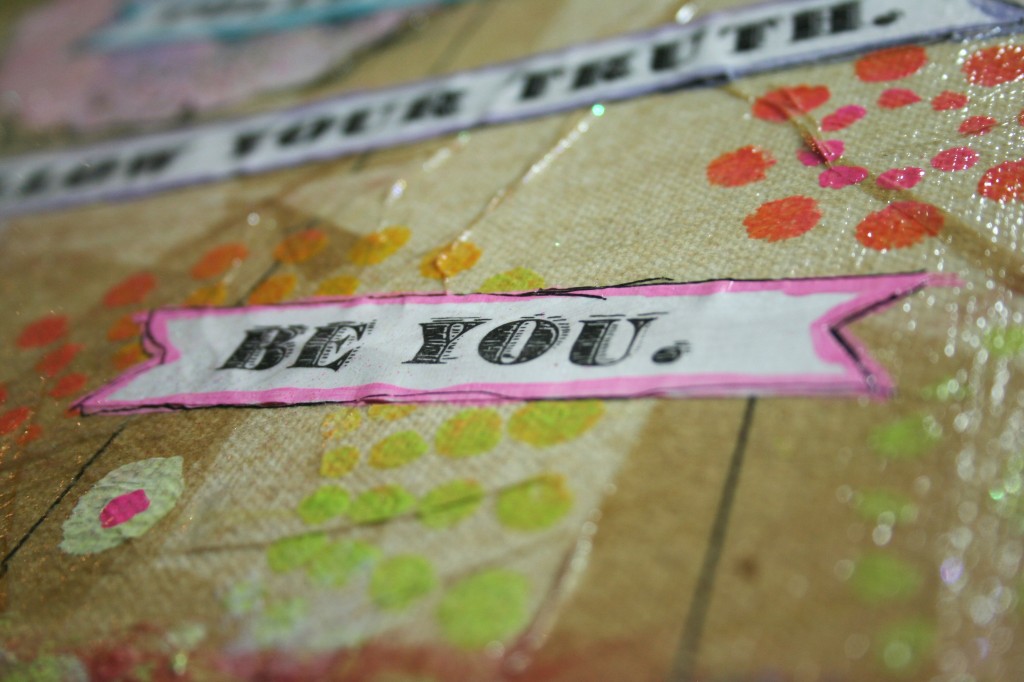 I have always been the creative type.  I was born this way – not trying to quote Lady Gaga – but that's just the truth of the matter.
What I haven't been, especially as I got older, was true to that part of myself.
I think that there was a point in time when my first-born, Type A brain kicked in and it wasn't "practical" to be creative.  Studying, playing sports, prepping for ACT's, and graduating with honors was what mattered.  Landing a good job and moving out and supporting myself was next.  This lead me to work three jobs (teaching at a small Catholic school in Chicago was not exactly a job that paid enough to cover my rent…) and there was no time for play.
After that came other jobs, graduate school, kids, moving, and all of the other parts of life that were an important part of the plan.  While I crafted and created, it was more to document than it was for enjoyment.  Now, don't get me wrong, I LOVED the time that I spent on my scrapbooks and it eventually led to my gig in the crafting industry.  I just don't think that I looked at it initially as a way to be super creative and express myself.  Over time, I began to play and try new things, eventually attending some fun girl weekends of scrapping and eating and I started to realize what a great way it was to decompress.
I tell people all the time – Scrapbooking was my gateway drug into crafting.  Now, I can't stop.  I dream of the next crafty project, or 20, that I want to tackle and I have been known to lose all track of time while hunched over the table in my room in our basement.
What I am finally learning is that it is ok to just play – even at 36 years of age.  It is my therapy.  It is my stress relief.  It is my peace.
It is time to start embracing more of me – this side of me – and letting the other part balance out a bit more.  I am responsible and I work hard.  I have long ignored this burning creativity inside me and it is time to start harnessing it as much as I can.  Who knows – maybe where it will lead will be absolutely amazing.
This week, I started working on a canvas that was just for fun, but also a bit of a turning point for me.  It is time to learn to be me – take it or leave it, like it or hate it, I am me.
Creative. Tall. Goofy. Gangly. Moody.
So, I played…
I grabbed a 12×12 canvas, some old sewing patterns, my collage pauge, paints, and just started to mess around.
I used some stencils on the base – the clouds and then some random circles.  While I like random, the cloud form was so great that I had to use it.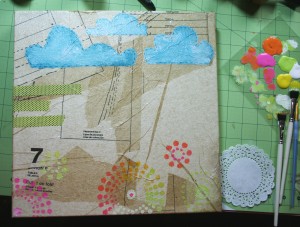 I added some washi tape and then I broke out some other fun stuff…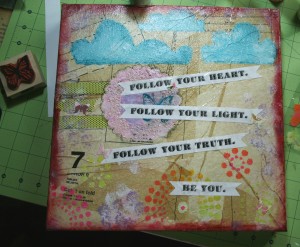 I added a sprayed a doily, printed out the words I wanted to add and cut them out.  I added ink and paint to the edges in random ways and just experimented with layers as I went.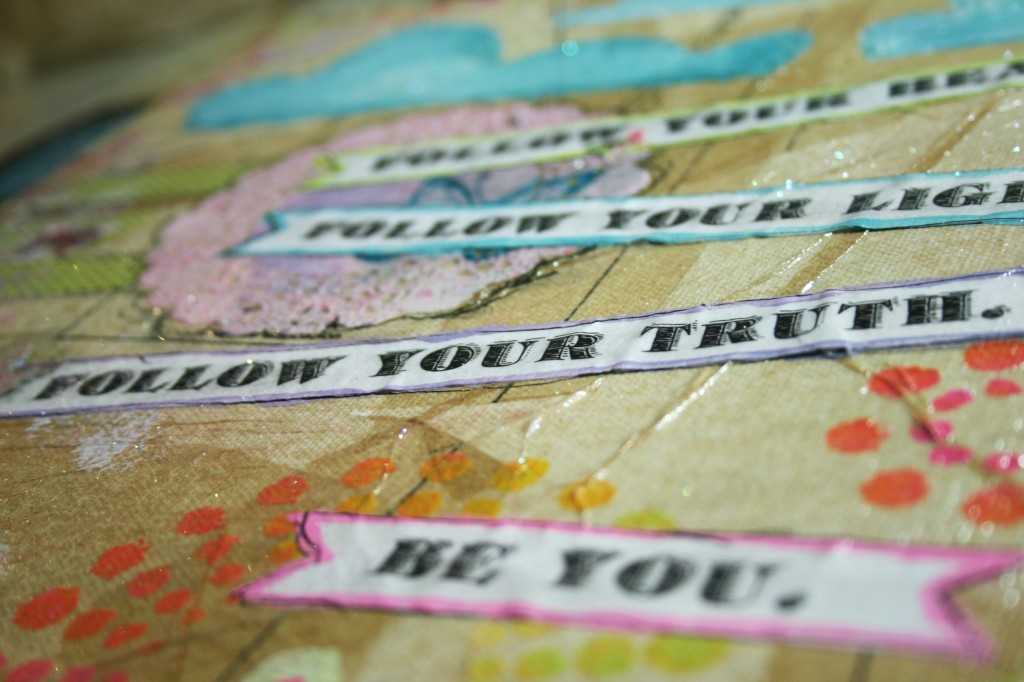 Finally, I put a sealing coat of collage pauge on and sprinkled it with iridescent glitter.  I added some final black lines here and there to get the words to pop.
And, I was done.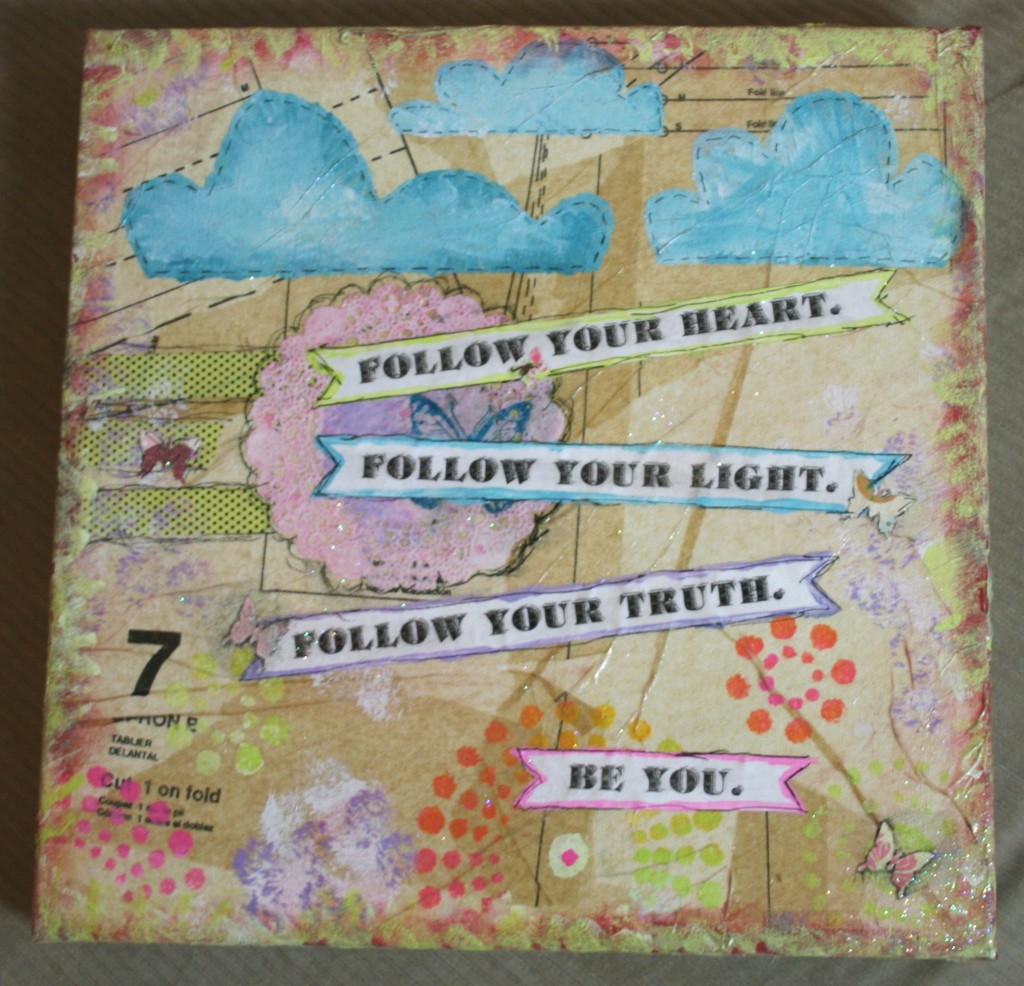 Now – is it super awesome, groundbreaking art?  No.  Was it fun?  Yes.  Is it me? Yes.
And, really, at the end of the day, isn't that all that matters?
Now – go on and play – and be true to you!