I dream of the day that I wake up in Paris, a view of the Eiffel Tower from my hotel window, and the smell of butter and bread infused in the air.  I dream of eating in tiny corner bistros, sipping coffee and eating amazingly delicious food at a snail's pace, enjoying the scenery and atmosphere.  I dream of wandering through a French market, purchasing a loaf of warm  crusty bread, a bottle of wine, and some ridiculously fabulous creamy cheese and plopping myself down in the grass with a book, again, right by the Eiffel Tower.
If I only get one item on my bucket list, a week in France would be it.  Time to wander through the tiny shops.  A chance to view works of art that I have only seen in coffee table books.  The opportunity to see Le Cordon Bleu.
I am sure to a lot of you, it sounds romantically trite – to me it would be a dream come true.
As a woman with friends who go regularly, I have gotten to enjoy some bits of the city via their adventures.  An amazing necklace, a smooth and creamy bottle of white wine, and bits of amazing ephemera that has made its way across the ocean.
Recently, some friends (the gorgeous crafty sisters of Confectionique) sent me a little package of French goodies to play with.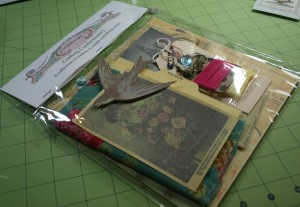 As soon as I opened it, I knew what I would do.  I would make myself a Vision Box.  Now, I made one a while back, after my grandmother passed away .  I had a good experience making that one and thought this would be a great time to do another one.  Plus, I have also recently acquired a copy of Mark's book – Vision Box Idea Book – and felt that the stars had aligned and were all telling me that this was the project to make. So, with a lot of excitement, I decided to start playing on Monday night after getting home from the gym.  What was supposed to be a couple of hours of play turned into me staying up waaaayyy to late, playing and creating.  And finishing my Parisian Vision Box.
So here's how it went…
I opened up my kit and took stock of what I had to work with…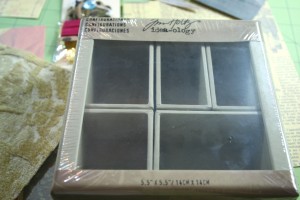 Then I grabbed my cute little 5.5×5.5 Tim Holtz Configurations box, which served as the base for this project.
After removing all of the smaller boxes, I added in my first bit of goodness with a triple layer of pop dots.  The black and white picture of the Eiffel Tower.
Next I set about to make each individual tiny box its own little masterpiece.  Each was different and each was done as its own separate part of a larger whole.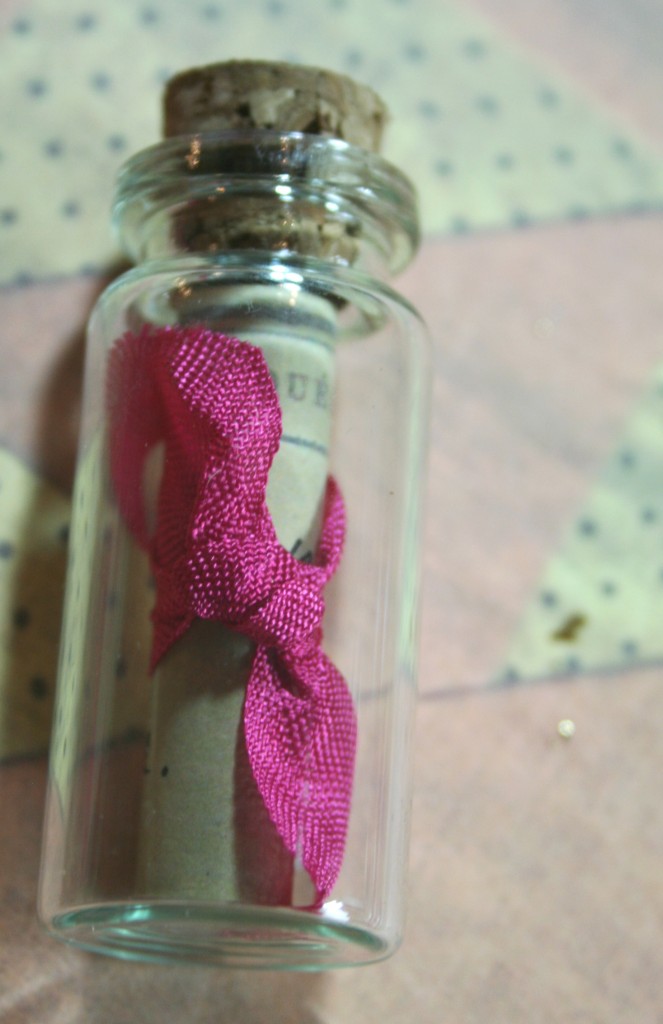 This little bit was critical.  I wrote myself a message in a bottle, outlining exactly what I will do when I go to Paris…  I then rolled it up and tied it with a pretty bit of pink seam binding, and then carefully placed it into a tiny bottle.
Finally, all of the little embellishment touches were added, the boxes I used were glued in, and the Parisian Vision Box was complete.
Here are some close-ups of the project…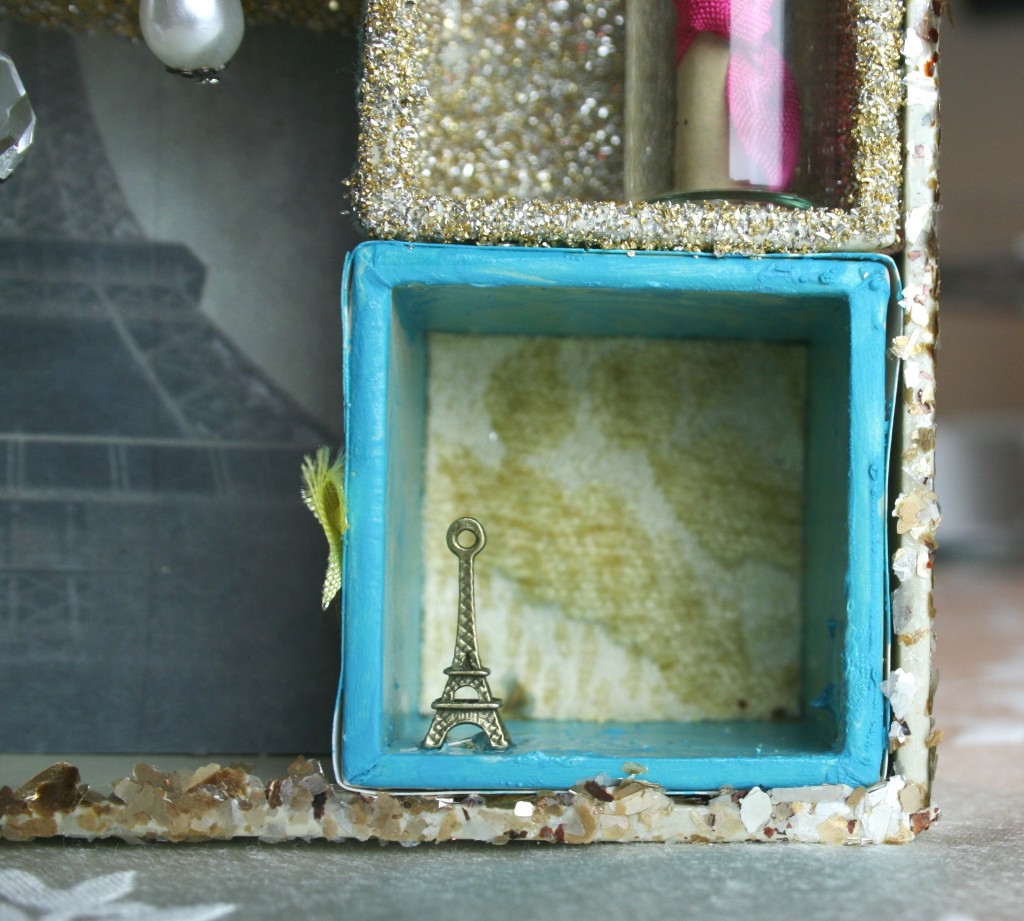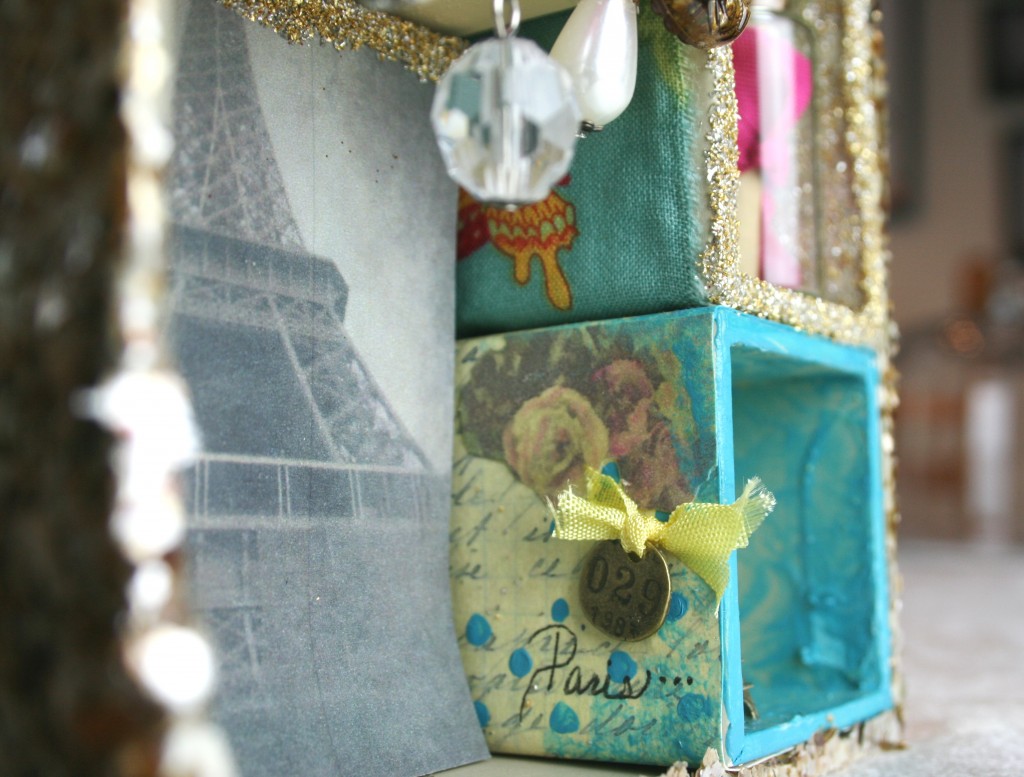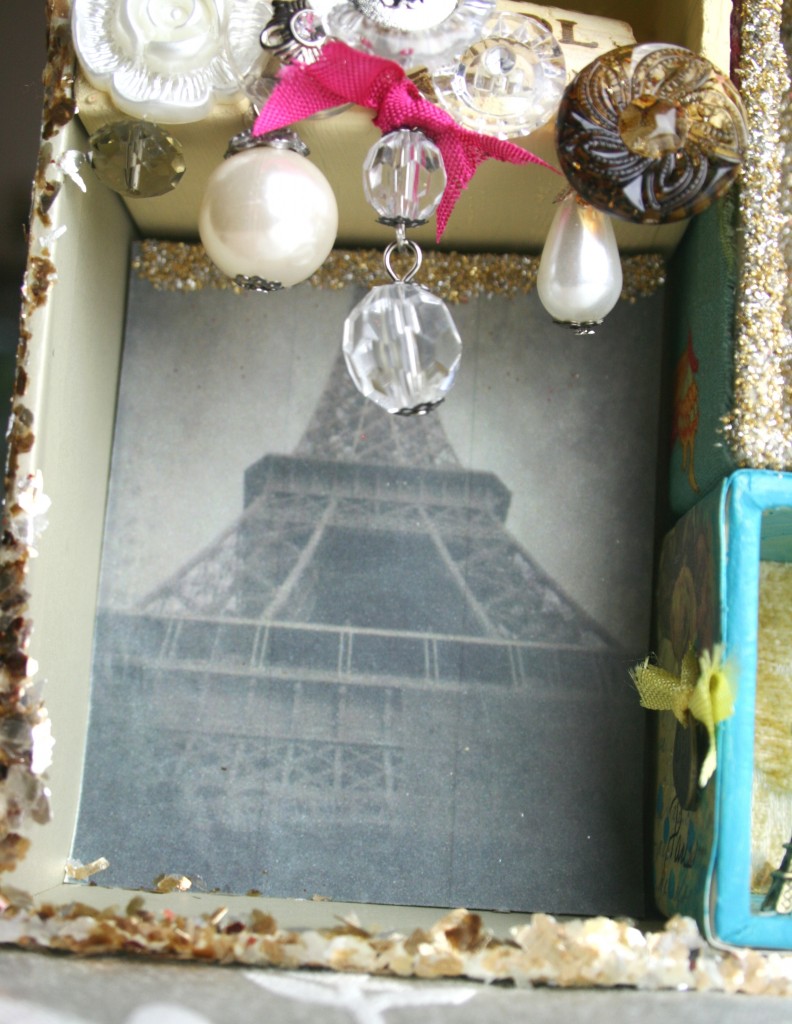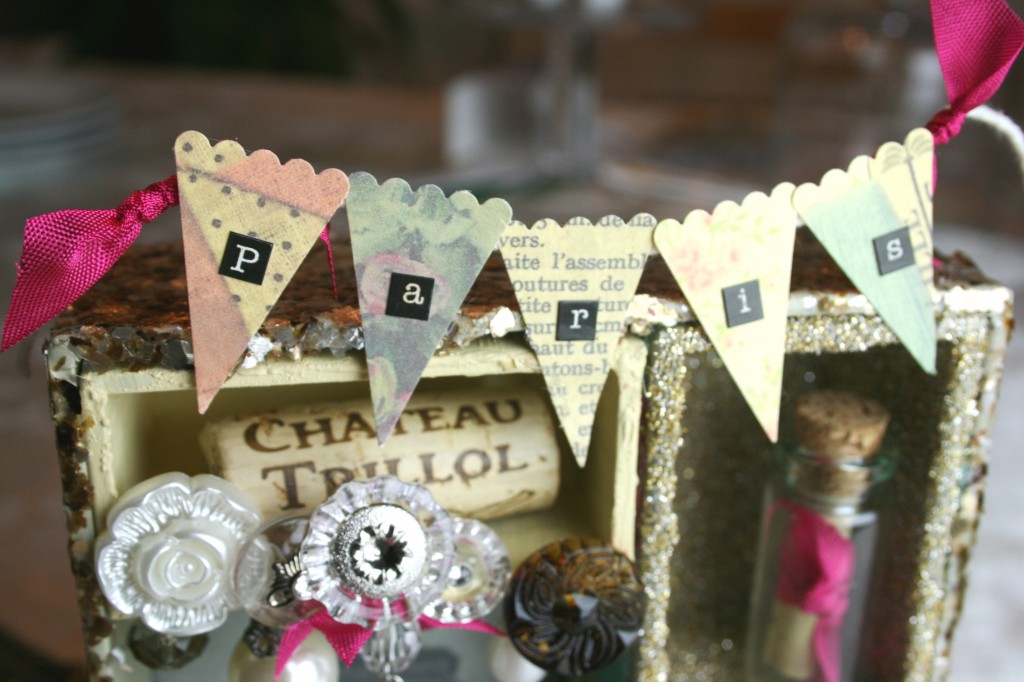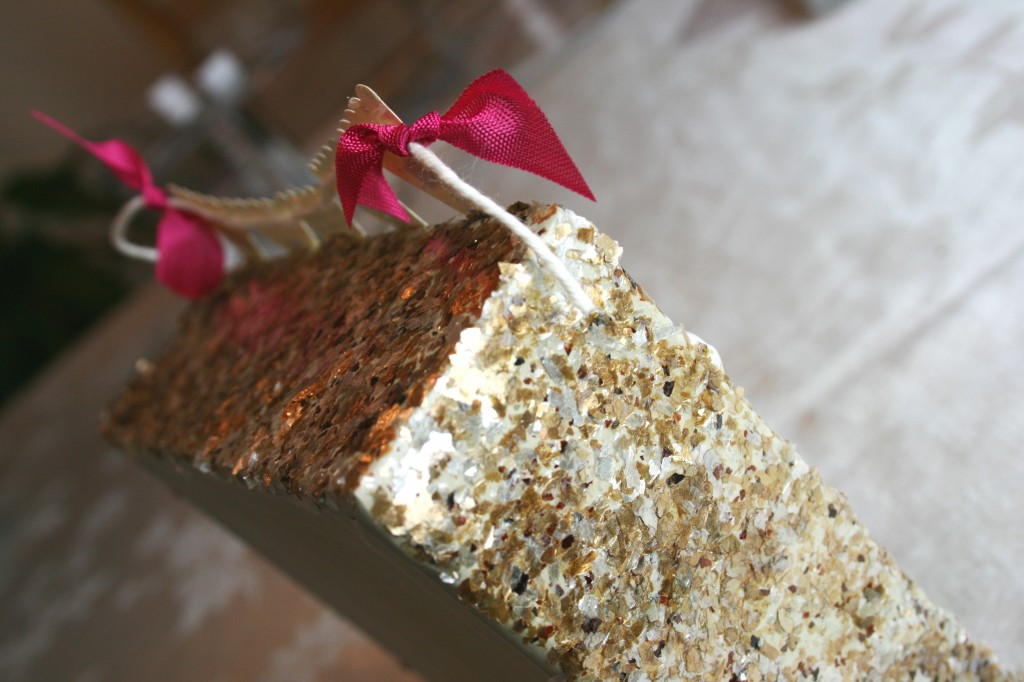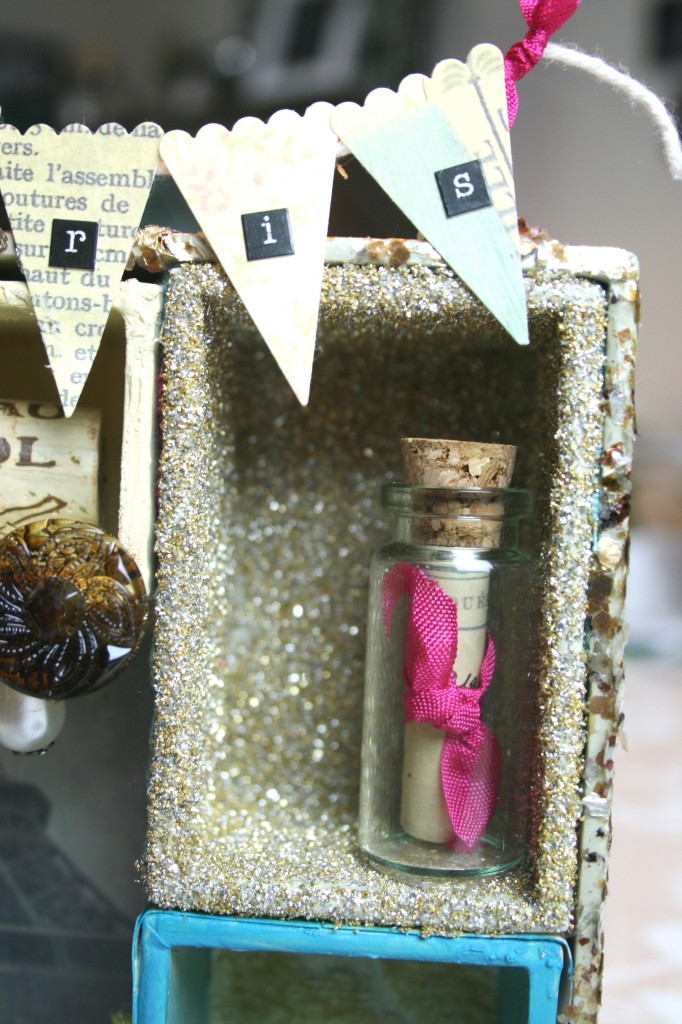 And here is a final shot of the whole thing…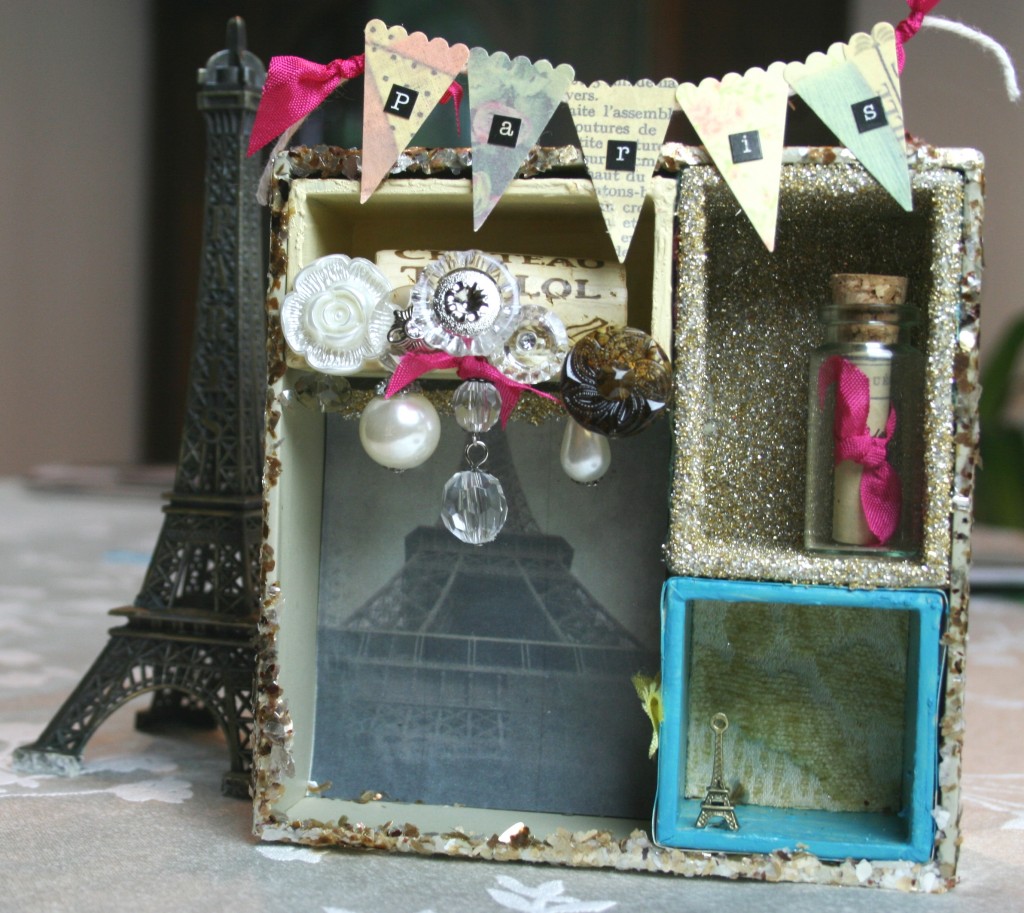 Now I will promptly put it somewhere special where I will see it everyday, knowing that I am working towards the chance to get on a plane, add a stamp (from somewhere other than Canada) to my passport, and wander aimless through France…
What's your dream?  Where would you go if you could go anywhere in the world?