So I have this absolutely totally amazing friend who is a super-crafter/blogger/tv host/author/celebrity extraordinaire…  Mark Montano.
Now, Mark is awesome and has decided, for some crazy reason, to craft with me.  So today, we are launching our first of several (hopefully) projects in our "He Crafts, She Crafts" series.
Here is how it works…
We each start with one key ingredient or item – for this first one we are starting with a plain MDF box.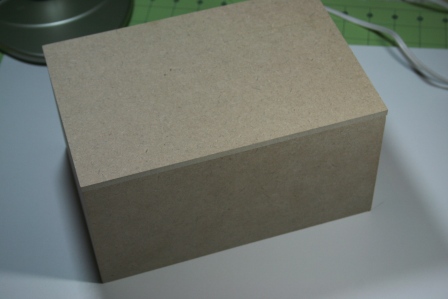 Then we go…  he crafts his way and I craft my way.  Both of us using pretty basic, inexpensive, common, and easy-to-find items to create our own unique spin on the item.
I will post mine with all of the directions and step-outs here on my blog.  I will share a final pic of his gorg creation and a link to his directions on his blog and vice versa.
Then – if you leave a comment here and there, we will draw a winner for the "key ingredient" and we will send you your own, plus a few goodies we might decide to throw in as well, so that you can do your own take on the projects, too!
So – are you ready and excited?
Here is my Sewing Box!!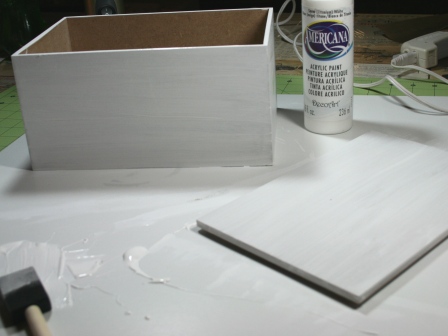 The first step was to paint a quick coat of white paint on the box itself – inside and out, top and bottom of the lid.  I just used inexpensive acrylic craft paint from the store.
While the paint was drying, I created a custom "ribbon" to put around the edge.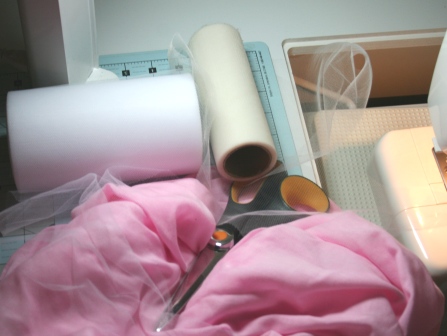 Using a pink sheet from the thrift store and some tulle, I made a custom trim to add to the box.  Now – when I sew it is very free-form (much to Mark's fashion-designing chagrin…).  I cut a strip that was about 2 inches wide and about 3 yards long.  I cut some tulle – one off-white and one bright white – about 3 yards long as well.
As I fed it through the sewing machine, I folded it as I went to make pleats that were very random and not exactly neat.  It came out looking fluffy and pretty to me, so I was happy!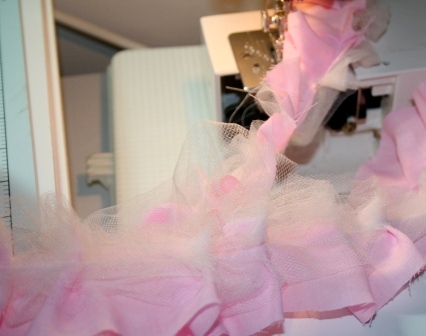 Once that was done, I put it to the side.
I added a layer of light pink paint to the lid top only…  just because pink makes me smile.
Now that the paint was dry, it was time to create my faux-wood finish using collage pauge and paint.  I have done this on chipboard in the past so I thought it might work here as well.
By creating a light brown top-coat mix and painting it on, you can create an effect that almost looks like wood grain, taking the box to a different level of depth.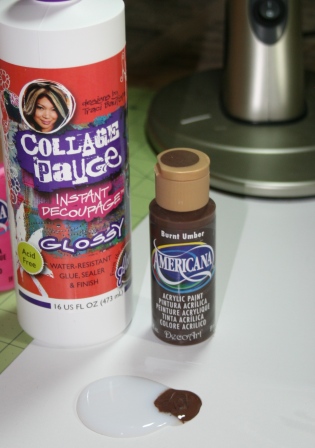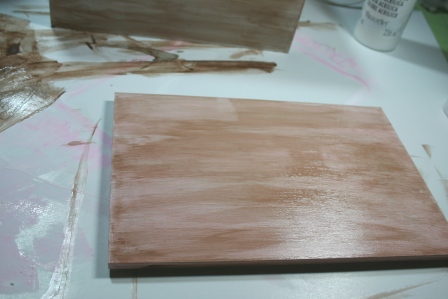 I applied this technique to the entire box – inside and out – and let it all dry.
Once it dried, I added a pretty gray trim around the bottom of the box with hot glue. Next I layered my custom pink trim on top of that.  To finish it off, I added some pretty bling buttons from Bazzill and a stick pin to one corner.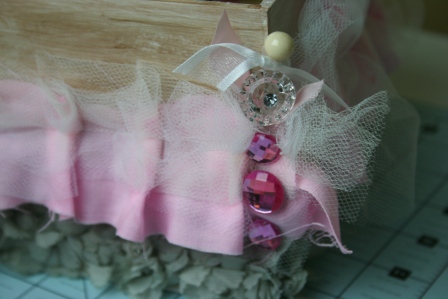 For the lid, I decopauged on a doily and then brushed on some light metallic Perfect Pearls to add a hint of sparkle and shine.  Then I hot glued on a vintage looking door handle from Graphic 45 that I have been dying to use on a project!
I added some tulle and more Bazzill bling to finish it up.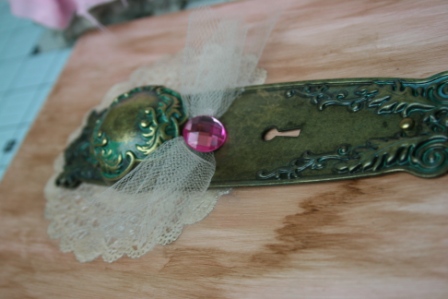 Once all of the final touches were on, I put a few jars and things inside and my new sewing box was ready to take it's place on my sewing table…  "Olivia" was very happy!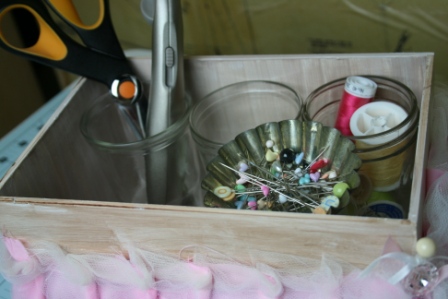 To close it up, I just lay the scissors and rotary cutter in the bottom and put the lid on.  It's pretty and functional!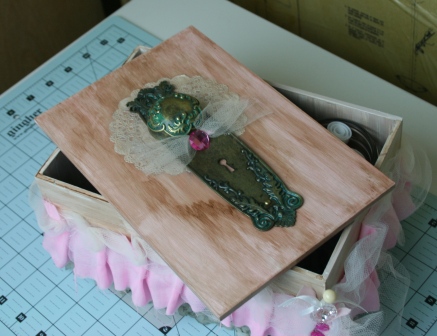 So this is my take on crafting up a plain MDF box…
Now, let's see what Mark has in store…
Be sure to leave a comment here and on Mark's blog for your chance to win a prize pack of goodies to make your own take on our projects!  I will pick a winner Thursday, June 14th!
Happy Crafting!