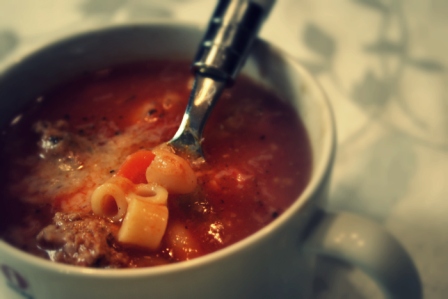 This is a winter staple at our house.  It is healthy, hearty, comforting, and the perfect winter dinner. The boys eat and eat and eat…  it's a good thing that it makes a lot!  It goes great with beer bread and nice glass of red of wine in front of a fire.  I have made this several times, making a few variations until I got it to where the kids love it…  so, here is the recipe!
Pasta Fagoli Soup
1 lb. of ground turkey
3 stalks of celery
2 large carrots
1 clove of garlic
1 T. butter
1/2 medium to large red onion
1 can of cannelloni beans
1 can of petite diced tomatoes
1 box of ditalini pasta noodles
1, 32 oz container of low sodium chicken broth
1, 46 oz bottle of tomato juice
olive oil
salt and pepper
red pepper flakes
Italian seasoning
Heat up a large stock pot.  Pour about 2 T of olive oil into the pan.  Add ground turkey, seasoned with salt and pepper.  Brown.
Add in diced up celery, carrot, and onion, along with clove of minced garlic, a dash or two of red pepper flake, a bit more salt and pepper, butter, and about 1 t. of Italian seasoning.  Cook veggies making sure that they stay firm, but not crunchy.
Add in tomato juice, chicken stock, tomatoes, and beans.  Bring to a boil, stirring occasionally.  About 10 minutes before serving, add in about 1/3-1/2 box of ditalini pasta noodles.  Cook until al dente.  Remove soup from heat and serve.
To finish, put a bit of fresh ground pepper on top and a bit of fresh grated parmesan cheese for an extra layer of flavor.
Now, just grab a spoon, a comfy chair, and enjoy.