Have you had those days where nothing "dinnery" sounds good for dinner, but a waffle and bacon sounds fantastic?  That's how it was at our house tonight.  We had scrambled eggs with cheese, bacon, sausage, and waffles.  And everyone was stuffed and happy when we were all done.  So stuffed, in fact,  that it has been a bit of a low-energy evening.  With 4 inches of snow coming in today, however, I think that's ok…
 So here is a shot of the waffles we had – made from the Ultimate Breakfast Mix.  And you know what that means… another recipe!!!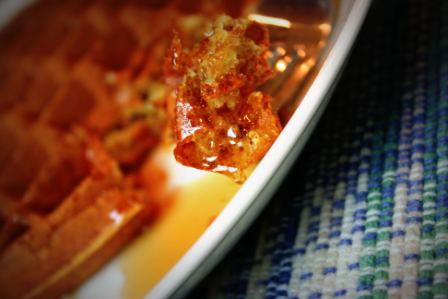 Ultimate Waffles – makes 8-10 waffles depending on waffle iron size
Preheat your waffle iron.
Mix everything together and let the mix sit for about 5-10 minutes.  If it feels too runny, make a test waffle.  If it was too squishy, then add in about 1/4 cup of mix. 
Cook your waffles.  Smother in syrup or top with whipped cream and strawberries… or mix in some chocolate chips, top with PB and banana for a Fat Elvis waffle…  or… well, you get the idea!
There is nothing wrong with waffles for dinner.  Nothing at all!