Ok.
Last spring – in May to be exact – I was in LasVegas for work for a trade show when Matt calls to tell me we got water in the basement.  He diligently went about cleaning up the water, tearing out carpet, and getting rid of ruined items.  A good portion of the damage occurred in my craft room.
Prior to this, I had started to slowly update the room, but wasn't getting far.  Needless to say, I basically stopped after the "Flood of 2011". 
Matt had to move everything into a corner and back by a wall and rip out carpet. 
My solution since all of this has be to  go in, get what I need, and craft at the dining room table instead.  Then, I carry a box or bag back down and leave it.  This has lead to the inability to find anything, purchasing stuff I already own, and completely inefficient work. 
With all this in mind, I asked for only two things for Christmas this year – Home Depot and Ikea gift cards to buy paint and some storage units.
Now I am beginning to clean out and raid the mess that had overtaken my room.  It is going to take a while, but at least I have started.
As embarrassing as they are, here are the pics of where it was when I decided to tackle it… I will update with images as I get going.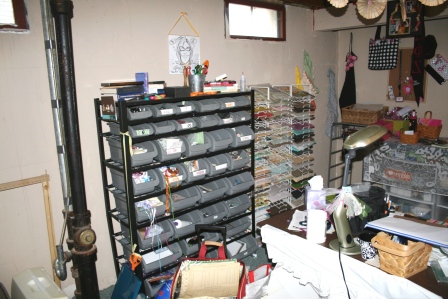 This is the wall of the basement that faces outside.  I don't get much light through the windows at all, so I rely heavily on artificial lighting.  It is painted a lovely odd shade of beige…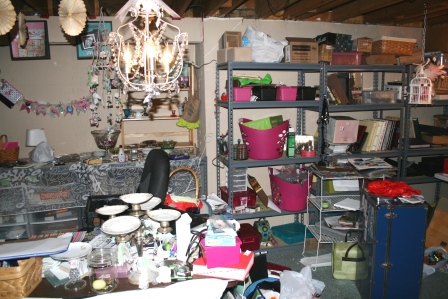 This is the back of the room – again a hideous beige shade that can only be described as "dirty white."  Piles of stuff on garage shelves…  The chandeliers were one of the updates I did last year as I originally started to redo the room.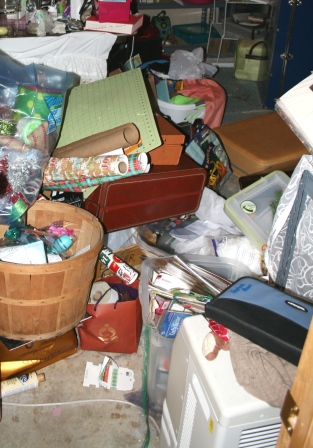 Piles of stuff inside the door – this is where I have been grabbing and going then dropping everything.  Not at all efficient and seriously embarrassing…
Here is where I begin.  Not a small task in front of me, but one I will take head on…  Wish me luck.  If I don't come back, tell Matt to look for me under a pile of cardstock and glitter…