Today at work (Fiskars Brands, Inc.)  we kicked off a 45 day celebration of the 45th Anniversary of our Orange Handled Scissors.  We are doing some fun stuff everyday for the next 45 days.
There will be some great guests on our website, contests on facebook, and fun trivia bits as well throughout the 45 days. 
Today I am sharing a goofy photo of myself with our scissors that I did to help seed some excitement internally around the celebration…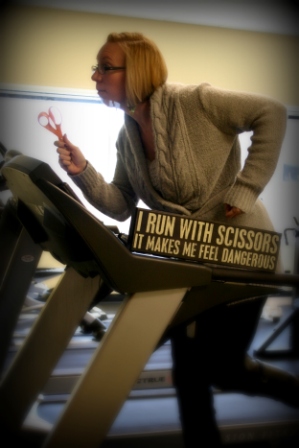 You know me – always willing to ham it up when need be…
So – if you want to check it out, you can go here…  http://www2.fiskars.com/About-Us/45-Days-of-Celebration where all the info is.  You can even grab a Fiskars blog widget if you want to share the fun with others! 
You can go here… http://www.facebook.com/fiskars?sk=app_359908970689611  to enter our first facebook contest.
Or you can leave a comment here…  literally here on this blog…  and I will draw a winner for a pair of our classic 8″ Bent Orange Handled Scissors on Friday!
Let's Celebrate!