I don't know why they are this way, but my children truly believe that anything with chocolate, peanut butter, and bananas make for something that should be called "Fat Elvis."  They had Fat Elvis pie once and it just kind of stuck to anything that includes this combo.  So, we now affectionately make Fat Elvis pancakes at our house at least once a month, if not more.  This usually occurs on Sundays when I have the most time to make breakfast.  Not that it is hard or time consuming – far from it – but that is just when we normally have these.
This was the first meal we had in 2012 – these and bacon.  Seriously.  I know.  Not super healthy, but, come on…  how can you not start the New Year with bacon and yummy pancake sammiches???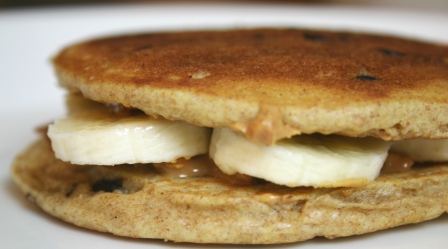 So, for that lazy weekend breakfast or for a fun mid-week change of pace – I give you Fat Elvis Pancakes.
Steph's Fat Elvis Pancakes
2 Cups of the Ultimate Breakfast Mix
2 Cups of milk
2 eggs
2 T of canola oil
1/2 cup of mini chocolate chips
3 or 4 bananas
peanut butter – I like crunchy, but it is up to you!
Mix together the first 5 ingredients and cook up your chocolate chip pancakes (makes 12-16 depending on what size you make them.)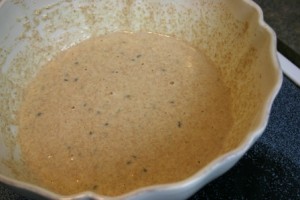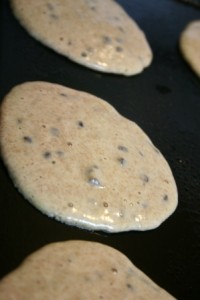 Take 2 pancakes.  Put a thin layer of peanut butter on both.  Add slices of bananas to one side and then top with the other pancake.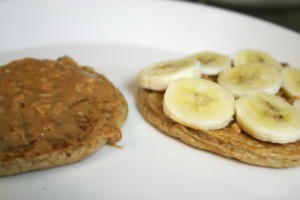 Take a big bite, sit back, and enjoy.  You can eat with a fork or just like a little breakfast sandwich. 
It is actually a decent road food, so if you are heading off on a road trip, this does pretty well in the car if you have to dash. Just cook 'em up and go!
Happy eating, and, you're welcome.  (Trust me, one bite and you WILL want to thank me.  No need.  We're cool.)