I love recipes that help me to create something from scratch and healthier for my kids than a boxed version.  I love them even more when they are versatile and easy to do!
I have been testing out and changing, redoing and testing some more, several versions of this recipe until I think that I finally got it where I want it to be.  This is just like your pre-bought boxed stuff, only you make it yourself, store it on your counter in a jar, and then use it to create your ultimate breakfast.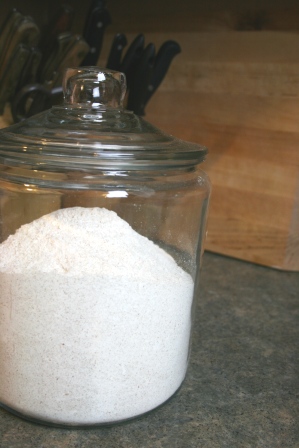 Steph's Ultimate Breakfast Mix
6 cups of whole wheat flour
2 cups white all purpose flour
6 T of sugar
6 T of baking powder
6 t of baking soda
2 t of salt
Put it all in a big bowl or large jar, mix well, then store. 
Now, you can go with all whole wheat flour and go with 8 C and no all purpose or any combination the other direction.  I like this one because the little bit of white helps to lighten up the sometimes gritty texture of whole wheat flour and my kids seem to like this one the best – go ahead, however, and play around until you get it the way you like it best!
Grab one of the recipes that goes with it and you are all set…  first up – basic pancakes!
Steph's Basic Pancake
(makes 12-16 depending on how big you like your pancakes)
2 cups of Steph's Ultimate Breakfast Mix
2 Cups of milk
2 eggs
2 T of canola oil (can use veg oil or melted butter, but I prefer canola oil)
Mix and cook your pancakes.  Seriously.  That is all.
Happy Breakfasting!