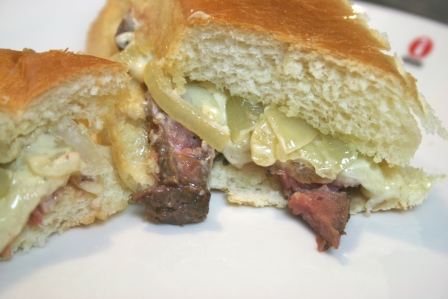 Matt is a total steak guy and Owen has started to become one – he likes to walk around saying, "I'm a CARNIVORE, mom!"
With this in mind, I decided to take a couple of steaks that I found in the freezer and made us a nice hearty dinner for 4 of steak sandwiches.
This is simple, quick, crispy, and just a harmonious tasty delight of flavor layers, just what we needed on a cold weekend day.  It is marinated steak, with a special sauce to add another layer of flavor depth, and sauteed onions and provolone cheese, all finished under the broiler.  One bite and you will be hooked!
Steak Sammich (marinade and sauce ingredients)
2 steaks – marinated (see recipe below)
one onion – sliced
provolone cheese
4 hoagie rolls
soy sauce
garlic powder
steak seasoning
black pepper and sea salt
red pepper flake
olive oil
white wine vinegar
butter
mayo
Dijon mustard
Steak Sammich Steak Marinade
Put your steak into a dish or plastic zipper bag. 
Add about 1 T each of steak seasoning, garlic powder, and white wine vinegar.  Add some salt and pepper to taste, as well as a few shakes of your red pepper flake.  Pour in 1/4 to 1/2 cup of olive oil.  Mix together and let sit for about an hour.  Remove from fridge 15 minutes prior to cooking.  This allows the meat to come to or get close to room temperature, which makes for a juicier, more tender steak than if you go straight from fridge to grill pan.
Steak Sammich Special Sauce
1/2 cup good mayo
1 T. good Dijon mustard
1/2 T. steak seasoning
1/2 T. of olive oil
few shakes each of red pepper flake, salt and pepper
Mix good and let sit for an hour.  If you do it when you marinate the steaks, it will be just perfect when the sammiches are ready!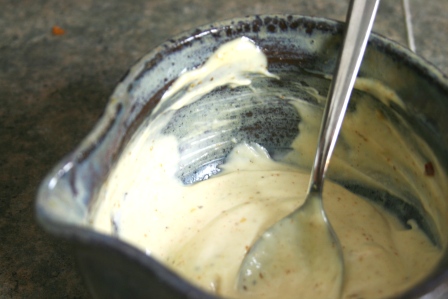 Steak Sammich Making
Grill the steaks to medium-rare/medium.  Remove from heat and let rest without slicing for about 10 minutes.  This lets the juices stay in the steak and redistribute, rather than running out all over the place if you cut it immediately.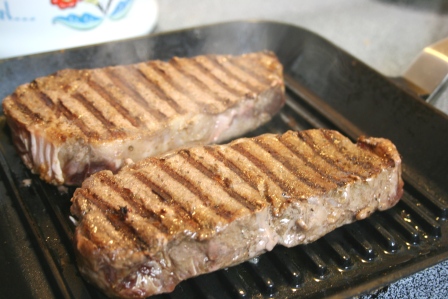 Cut your hoagie rolls in half.
Saute your onions in butter (about 1 T), salt and pepper to taste.
Turn on your broiler.
Line a baking sheet with aluminum foil.  Put your hoagie rolls, insides facing up, onto the sheet.
Place your onions on the top side of the bun. 
Cut the steak and add that to the bottom side of the bun.  Add provolone cheese.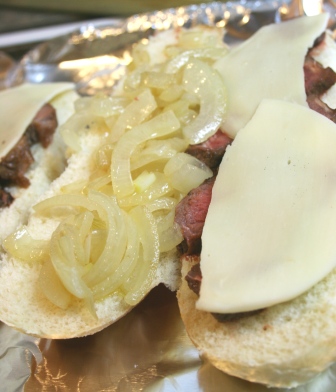 Put under the broiler and cook until cheese is melting and starting to bubble and bread is toasty, but not burnt.  3-5 minutes.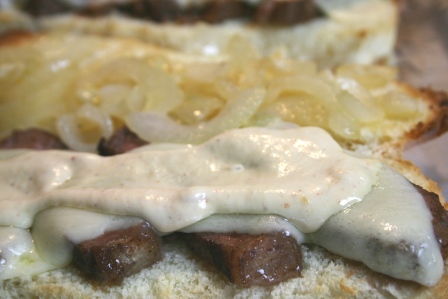 Remove and layer on the special sauce, close, and then cut in half!
Grab the toasty, yummy, gooey sammich and take a bite.
Dinner is served.