Every year I struggle to find just the right gift for the teacher.  Every year I make something.  Every year I wonder if it was a good gift. 
I have this feeling I am not alone in this and that we all struggle to get our teachers something just right for all that they do.
As I have said before, I am trying harder and harder to do more handmade gifts this year and so the teachers are no exception.
Jacob's teacher is the same teacher that Owen had a few years ago and I had to think of something different to do this year.  Normally I do, but I realized I needed to make sure I didn't repeat myself.  Also, the boys wanted to help and make something for their teachers, too, so we worked it out yesterday.  After a quick trip to Michaels, we were set!
Teacher Shadow Boxes
My gift to the teachers this year is a little shadow box with their initials.  Now Owen's teacher is from Florida originally so he wanted to have shells in his.  I grabbed the hot glue and some pretty paper and set out to work…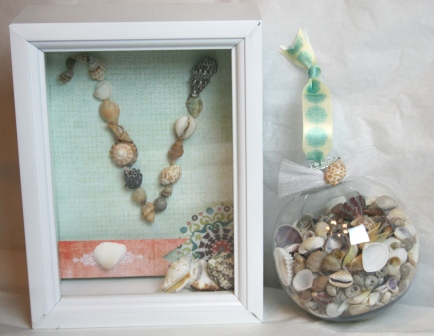 I made the shadow box with pop dots, paper, scissors, and hot glue, along with a bag of shells.  It was all pretty easy and only took about 20 minutes to complete.
Once this one was done, the second one went even faster.  Jacob wanted to use buttons for his teacher, so that is what we did.  He helped pick out the paper and art direct, while I wielded the glue gun…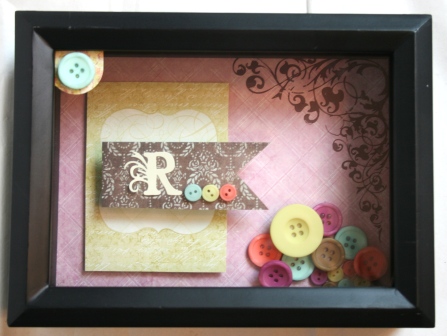 Quick Ornaments
Now, since the boys wanted to make their own gift, we settled on ornaments.  They may not be lasting treasures, but it was important to them to make something special for each teacher.
Owen's, as you saw above, was filled with sea shells, while Jacob went the subtle Wisconsin Badger route, since his teacher is a huge Badger fan…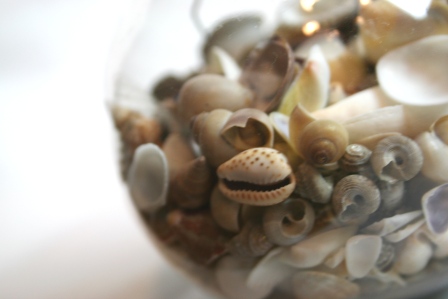 Once they were done, I hot glued the lid shut – Owen's was pretty heavy so I was afraid it would pop open if I didn't.  I also hot glued Jacob's stickers on, as they were peeling up on the edges.  We filled his with red tulle and both got a ribbon and tulle bow at the end.
All in all, I think it took us about an hour to get these all put together and our mess cleaned back up, which isn't too bad.  Plus the teachers are getting personalized and unique gifts from each of the boys for Christmas.  I think that is success!