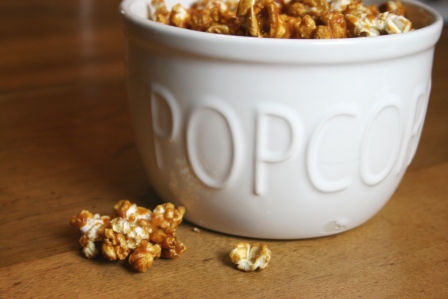 I realize that this is not your typical holiday treat. For some reason, however, I have added it to my holiday baking list and I seem to make more and more each year.  It is easy to make and is super tasty. 
Oh, and if you want to, you can add in some cashews or peanuts the last 5 minutes and make it just a bit more special than it already is!
Steph's Caramel Corn
1 serving of air popped popcorn (typically about 1/2 cup unpopped)
3/4 C brown sugar
6 T butter
3 T corn syrup
1/4 t. salt
1/2 tsp. vanilla extract
1/4 tsp. baking soda
Pre-heat oven to 300 degrees.
Boil sugar, butter, corn syrup, and salt for about 4-5 minutes. You want to stir pretty often. Watch the color…  I like "lighter" caramel, so I might pull mine off before 5 minutes if it is getting too dark.  It can quickly burn, too, so keep a close eye on it.
Remove from heat.  Mix in baking soda and vanilla extract.
Add about 1/4 of the popcorn to the bowl with the caramel mixture.  Stir together.
Pour mixture over remaining popcorn in a roasting pan.  Stir as well as possible.
Bake for 30 minutes, stirring every 7-10 minutes.  Add nuts in last 5 minutes if you would like to include them.
Remove from oven and cool at room temperature.
Kick back. Relax. Eat. Enjoy.