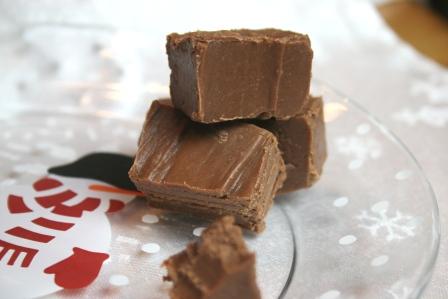 Yes.  I said microwave!!!  I have tried sooooo many fudge recipes that have been total failures – this one, however, works for me every time!  It is quick, simple, and yummy.  Enjoy!
Mom's Microwave Fudge
3 C Sugar
3/4 C butter
2/3 C evaporated milk
1 – 12oz package of semi sweet chocolate chips
1 – 7 oz jar of marshmallow fluff
1 t. vanilla extract
Microwave butter on high until melted. (about 45sec. – 1 minute depending on microwave)
Add sugar and evaporated milk.  Mix well.
Microwave on high for 3 minutes – stir. 
Microwave an additional 2 – 2 1/2 minutes or until boiling.
Stir in chocolate chips until melted. 
Add remaining ingredients and mix well.
Pour into greased 9 x 13 pan. Cool at room temperature.
Cut. Eat. Share. Repeat.