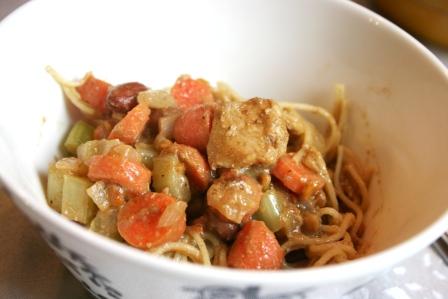 Ok.  I think that I originally read a version of this recipe in a cookbook once, but started making it so often and changing it here and there so I am not sure if I am stealing it, building on it, or just eating it and enjoying it… I just thought you might enjoy it, too.  If you prep the chicken and veggies ahead of time, this should take you no more than 20 minutes to make after work.
It is a family favorite, so I thought I would share it with all of you.
Spicy Peanut and Chicken Pasta
1 lb. angel hair pasta (whole wheat if you can find it)
4  boneless skinless chicken breasts
1 C chunky peanut butter
1 C Spanish peanuts
1 C chopped onions
1 C chopped carrots
1 C chopped celery
canola oil
salt and pepper
hot sauce
red pepper flake
soy sauce
honey
rice wine vinegar
garlic powder
Marinate the chicken overnight in some canola oil, s & p, soy sauce, rice wine vinegar, and red pepper flake marinade.  You don't need to make a ton, just enough to really give the chicken a bit of flavor.
Remove chicken when ready to cook – dice into bite sized pieces.
Pre-heat a non-stick skillet to stir fry the chicken.  Add canola oil and cook chicken through on high heat.
Boil your water, add salt, and cook pasta while making the rest of the sauce.
Once your chicken is cooked, add in your veggie mix (1 C each of onion, carrot, and celery).  Add salt and pepper, red pepper flake, about a tsp of garlic powder.  Once cooked down, about 3-4 minutes, add in 1 soy sauce (about 2 T.), honey (about 1 T.), 1 tsp. of garlic powder, several shakes of hot sauce (you know the drill, the more you add, the hotter it gets).  Taste – if you want to add more of something, go for it.  This is a recipe I often eyeball and cook and taste as I go.  Cook and stir, reducing heat to medium. 
If you sauce is too thick, add a bit of the pasta water to help thin it out and flavor it.
Add in your Spanish peanuts.
Drain pasta and toss all together in a bowl.
Eat. Eat. Eat. Enjoy.