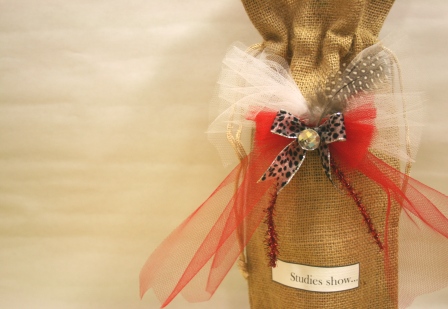 This year, I am attempting to do more handmade gifts than ever – either purchased from an artisan or made by me.  There will be those gifts, however, that cannot be handmade, but for those, why not put a little something extra into the wrapping itself to make if feel a bit more personal.
With the onslaught of holiday parties and get-togethers, a cute way to show your hostess you care is a custom wine bag for that quickly purchased bottle of wine you grab on the way to her house! 
Now, I have started to keep a stash of these, making several at once, so that all I have to do is grab them and go.  Here is a quick and simple way to make that bottle of wine a little more personal without taking hours to make something. 
(I do apologize now for the rather lack-luster photos.  I crafted these over lunch and took pics in my office – not exactly the best photography lighting.)
Quick and Simple Wine Bags
Supplies:
Plain jute wine bags – I order mine here
Dark color printable iron-ons, computer, and printer
Scissors and a craft knife
Iron
Wax paper
Hot Glue Gun
Bling, tulle, ribbon, etc…
First you need to create your iron-ons.  Now, if you know ahead of time where you are going, you could do a name or monogram for your bags.  I never plan that far out so I went with some vintage images and cheeky sayings.  I created it all in Word on my computer and then printed them out, following the iron on directions.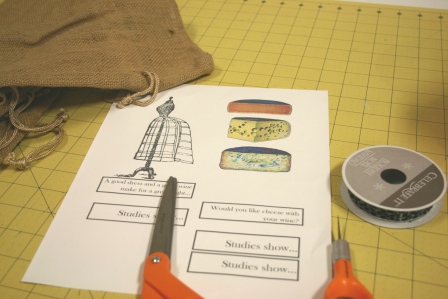 * It is important to use the dark color iron-ons.  These will give you the best image transfer onto the jute.
Insert a piece of wax paper into the bag.  This will prevent your glue and your iron on from sticking to the back of the bag, rendering it useless or ruined.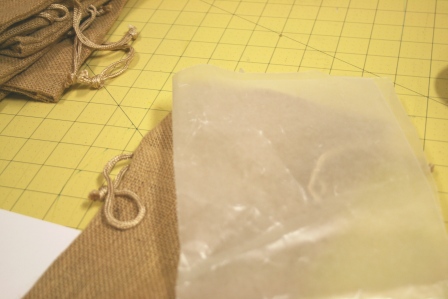 Next cut out your iron-ons and, well, iron them on!
Next, embellish away.  Grab your hot glue gun and get busy decorating some fun and amazing bags.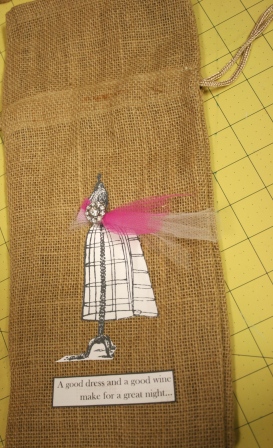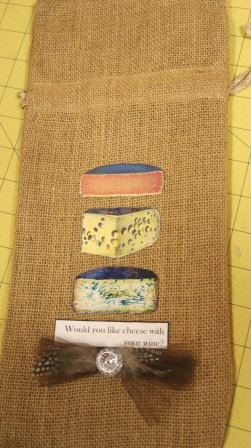 Now you are all set to craft away and make a little something special for your next gifted bottle of wine…
Happy Holidays and Happy Crafting!