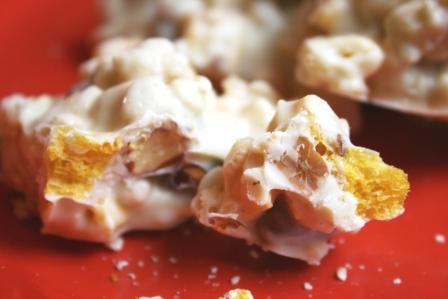 We call them "Cap'n Crunch Cookies" at our house, but I am guessing there is some infringement law I would be breaking if I officially call them that here, so… these are the "Seriously Simple Cereal Cookies."
This is another recipe that uses almond bark as the base and takes no time at all to make.  My kids love to help with this one and everyone I know loves to crunch away on these decadent things.
Seriously Simple Cereal Cookies
2 pounds (packages) of almond bark
1/4-1/2 C of peanut butter (I always add more than a 1/4 cup, but the original recipe from mom is 1/4 cup)
2 C of Cap'n Crunch cereal (or a bit more… again, me straying…)
2 C Rice Krispies cereal (more…)
1 lb. of Spanish Peanuts
Melt the almond bark and peanut butter together.  You can use a double boiler or follow microwave directions on the package for the almond bark (I microwave it.)
Once melted and stirred, mix in cereal and peanuts.  Put scoops on wax paper and cool at room temperature.  Can freeze if you make a ton and want to save them – just don't break a tooth and then blame me.  You have been warned…
Now – when I say "more" let me explain.  While I love almond bark – the creamy yummy goodness of it – I actually like more crunch in this so I usually do HEAPING cups with another bit thrown in, if that makes sense.  Plus, I love peanut butter in anything, so I add a bit more to the base.  It is all relative and up to you!
Happy Holiday Snacking!