This is, BY FAR, one of my top 3 holiday cookie/candy recipes.  It is simple.  It is cheap. It is easy. And, it is delicious!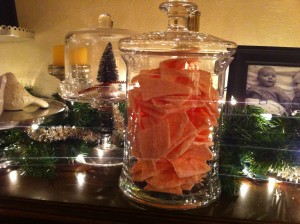 Now, quick note to all baking or cooking this holiday season…  if you are making food for gifts keep a couple things in mind:
Keep your hair back – you will see in the video my lovely slicked back hair.  I plan on sharing food with others, so for a lot of these I will look absolutely hideous, but there shouldn't be a blond hair in anything.  Think about how you want the people who cook for you – remember to give what you would want to receive.
If your kids are helping, make sure they wash their hands.  Don't let them lick, drop and use, etc…  you don't anything "extra" ending up in the food.  Jacob has a bit of a tickle in his throat.  He was asked to leave repeatedly while making this and had to wash his hands several times because I didn't want anything added.
Make sure all of your counters, trays, etc… are extra clean and food safe.  If you cook a lot, they should be, but just make sure.
And now I will step off my soap box and give you the recipe and video!
Stephenie's Peppermint Bark
1 package of candy canes – I prefer Bob's brand from Walmart (best flavor I have found and only $0.98)
1 package of Almond Bark
optional 1 package of Chocolate Almond Bark
Open the candy canes and then plop them in the blender.  Pulverize.
Follow package directions for melting the almond bark.
Mix together, spread on wax paper covered cookie sheets, and refrigerate to harden.  Remove and break into bite sized pieces.  Can be stored on the counter (I love it cold, so often keep some in the fridge for me, but it is ok if you don't.)
Easy peasy lemon squeezy.
Happy Pepperminty Dreams!