I am so dense.
Why?  Why would I spend an ENTIRE weekend making fun stuff for the holidays and not take one picture of one thing?  Because I am dense. That's why.
I have one picture from my phone that I can share and it does not do the project justice at all.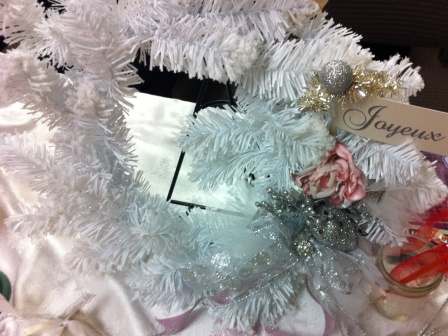 I took a white flocked wreath from Michaels and added some pretty silver and pale pink flair…  I had a cheap silver holiday bird pick from Michaels that I added, as well as some sparkly ribbon.  Then I made a satin flower that is pink and silver as well.  Finally, I printed out a little saying and made a banner/flag with some fun garland and silvery goodness.  I will have to try and take a better photo of it.
I love this little wreath.  Think I might need to make a few more of these – I am definitely in the holiday mood!