I have been "running" with scissors for years…  crafting, learning to sew, altering various things, and just playing with paper.  It is just a part of who I am.  I realize that now it is part of my actual job to be a scissor lover, but when I truly think back, I have always had an affinity for scissors.
I remember the cream colored hard plastic sewing kit my mom had.  She almost never used it, but it sat in the left entryway closet, where the rarely used stuff lives.  In that was a pair of shiny silvery sharp sewing scissors.  As a young child I remember her telling me that these scissors were special and were only to be used for fabric and threads – NEVER for paper. 
Likewise, I remember the powder blue plastic handled (non-Fiskars) scissors that we had in the vintage secretary that we were to use on paper.  They cut almost nothing well.  They made me sad every time I had to use them.  I am not sure why, but they were so pathetically dull that they were about as exciting to use as their color would suggest.  Yet, for some reason they stick vividly in my mind.
I remember the little school scissors I had – the ones we all had.  Safety blade. Silver. Dull. But, they could sure curl a ribbon.  My grandmother had a bag of old ribbons and wrapping paper in a closet in her house that she used to save that I found and would play with, making "art" out of the scraps that I loved.  I would sit and curl ribbons for what now feels like hours, but in reality was probably 5 minutes.  It is a vivid memory that warms me to my soul.
These memories all shaped this strange and odd fascination that I seem to have with scissors.  I have, for years, purchased and kept pair after pair, good and bad.  I have lost dozens between breaking them, moving them, and using them for all the things that they were never intended to be used for.  There is a strange part of me that has been and will always be drawn to the sharp blades and contoured handles that fit snuggly in my hand and allow for my creative spirit to sour and take flight with only a simple piece of paper. 
To all of you who also run with scissors…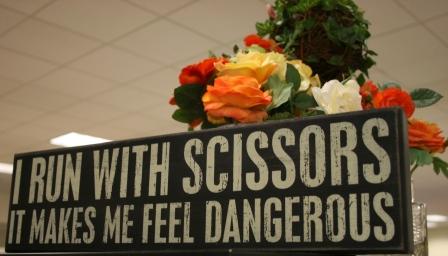 know that you are not alone.
Now, I shall go forth and craft with reckless creative abandon.