Today is Matt's mom's 70th Birthday.  That, my friends, is a rather big deal.  So, in big deal fashion, we had an absolutely amazing party on Saturday night.
Now, his mom wanted to have just family and she basically wanted to plan the whole thing, right down to where dinner was, so that there were no surprises.  She hates surprises.  So, of course, I went 30 minutes early to decorate… Surprise!
She wanted to keep it simple, but we wanted to make sure we marked the occasion, at least a little bit, so I made some simple decorations for the tables with photos from throughout the years.  They were great conversation starters and fun for the family to look through.
Here is what I did: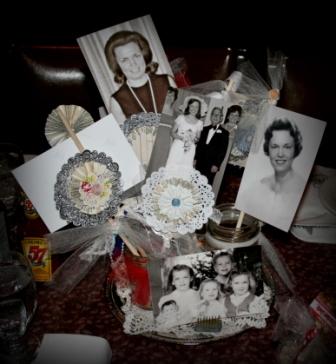 I printed out about 20-25 different photos from scans (DON"T USE ORIGINALS FOR THIS!)  and hot glued them onto small dowels or put them in old floral frogs.  The sticks were then decorated with tulle and ribbon and other paper goodness.  The sticks were displayed on a little tray from the dollar store and in old jars from thrift stores that were decorated with tulle. 
She loves the Chicago Cubs, so the color scheme was a subtle Cubby blue, white, and red.  I used some great papers that were less sporty to tie it all together.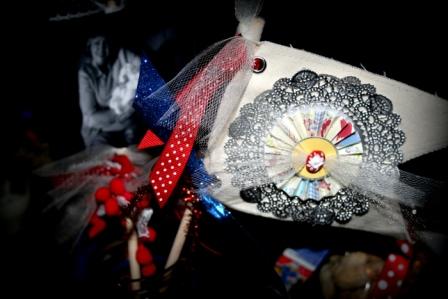 I also made a "ticket" for dinner that was for dinner, peanuts, and Cracker Jacks.  And, then, each person got a little bag of peanuts and a box of Cracker Jacks both decorated with a little ribbon and tulle.  Very simple, but tied our whole baseball theme together with the photos.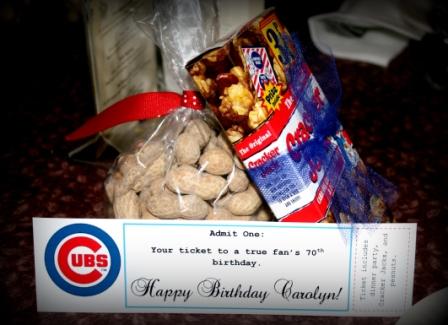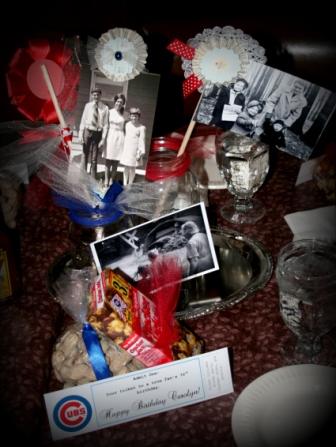 Overall, I think it worked out really well.
She was definitely surprised, but in a good and a bit overwhelmed kind of way – not in a bad way.  I hope that she had as much fun as we did.
When dinner was over, all 18 of us headed back to my house where we had cupcakes, played board games, listened to Frank Sinatra and friends, and just laughed.  It was an extremely fun night for all and we partied until well past bed time. 
Sometimes all we really need is a simple celebration to remind us how lucky we truly are and how tied we are to each other.
Happy Birthday Carolyn…  I hope it is a great one!