Now, here is the basic set-up and run-down of the day: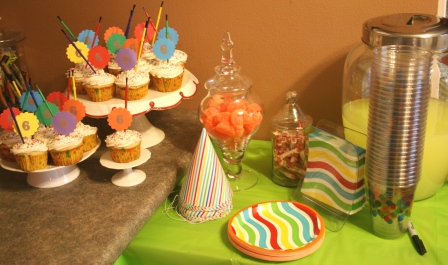 First of all, what is a party without treats.  We went with cupcakes, orange slices, and Jacob's favorite – Smarties – with lemonade to drink.  Look, they ate towards the end, so I figured I would send them home sugared up so I didn't have to deal with it…  is that wrong?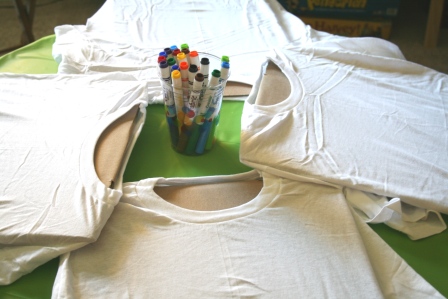 Here is our t-shirt station.  They each got an adult small t-shirt to decorate.  I used simple fabric markers and then heat set them with a heat gun on the spot so that they were safe to send home to be washed.  We did this first, along with pictures, trading the kids between the two activities.  This way they had it as a smock for the later art events.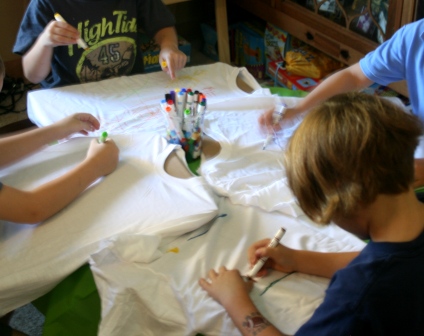 We also had a photo corner.  I used crate paper on a string, with a white plastic tablecloth behind it.  It was a fun and colorful way to take pics.  We had hats, leis, etc… on hand so that they could ham it up and have a blast taking their pics.  I later printed them out to use in their frames that they made.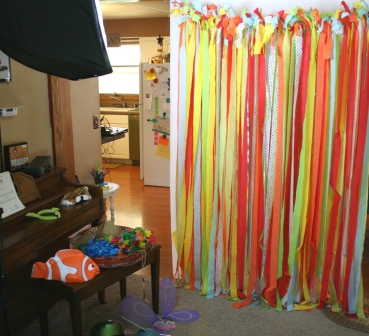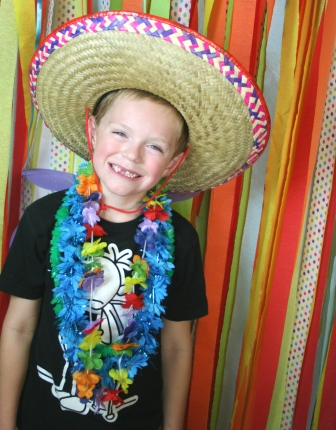 Owen in front of the backdrop with his gettup on!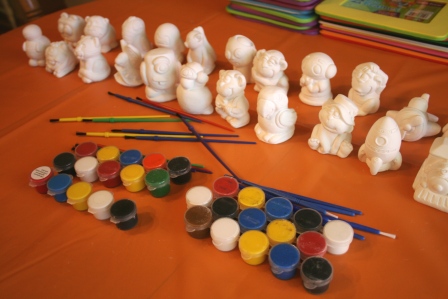 Once pictures were done and t-shirts were made, the kids played in Jacob's room while I started the printer and got water out for their painting.  A friend at Colorbok hooked me up with these great paintable items for the kids and they had fun painting away!
Once painting was done, they went outside to enjoy one of the last nice days of fall to play on the swingset for a bit.  Matt watched them while I quickly cleaned up the paints and got ready for frames.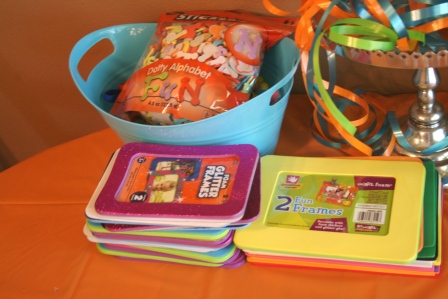 Each child picked a frame and then had fuzzy balls, alphas, and other foam shapes that they could glue on and add to create their own frame.  Then I added in their pictures!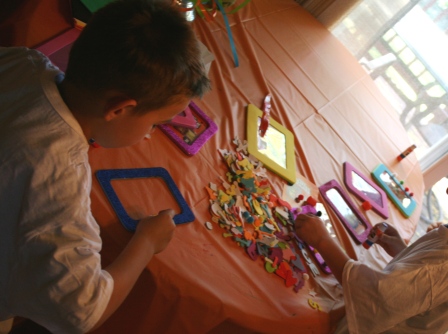 Once all of this was done and cleaned up, they played for a bit more, and then we did presents and cupcakes… it was fun.  At the end, we had planned to do sidewalk chalk, but the boys were too excited to play in the backyard again, so we ditched the chalk and played Star Wars and zombies instead.  Who am I to argue?  They had fun and that was all that mattered!
Here are a couple other pics just of the decor: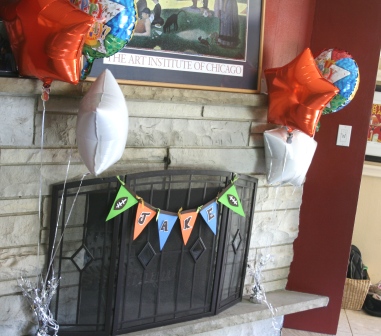 In the living room – Jacob sat here to open presents.
And our dining room chandy… I often dress this up for holidays.  We moved the table to the wall so if you don't hang something from it and make it super noticable, people constantly walk into it becuase it hangs so low. I decorated it with homemade tissue paper balls, crate paper, and ribbon.  Super easy, but super bright and fun.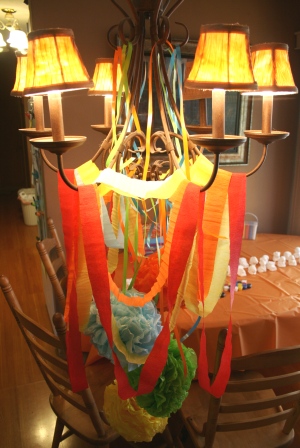 Anyway, that was our art party.  Pretty easy and inexpensive, with a blast!