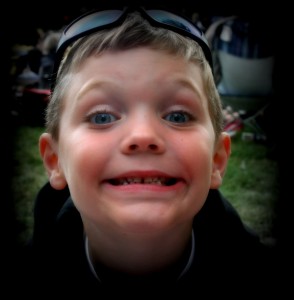 My baby is six.  I am not sure when or how that happened, but it has.
I think back on the last six years and feel as if they were a blur, flying past at the speed of light.
Things about Jacob, today:
He will read you any "Biscuit" the dog book you want.
He is surprisingly (not) sarcastic and funny.
He is one of the tallest kids in Kindergarten.
He is left handed.
He loves art and playing with dominoes.
He is my little sous chef.
He is a ham and a camera hog.
He is a snuggler.
His favorite color is orange – again, shocking!
He is obsessed with Paul Frank.
He thinks Kindergarten is too easy and tells me that – daily.
He loves Lady Antebellum and Sugarland.
He dreams of being everything from a tv chef, to a Disney star, to an art teacher… 
Time flies so fast.  I am not ready for this…  I think I better buckle up and get ready for the ride of my life!!!