Tonight, after a long day, I made risotto. I am not sure why, but I find cooking risotto to be very soothing and relaxing. I also love to eat it, in big yummy bites.
Tonight I made a basic risotto… it is super simple to do.  I paired it with a simple marinated grilled chicken and enjoyed a wonderfully relaxing dinner.  I love that it is simple and flexible so that I can be creative and try all sorts of fun combinations in a dish I adore on a night when a little comfort is needed.
Here is how easy it was…
Steph's Parmesan Risotto with lemon and green peas
4 1/2 C. Chicken or Vegetable Stock
1 1/2 C. risotto rice
2 T. butter
1 T. olive oil
1 small chopped onion 
1 t. minced garlic
salt and pepper to taste
1 1/2 C. shredded Parmesan cheese
2 C. frozen peas
zest of one small lemon
In a separate pan, heat 41/2 C. of stock.  In large pan, heat butter and olive oil.  Add in onion.  Sprinkle with salt and pepper.  Soften. 
Add in rice and gently cook rice for about a minute or so, lightly toasting it in the pan. 
Add in garlic. Begin adding the hot stock, about 1/3 C – 1/2 C at a time.  Again, stirring constantly, waiting for liquid to absorb into the rice before adding more.  The entire process can take about 20 minutes. 
Once all of the stock is added and absorbed, remove from heat. 
Add in Parmesan and lemon zest. Stir. Top   little extra cheese, as well as some fresh black pepper.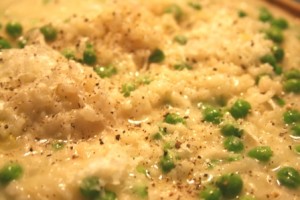 Yummmmmm…
Ok.  Back to work.