Yes.  That is correct.  Ribs.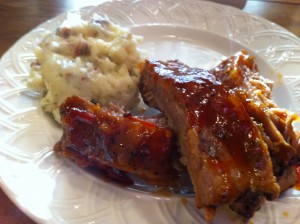 Yesterday was the first day of school – granted, it was only a half day, but it was their first none the less.  I wanted to mark the occasion with a yummy home-cooked meal, so we had BBQ ribs, dill mashed potatoes, and Greek yogurt fruit salad.  It was yummy and they were thrilled. 
Here's a quick video of what I did and the actual recipe and directions will follow…  It might make a great meal for Labor Day Weekend if you are looking for something to try!
Recipes:
Steph's Jack D. Ribs and BBQ Sauce:
2 racks of ribs
1/2 c. plus a shot of Jack Daniels or other whisky
32 oz. of low sodium chicken stock
2 small cans diced tomatoes or 3 total cups of fresh diced tomatoes
1 T + 1 t minced garlic
1 t white wine vinegar
1 T + 1 t cumin
red pepper flakes
kosher salt
fresh ground black pepper
3/4 cup ketchup
1/4 cup dijon mustard
1 firm packed cup of brown sugar
1 T honey
1 small yellow onion diced
olive oil
To braise the ribs:
Preheat oven to 200 degrees
Place ribs in roasting pan.  Season with salt, pepper, red pepper flake,  and olive oil.
Make braising mix: chicken stock, shot of whiskey, 1/2 your tomatoes (so either 1 can or 1 1/2 c fresh diced), 1 t. white wine vinegar, 1 T cumin, 1 T of garlic
Pour around ribs.
Cover pan with foil and bake for 4-5 hours – until meat is pulling off from the bones and tender.
When you are ready to finish your ribs off, start by making the sauce.
To make Steph's Jack D. BBQ Sauce:
Mince onion and sweat down in sauce pan with olive oil and pinch of salt.
Add in remaining tomatoes once onions are soft.  Reduce and smash down to small bits.
Add in pepper, red pepper flake, and garlic.
Add in ketchup, mustard, whiskey, cumin, brown sugar, and honey.
Let boil, stirring frequently, and reduce down for about 15 minutes.
This can either be canned if you extra left or saved in the fridge for up to a week if you have extra left.  This sauce is actually even better after a few days in the fridge when the flavors have had even more time to mix together.  You can make it ahead and reheat if you want or use the left overs on chicken later in the week!
To finish off the ribs,
Turn oven up to 400 degrees.
Put nice coat of BBQ sauce on top of ribs.
Bake for another 10-15 minutes.
Pull out and put a final coat of BBQ sauce on the ribs. 
Either finish under the broiler for another 10-15 minutes or until the sauce is carmelized on top OR put them on the grill to do the same.
Let them rest for a few minutes then serve.
This is a great recipe you can start and then walk away from.  While it takes most of the day to cook, it is hands-off for the bulk of that time.
I hope that you enjoy some sticky gooey delicious ribs soon – they were definitely a hit last night!