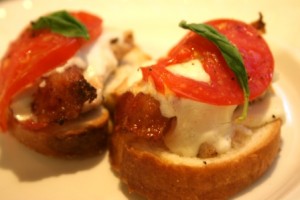 I have found my new favorite dinner…  an open-faced, chicken, mozzarella, tomato sandwich…  with BACON!
I, again, had a lot of tomatoes awaiting me at home, so it was time to try something else.  I love bruschetta and I love caprese salad, so this sandwich is a chicken and bacon homage to that.  And, it was pretty good!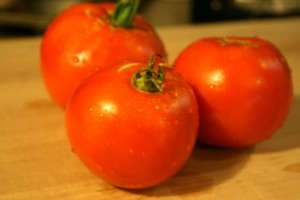 Here's what I used:
3 large beefsteak tomatoes
1 loaf of french bread – cut into 14 slices
7 chicken breast tenders
7 or 8 or 12 slices of bacon (whatever makes you happy…)
one package of buffalo mozzarella
some fresh basil
kosher salt
fresh ground pepper
butter
Italian seasoning
one garlic clove
olive oil
Here are the steps:
Sseason the chicken on both sides with Italian seasoning, salt and pepper – grill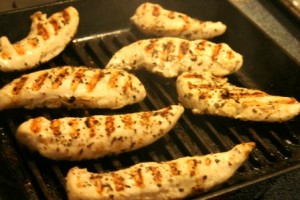 Cook the bacon
Toast your bread on both sides – once they are both done, take a stick of butter and quickly rub a little bit of butter on each piece of bread and then quickly rub with the garlic clove to give the bread a nice garlicy tone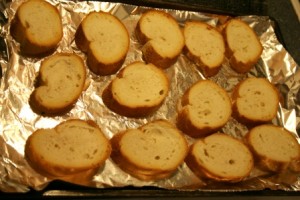 Slice the tomatoes and the cheese
Cut the chicken in half and break up your bacon
Begin layering your sandwiches… bread with garlicy side up, then chicken, bacon, cheese and tomato slice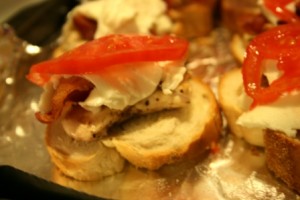 Put under the broiler to melt the cheese
Remove and season with salt, pepper, and drizzle of olive oil
Finish with some fresh basil on top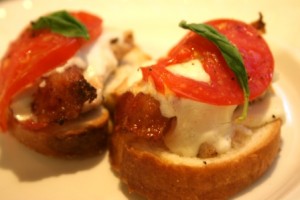 Sit back with a nice glass of wine and enjoy a  yummy take on a chicken and bacon caprese sandwich.