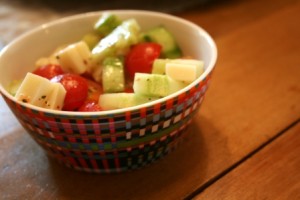 Yup… More tomatoes.  This time, cherry tomatoes.  You could also use grape tomatoes if you have those, too.  Either works perfectly well, I just happened to grow the cherry variety.
This is my summer party go-to staple salad dish, because it is simple and easy and you can make more or less without any issues at all.
Steph's Fave Summer Salad (for 2)
1 small cucumber peeled and diced
about 15-20 cherry tomatoes, quartered
4 oz. of mozzarella cheese – either pearls or block that you dice.  (I prefer pearls, but if your store doesn't carry them, then block cheese diced works just fine)
1/4 white or purple onion, diced
Kosher salt and fresh ground pepper to taste
1 t. Italian seasoning – I know, dried herbs, really?  But trust me on this one, it's good.
about 1 T of olive oil – now, put a little in to start and if you feel like you need more, add a bit more.  It just needs to lightly coat your mix, not drench it, so start small.
Chop, dice, add, and mix.  This is another one that is better after a few hours in the fridge.  It makes a great salad for a potluck or for a quick lunch with some almonds on the side. 
Have I mentioned tomato season is a favorite of mine?