Well, I am still so crazed that crafting has taken a back seat to regular life, which often means I shift my creative energy into the kitchen, so recipes and food are a flyin' at my house.
One of my favorite times of year has started – tomato season is here!!!!  It feels like every year I add one more tomato plant to my garden, which has gotten MUCH smaller and is now mainly tomatoes and peppers.  We have too much shade to grow much else unless I start planting in the front yard, which I can't quite bring myself to yet…
Anyway, last week we started seeing the first large batches of ripe tomatoes.  I have big boys and cherries and my favorite, Romas.  Romas are great because they are big enough to slice for sandwiches and have less water and seeds than big tomatoes, but also pack the same flavorful punch that the smaller varieties have.  Romas are especially good for pasta sauces and soups – they are just my favorite.  What more can I say?
So, as they are coming into my kitchen, I have decided that I need to find fun ways to feed them to people without it being pasta for dinner every night.  This salsa recipe has been my go-to for years and I adore it.  I packed some up today and brought it to work with chips as a nice snack for my fellow co-workers.  In about 30 minutes, it was gone.  I think that they might have like it…  I hope you enjoy it, too!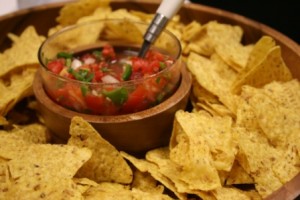 Steph's Fresh Summer Salsa
4 cups diced Roma tomatoes
1-2 jalapeno peppers – with or without seeds (your choice) finely diced
1 poblano pepper – diced
1 large green pepper – diced (or in my case, three tiny ones…)
1/2 large white onion diced
1 T. minced garlic
juice from half a lime
Kosher salt and fresh ground black pepper to taste
red pepper flake
1/2 – 1 full batch of cilantro finely chopped
1 T white wine vinegar
That's it…  chopped, minced, add, mix.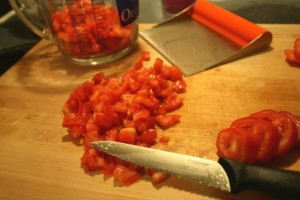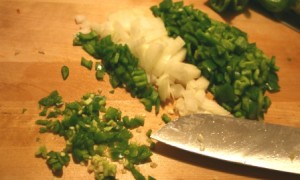 Now, with the peppers, if you want more heat, add more; if you want less heat, remove some.  This goes for the jalapenos and the red pepper flake. 
I usually make it the night before and let it set in the fridge overnight so that all of the flavors come together.  This is a good chance to check the heat level of your mix to see if you want to add more or not, as well a chance to see if you need to add any S&P, etc…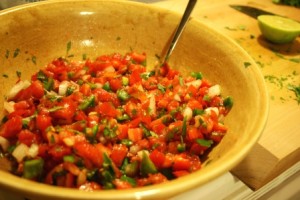 You can keep this in the fridge for about a week or so.  You can also can it, following canning procedures and keep small batches of it over winter.
Now, tonight I am making simple fish tacos and using this as the primary ingredient with the fish and cheese.  Mmmmm…  fish tacos.  Oh, sorry, about that, I got distracted for a moment.  Hey, is it 5:00 yet?  I am feeling a bit peckish…
Happy Summer Everyone!